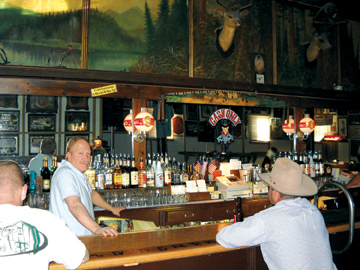 Usually when a horse walks into a bar, it's a setup for an old joke, but at the Pine Street Saloon in downtown Paso Robles, it's a yearly tradition. This tavern is housed in one of the town's oldest buildings and honors its wild western roots during the annual Pioneer Day Parade by throwing the door wide open and letting cowboys lead their horses in for a drink. This year, the event takes place on Saturday, Oct. 8.
"People get a real kick out of it," said Ron French, one of the saloon's owners. "How often do you get to have a beer with a horse?"
The opportunity to literally saddle up to the bar might be unique, but it's not the only thing that sets this bar apart from the rest. Incredible hometown hospitality, daily drink specials, and that country ethos make the Pine Street Saloon an essential stop for anyone looking to enjoy a cold beer in a down to Earth environment.
"We go out of our way to take care of customers," said French.
That's a common statement coming from a business owner, and French really backs it up. Two years ago, the saloon acquired its own limousine, which French uses to pick up and deliver his customers when they don't have a sober driver on hand. Because he wants everyone to enjoy a safe night on the town, he'll take you anywhere within city limits, and all for free (though that kind of service warrants a generous tip).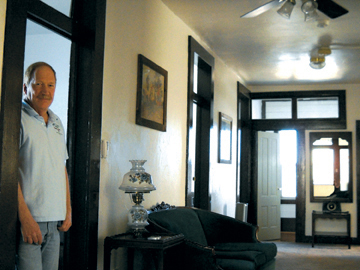 "It's really popular with folks staying at the hotels," said French. "If you don't have a designated driver and can't afford a cab, we want to make sure you don't do anything that's going to get someone hurt."
Even free limo rides don't reach the extent of the bar's helpful hospitality. Back in the frontier days, the saloon was a brothel, and there are still guest quarters above the bar. French has since cleaned the place up, and when a customer doesn't have anywhere else to go, he or she can sleep it off in a room available upstairs. But beware. It's rumored to be haunted.
"I don't really believe in ghosts or any of that," said French. "It's an old wooden building with creaky noises."
Out of curiosity, French set up night vision cameras in the hall corridor and has video footage of what he calls "super charged dust particles" that appear to glow, travel through glass, and zip around the room even when the air is still.
"I set up a candle in there, and you can see that the flame isn't moving at all while these things fly around," said French. "I don't worry about it though."
French said that an added benefit of the guest quarters is that he can use them as incentive to attract better bands from out of town. When the musicians have a free place to stay after their concert, they can charge less for the gig, which means patrons can enjoy better shows more often. Past performers include Paula Nelson, Willie Nelson's daughter.
"We're a country bar through and through," said French. "We've got about 10 local bands that play here regularly. We keep them on a kind of rotating schedule and mix in an out of town act every once in a while to keep it from getting stale."
During the day, the Pine Street Saloon is a quiet place to relax and visit with neighbors and friends, but that changes at night. There's always something fun happening, and the night time activities are guaranteed to draw a crowd, with live music every Saturday and karaoke almost every other evening. Monday is open mic night and there's free pool on Wednesdays. Women can enjoy two for the price of one drinks on Tuesday's Ladies Night, and anyone in the restaurant or hospitality industry can get the same deal every Monday. For people who don't fit either of those categories, the bar offers a daily happy hour from 4:00 to 6:00 p.m. with dollar off well drinks and beers.
"We can make those foo-foo drinks, but they're not very popular around here," said French. "Our specialties are beer or Jack and Coke, nice and simple."
That cowboy attitude provides an honest, blue-collar alternative to the more sophisticated wine sipping culture found throughout Paso Robles. Sure, it's nice to roam the hillsides discussing the subtle differences between grape varietals, but sometimes nothing beats a down and dirty cowboy bar with good company, easy laughs, and cheap drinks.
Other than the limousine, there's little about the bar that could be called "refined," and there are no fancy frills. The jukebox plays both kinds of music: country and western, and the decorations consist of animal heads and old concert flyers. The only food they serve are peanuts, beef jerky, and bags of potato chips, so grab a bite to eat before you mozy over to the bar to cap off your evening. It's a cash only establishment, but they do have an ATM inside for those that only brought their credit cards.
The simple, no nonsense formula of cold beer and good service has worked at Pine Street Saloon for 40 years. It's a family operation that started in 1971 under Pat French. For most of its run, the business was in the building next door to its current location, but the family always had their eye on the old brothel as a perfect drink house. They moved the business in 2002 just in time for the big earthquake that damaged several buildings in the area, including the brick building that had housed the bar. It was torn down, and but the new location suffered nothing more than a slight tilt. If you look carefully at the front entrance, you can see that the wooden building leans a little to the right.
"This place was built to last," said French. "We did some retrofits to reinforce the walls and make sure it was safe."
After the move, Pat French handed the reigns to her son Ron, but she still gets behind the bar to serve drinks every now and again. Ron's son works in the bar as well, making it a third generation business.
"Mom started it. I'm keeping it going, and Danny's keeping it clean," said French.
Whether you're a homegrown local or a weary traveler, point your horse toward 1234 Pine Street in the historic downtown district of Paso Robles and visit the Pine Street Saloon. For more information call (805) 238-1114 and ask for Ron.
-Nick Powell
comments