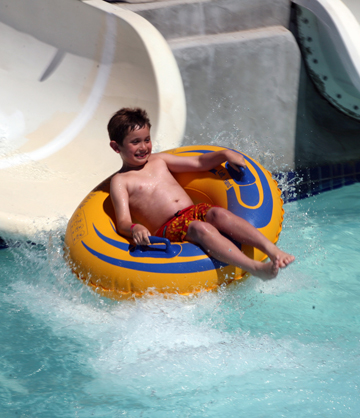 It's an easy way to spend the day. Cruising down water slides, hanging out in a giant wave pool and relaxing in a lazy river.
The Ravine Water Park, on Highway 46 East in Paso Robles, has rides for all ages, starting with the 5,000-square-foot, 16-inch deep kiddie pool and play area that includes numerous slides, sprinklers and an interactive play structure.
Two rides, the Lazy River and Wave Pool, are geared for all ages and also the most popular. There are two Twister Slides, one a little more intense than the other, the Kamikaze Slide and the Toilet Bowl.
The Kamikaze Slide and Toilet Bowl rides are for those a little more adventurous. The Kamikaze Slide drops at nearly a 90-degree angle for an intense ride and a little uncomfortableness if you don't keep your ankles together as instructed.
For the Toilet Bowl you start out in a tube that circles around and drops you into a big bowl that you continue to circle around until you are "flushed" into the seven-foot pool below.
The other two inner-tube slides are both milder than the Kamikaze and the Toilet Bowl slides.
While there is sometimes a line to get into the park, particularly when it just opens, no one has ever been turned away. Owner Brett Butterfield suggests showing up when the park opens to get your choice of locations in the shade.
He said that many people show up when it opens and stay until mid-afternoon; and others show up in the middle of the afternoon and stay until the park closes. The slowest days of the week are Monday and Tuesday and the busiest are Friday, Saturday and Sunday.
While the water park is a huge draw to people with children, the park is not strictly for those with children. Butterfield said it's a great day out for people of all ages to hang out by the water, read a book, go on a few rides, or people watch. The park is completely ADA compliant and easy to maneuver for people with all needs.
"Our park is 100 percent for families," Butterfield said. "We're really a family-orientated park."
Children under 12 must be accompanied by an adult, 18 years of age or older, but those 12 and older may be dropped off for the day.
Butterfield said that one thing he loves most about the park is that it is affordable. The food ranges from $2 to $6 per serving, with a large pizza available for $16 and is all made fresh.
In its third year of operation, Ravine Water Park, 2301 Airport Road just off Highway 46 East, Paso Robles, offers an affordable day out for individuals and families.
The water park is open every day from 10:30 a.m. to 6:30 p.m. from Memorial Day to Labor Day. Call to find out days and hours of operation after Labor Day. 805-237-8500.
—Heather Young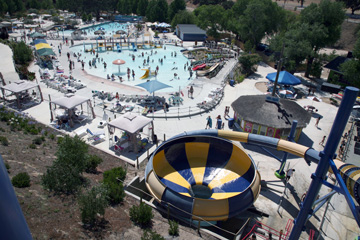 comments