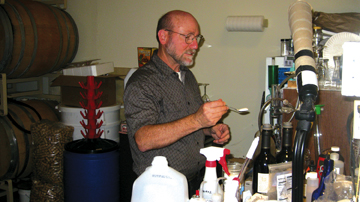 The owner of Autry Cellars takes wine making quite seriously, but not in the manner of some stuffy curmudgeon. He's more like a student musician constantly amazed at the potential of his craft and passionately dedicated to exploring its depths. The comparison isn't much of a stretch considering Stephen Autry's background as a jazz musician and the bass clef logo that adorns his wines.
As a professional bass player, Autry can be found at the SLO Down Pub every week for Bluesday Tuesday, and he spends Sunday evenings playing jazz at the Alley Cat in Pismo Beach, where they serve five of his outstanding wines.
"Winemaker" and "musician" aren't the only hats he's worn in his day. Autry has also sold wine-making supplies, manufactured prosthetic limbs, kept bees, and researched aerospace technologies, giving him plenty of fodder for good conversation in the tasting room.
"If you add up all of my years of experience, I should be dead," said Autry with a grin. "Having a physics background has served me well in the wine business."
It's definitely taught him a few tricks. For every cork he pops, Autry blasts the bottle with nitrogen, an act that displaces oxygen and allows him to reseal the bottle for a longer shelf life. When meticulously measuring the powdered chemicals he and other wine makers use to balance their brews, Autry uses an old grain scale that was once used for gun powder and now serves him with about 7,000 times the accuracy of a gram scale, the industry standard. He also possesses an intimate knowledge of the effects of osmosis through oak barrels and the molecular structure of tannins, sharp characters that produce the stringent, acidic taste of poor quality wines.
"All of my wines are bone dry," said Autry. "I don't leave any lingering, unfermented sugars that might cause problems."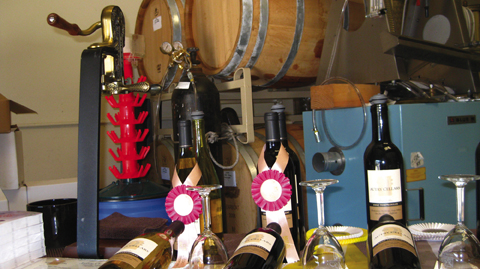 Autry learned the ways of wine making while working at Doc's Cellar, a supplier that sells vats, barrels, and grape presses to most of the wineries throughout San Luis Obispo County. As an employee, Autry had direct access to the best in the business and was able to learn a lot.
"Doc's is the hub of the network," said Autry. "All the wine makers and grape growers go through that shop with questions and samples. Every once in a while, you'll try something fantastic, and if you get the guy talking, he'll divulge his secret fishing holes.
Of course, by "fishing holes," Autry means grape growers. He gives farmers 90 percent of the credit for producing a quality wine, and Autry knows where to find the highest quality grapes the central coast has to offer. In fact, Autry respects the grapes so much that his main goal as a winemaker is to produce "single varietal, stand-alone wines that fully express the flavor and aroma potential that each grape has to offer."
Autry produces unique wines, some that highlight little known grapes – varietals like the Tempranillo and Cabernet Franc that are typically used only in blends. 
His 2007 Tempranillo, with its spicy flavor and soothing nutmeg aroma, won a gold medal at the Orange County Wine Festival. Normally serving as the backbone for the famous Rioja blend, Tempranillo grapes are native to Spain and thrive in hot, inland climates like that of eastern San Luis Obispo County. Autry wanted to give them a solo performance, and the results really grab the taste buds.
"I like making wines that interrupt the conversation at a party," said Autry.
Another show stealer in the Autry arsenal is his 2007 Chardonnay, which won a bronze medal at the Mid State Fair in 2009. Autry wanted to make a white wine for red lovers – something bolder, with less citrus than your average Chardonnay.
"It's a real mouthful of wine," he said. "I've converted a lot of folks back to whites with this one."
But Autry's star performer is his Petite Syrah, a wine that's so deep red it's almost black. He let it age in the oak for three years, a period that would have overwhelmed lesser wines but only served to enhance this behemoth's flavor. It's got a peppery aroma and a rich, almost creamy, vanilla aftertaste that secured the gold medal at the Orange County Wine Festival.
"This one's just huge," said Autry. "It's all kinds of fun on the pallet."
Autry serves 12 wines in all, and you can try each one in his San Luis Obispo tasting room, located just off of Broad Street at 835 Capitolio Way. The hours of operation run from 11:00 a.m. to 6:00 p.m. on Friday, Saturday, and Sunday, but he's also open to drop-ins and available by appointment if you call 805-546-8669 ahead of time. His "lab" seems a little out of place in the inconspicuous commercial garage, but it's one of San Luis Obispo's true hidden gems.
Autry has big plans to move his operations to a property in nearby Edna Valley that would have more room for more barrels and could be remodeled to host a more traditional tasting room with a picnic area and idyllic views of green hills and vineyards. As of now, Autry hasn't set a definitive date for the move to 5450 Edna Valley Road, but you can stay in tune of updates by subscribing to his newsletter at www.autrycellars.com or by pulling up a seat in the Rhythm Section, Autry's wine club with two levels of membership. Ostinato members receive four annual shipments of three bottles each and get 20 percent off additional purchases, and Back Beat members play in cut time, getting two yearly shipments and 10 percent off purchases.
"It's pretty informal around here," said Autry. "It boils down to this: good wine, good music, good people, and good food belong together. That's the essence of life."
—By Nick Powell
Subscribe to weekly travel news
comments