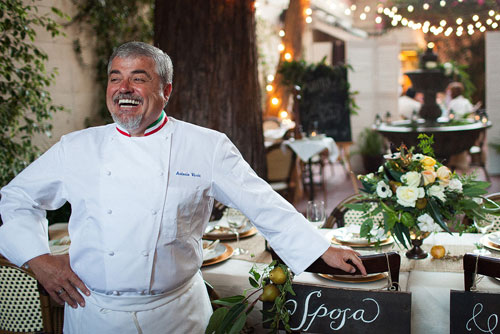 Unmatchable cuisine at Buona Tavola's good table
Be sure to arrive at Buona Tavola hungry and ready for an exquisite Italian cuisine experience! Whether in the mood for lunch, dinner or both with wine and dessert, you are going to be tempted by every item on the menu. From antipasti to dolci, the choices are abundant. Not only will you experience authentic Italian cuisine, Chef-Owner Antonio Varia releases some of his favorite recipes on the website that you can cook at home!
Varia grew up in the mountainous lake region of Piemonte in northern Italy where he was his family's designated cook—his mother having been ill—and had enjoyed the work so much that his father helped him take the next step to become a chef at various hotels in his area.
When Varia tells his story in a loosely flowing Italian accent, everything—the rich, delicious food, the superb service, the tucked away little corner restaurant ambiance—mingles with his full-bodied voice to create that one-of-a-kind warmth that epitomizes Italian culture.
"I really enjoyed it, but my dream was always to come to the United States," Varia says. In the '80s, he took the helm of a Princess Cruise ship's floating kitchen, landing in Los Angeles, where he began working for a well-known chef in Beverly Hills named Antonio Tomasi. Four years later, Varia and his wife decided to move to San Luis Obispo, a town they had visited over the years and liked. They bought a ranch and, in 1992, opened their first restaurant, Buona Tavola.
"Buona Tavola is a name meaning 'good table,'" Varia translates—but the true meaning of the Italian phrase is not so simple. "In Italy, at dinner with all of your family around you," he explains, "before you say grace you say, 'Ah, che bella tavola!' or 'Che buona tavola!'—what a good table, full of friends, family and good food!" It is this sense of happiness and love that he conveys with the name and which he expresses by cooking food that he loves to make and to eat.
Understandably, his specialty is Northern Italian cuisine, which he explains has a lot of influence from Germany, Sweden and France. "It's more 'white,'" he says, referring to the creamy white sauces used in the pasta and gnocchi dishes of the region, which rely heavily on cream, cheese and butter, as opposed to the spicier, olive-oil-laden, tomato and eggplant dishes of southern Italy.
In addition to the traditional gnocchi, which they make fresh every day, and the classic Piemonte pappardelle (wide ribbon pasta), and agnolotti (half-moon shaped ravioli) dishes, Varia also includes other styles of Italian cooking like the Timballo Valdostano, which is similar to southern eggplant parmigiano.
As Varia talks of his large family and his hometown in Italy, there is a twinge of nostalgia in his words. "I would not change my life for anything else. I've been traveling lately in the United States, and no other place is better than our California Central Coast, I tell you!" he says, with that matchless wide, warm Italian smile. "I've really been blessed. I do what I love to do: cooking!"
Buona Tavola is located at 943 Spring St., Paso Robles (805) 237-0600 and at 1037 Monterey St., San Luis Obispo (805) 545-8000. Visit btslo.com for hours and the menus for each location.
— Jamie Relth
comments