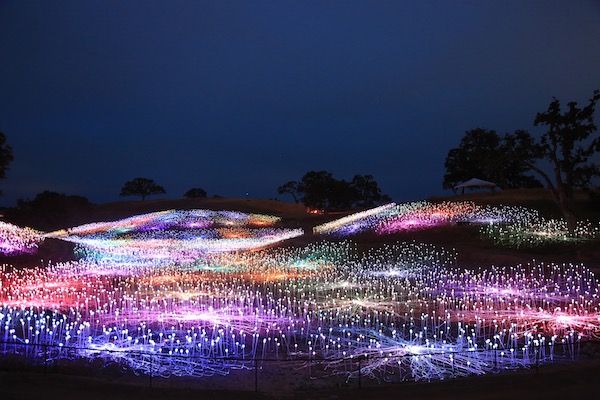 Bruce Munro: Light at Sensorio now includes the new Light Towers exhibit
Covering 15 acres of Paso Robles' rolling hills, visitors to Bruce Munro: Light at Sensorio stroll through an array of over 58,800 solar-powered stemmed spheres lit by fiber-optics, illuminating the landscape in blooms of morphing color.
The exhibit now includes the new installation, Munro's Light Towers, celebrating Paso Robles' extensive wine country environs. Light Towers features 69 towers composed of more than 17,000 wine bottles illuminated with glowing optic fibers whose colors morph to an ethereal musical score.
More good news is that Sensorio announced in December 2021 that the immersive light installation is now in residence on an ongoing basis. The exhibit, originally launched in 2019 has attracted over 200,000 visitors from around the world and captured media attention.
The New York Times applauded the exhibit for creating "movement that infuses culture in valleys of viticulture." Forbes described it as "the future of public wellness" and Travel + Leisure as a "pilgrimage-worthy art escape" that is "meant to complement, never compete or detract, from the beauty of the landscape."
Theoretical physicist/Nobel Laureate Frank Wilczek noted, "I had the uncanny sense that I was walking through my own mind or at least a good model of it. I'll never again think about brains, or myself, in quite the same way."
Sensorio enhances the experience with live entertainment by local musicians and offers food and beverages including warm drinks, wine, beer, a selection of mixed cocktails, snacks and meals. A VIP experience option is also available, which includes exclusive access to a terrace overlooking Field of Light, with an Airstream bar, private tables and fire pits, and other amenities.
Sensorio, the intersection of art, technology, and nature, has been designed as a destination for entertainment, exploration, meditation, adventure, and delight, honoring the natural topography of the landscape. Future developments at Sensorio will include a hotel and conference center.
Guests are invited to download Sensorio's free app, "Sensorio Paso" for an enhanced experience.
Sensorio is located at 4380 Highway 46 East, Paso Robles. The exhibit is open to the public through September 5, 2022 and tickets are on sale on the website: sensoriopaso.com call (805) 226-4287.
comments