Tropical paradise features Polynesian-inspired small bites and exotic cocktails
A few steps from the Paso Robles Downtown City Park two hand-carved tiki statues beckon visitors to enter the tropical paradise of Cane Tiki Room. The décor, music, food and drinks, servers and bartenders dressed in Hawaiian attire all combine to provide an escape from the daily routine.
"It's such a fun place," Co-owner Donovan Schmit said. "You can escape the streets of Paso and disappear into a tropical environment. When you walk through the door of a tiki bar – I don't care if you're in New York City or Paso – you are immediately transported to the South Pacific. That's how it is at Cane Tiki Room – the smells, the sounds, the sights, the flavors, everything – there's just this vibe when you step inside and it's all about escapism. It's bright, the music is fun and, I mean, who doesn't like drinks with little umbrellas in them?"
Tiki comes to Paso
The concept for Cane Tiki Room came about in 2020 during a time of gathering limitations due to pandemic restrictions. Schmit and Troy Larkin – cousins, business partners, and the dynamic duo behind the hugely successful Pappy McGregor's, Fish Gaucho, and Eleven Twenty-Two Speakeasy, realized they would need to temporarily put the dark, secretive aspects of 1122 on hold. Moving things outside to the shared back patio area of Pappy's proved a viable option.
"Our general manager at 1122, Matt Kelly, has a love for tiki and said, 'Hey boss, what if we threw a couple of blenders out here, rewrote our whole menu, and served pina c oladas and mai tais for the rest of the summer?' We wore Hawaiian shirts, bought some grass skirts, put up some flamingo lights and a few decorations. Within a week there was  a line wrapped down and out the gate."
The fun vibe and excitement continued for almost a year, with heaters brought in during winter months creating a luau-like environment. Guests practically begged them to keep things going, but Schmit and Larkin knew it was time to reopen 1122. As fate would have it, a space next to Fish Gaucho became available and a lightbulb came on.
"It was evident to us that a tiki bar was just what downtown Paso Robles was lacking," Schmit said. "So, all of this came about on accident, really. We'd been to a few tiki restaurants in the past and they were really cool and super fun, but it was never on our radar for this to be a business for us in Paso until those first few weeks of the tiki bar at Pappy's."
After extensive research and learning the history behind all things tiki, the cousins discovered tiki has a huge following, with people traveling all over in search of tiki bars. With Cane Tiki Room being situated right off the 101 between L.A. and San Francisco, their hope is for locals and visitors to the area to stop by and join the fun.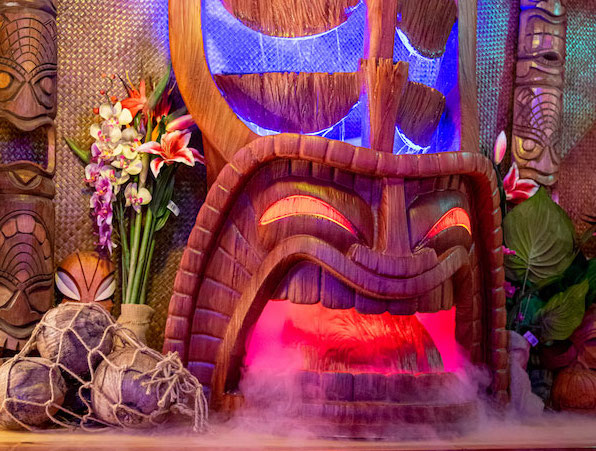 Authentic details
Schmit and Larkin are known for their attention to detail to ensure authenticity at each of their establishments. True to the tiki theme, every inch of this cool, inspired space is artistically decorated and the vibe just screams fun, tropical excitement.
"We sourced about 50 percent of our décor from the owners of a true tiki paradise warehouse in Whittier called Oceanic Arts," Schmit said. "You'll see really cool artifacts from New Guinea and Fiji, pufferfish imported from Thailand, Tahitian lamps, and more at Cane Tiki Room."
The rest of the décor was designed and crafted by the owners of Daniels Wood Land in Paso Robles. Known for their elaborate wood creations, twin brothers Ron and John Daniels host the Wood Kings television show and have created designs for Disney theme parks, movie sets, and various entertainment venues.
"We went over to chat with them and one of their offices is actually a recreation of the Enchanted Tiki Room at Disney," Schmit said. "They love tiki! We are excited for people to see their carvings, custom lights, chandeliers, and water fountains at Cane Tiki Room. This is really high-quality work, the level of detail they put into their pieces is just extraordinary."
Exotic food and drink menus
General manager Jeff Kennedy and kitchen manager Marta Bejar oversee a friendly, professional staff dedicated to providing excellent customer service. Indoor seating includes the bar area, booths, and an upper bamboo room built to mimic a Hawaiian palapa.
The chef-inspired food menu is built around shared plates and small bites, with most guests ordering several Polynesian-fusion items to pass around among friends. Choose from a variety of tiki bar favorites including ahi poke, pork & Shrimp eggrolls, Hawaiian kabobs, and Spam musubi. Be sure to try the spicy, garlicky firecracker shrimp, Spicy green beans, Mongolian beef and chicken lettuce cups. Quality is key with everything made in-house from scratch, including the sauces.
The exotic cocktail menu features drinks served in festive glassware and includes beer and wine selections as well. Guests will find tiki bar favorites such as mai tais, pina coladas and painkillers with bartenders adding their own Cane Tiki twist to traditional recipes. If you dare, try 28 Ingredients Later – a play on zombie – or Twadewinds – a play on tradewinds. Want to make the tiki god Kane happy? The secret won't be given away here, but just know you're in for a real treat when a certain signature drink is ordered!
Visit Cane Tiki Room at 1240 Park St. in downtown Paso Robles, Calif.; food is served daily, 4 to 9 p.m. with the bar open until 10 p.m. on weekdays and midnight on Fridays and Saturdays. For more information, call 805-227-7113 or visit canetikiroom.com.
– Meagan Friberg
comments