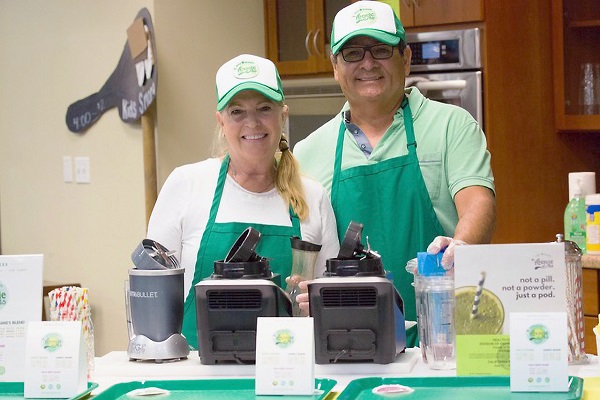 Delicious homemade food awaits the community
—Nestled among the rolling hills of Templeton, Amy & Jaime's Place is a cafe filled with fresh food and a comforting atmosphere. A favorite stop for frontline workers from the nearby medical facilities, the cafe is sure to have a delicious meal for all.
"Our little cafe is definitely the epitome of local and community. We live in Templeton, we donate to many local nonprofits and schools, including Must! Charities. We love being part of a small community where we know most of your customers by their first names, their stories, and so on. From the second you walk in you feel the positive vibe and hospitality. Then you experience great food at an incredible value," said Amy Paniagua, who co-owns the cafe with her husband, Jaime.
The Paniaguas started Amy & Jaime's Place in July 2020 and served the local frontline workers throughout the pandemic. They decided to open the cafe after having successful careers in the food and other industries. Jaime worked at International Paper Company for over three decades while Amy is an entrepreneur with a passion for buying, selling, and remodeling homes. The first food item Amy produced was a gluten-free chocolate souffle, which was highly lauded by Oprah Winfrey and found in over 500 stores nationwide. Next, Amy and Jaime produced their Veggie Pods, which were found in multiple stores around the county, including Cal Fresh and Sunshine Foods. When one of the stores, The Wellness Kitchen, was closing down in 2020 the owners encouraged the Paniaguas to open their own business in that location.
Just a few popular items you can get at Amy & Jaime's Place include fried egg sandwiches on homemade croissants, one-pound breakfast burritos, and community-loved burgers served on Tuesdays. Take a look at their daily specials, which could include lasagna with Etto pasta, pulled pork burritos, and much more. The front counter has a wide variety of options, including cookies, fruit crisps and muffins, while the Grab & Go section has many gluten-free and vegan cookies, salads, protein balls, and other tasty items.
"Catering is an important part of our business. We can make just about anything, all scratch-made, and mid-priced. Our food is made with lots of love and our customers know it from the first bite, all with locally sourced ingredients," said Amy, who has catered events such as the Mac and Cheese Fest and backstage food for Whale Rock Music Festival.
With friendly conversation and delectable food awaiting the community, Amy & Jaime's Place is a must-stop for all.
Amy & Jaime's Place is located at 1255 Las Tablas Rd #102 in Templeton. Open Monday through Friday from 7 a.m. to 3 p.m. Closed Saturday and Sunday. For more information visit amyandjaimesplace.com or call (805) 434-1800.
 — By Sadie Mae Mace
comments