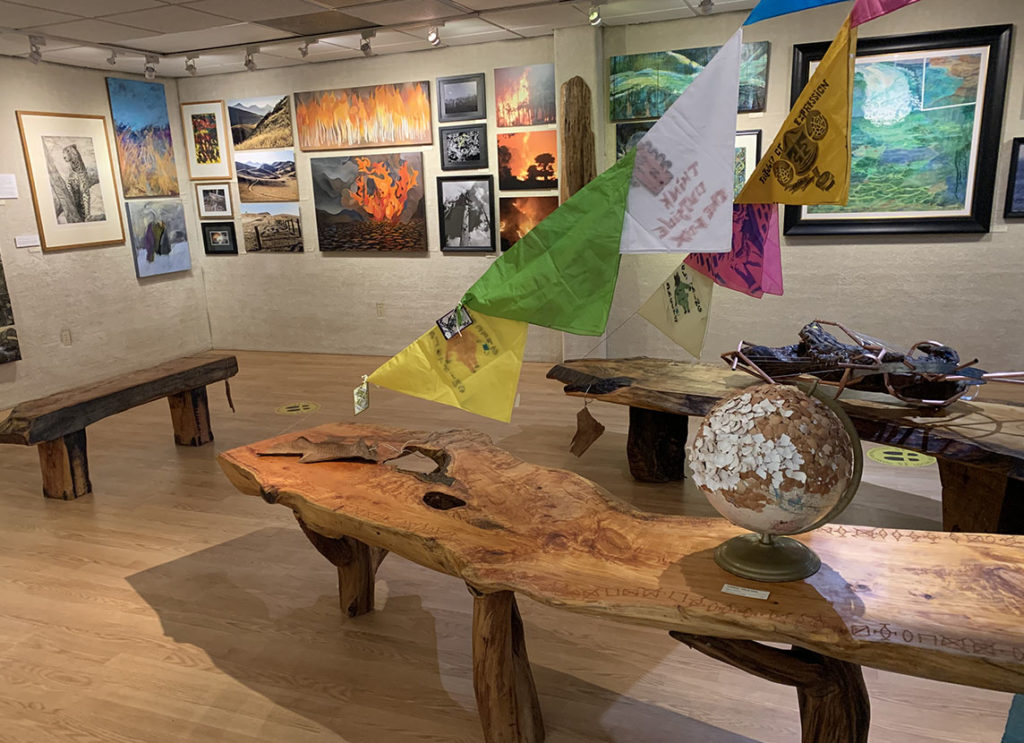 Art exhibits, classes, workshops and demonstrations for everyone
You can't miss the large purple building in downtown Morro Bay, with its mural of the iconic Morro Rock. The Art Center Morro Bay is home for local and far-away artists who are members of the Morro Bay Art Association (MBAA). The community and visitors have enjoyed the art and activities of this group since its early art shows in 1951. Today, the Art Center Morro Bay is a destination for exhibits, art classes, and appreciating and collecting quality art in all forms.
Art all year
With two spacious galleries and a classroom, Art Center Morro Bay presents about eight exhibits a year. Special exhibits include the Pastel Society of the West Coast, featuring national and international artists, and annual juried events with special awards.
Upcoming exhibits include:
The Pottery of Jim and Sandy Gregory, May 27 through July 12, 2021. Jim Gregory specializes in functional stoneware, raku and horse hair pottery that originated with the Native Americans of the Southwest. Sandy creates functional stoneware, yard totems and birdhouses. Both Jim and Sandy are retired teachers. Jim taught pottery at Reedley High School and Reedley Jr. College.
Wood turned art of Larry K. Truesdale, July 15, 2021 – September 6, 2021. For Larry Truesdale, the experience of looking at a tree or cut block of wood reveals the inner beauty of the wood through its grain, telling a story of the tree's growth challenges. He envisions the inner potential and beauty within, waiting to be revealed and then brings new life to that piece of wood.
Exhibits are free to the public from 12-4 p.m. Thursday-Monday.
Classes, workshops and demonstrations
Free demonstrations by talented artists and open to the public, are presented on the second Monday of each month from 3 -5 p.m.
Youth and family art classes are offered during the summer and adult classes and workshops throughout the year. Classes, for a small fee, include watercolor, pastels, adult coloring book, life drawing, mosaics, jewelry, art with succulents, and classes for creating items for home and garden. Join the free Creativity Class; bring a project and lunch to spend time creating in the company of other artists.
Classes, both in the classroom and online, are available all through the year so check the website regularly.
A history of art and community
Beginning in 1951, seventeen artists met in local homes, hanging their paintings on neighborhood trees and using whatever space was available for shows. The association acquired its current home in 1971 and since opening its doors, has become an integral part of the community.
The center works with local high schools to provide an internship program and scholarships to deserving youths. The MBAA is also the proud sponsor of Morro Bay Art in the Park, the second oldest park show in California!
A board of directors run, member-supported non-profit organization, Art Center Morro Bay is completely operated by volunteers. Members are the heart of the organization and membership is open to all. Visit the website to join.
Art Center Morro Bay is located at 835 Main St., Morro Bay, CA, open 12-4 p.m. Thursday-Monday. For more information call (805) 772-2504 or visit artcentermorrobay.org.
comments