Art exhibits, classes, workshops and demonstrations for everyone
You can't miss the large purple building and its iconic mural of Morro Rock in downtown Morro Bay, The Art Center Morro Bay is home for local and far-away artists and the community and visitors have enjoyed the art and activities of this group since its early art shows in 1951. Today, the Art Center Morro Bay is a destination for exhibits, art classes, and appreciating and collecting quality art in all forms.
Art all year
With two spacious galleries and a classroom, Art Center Morro Bay presents about eight exhibits a year. Special exhibits include the Pastel Society of the West Coast, featuring national and international artists, and annual juried events with special awards.
Upcoming exhibits
Exhibits are free to the public from 12-4 p.m. Thursday-Monday.
Broken Nature – May 26 through June 27, 2022. Reception June 5, 2022, 2-4 p.m. This exhibition addresses the critical state of the environment by thinking locally and globally and confronting the many environmental issues that are part of daily life. This exhibit is a challenge to dare, to pose raw questions, expose current states of matter and to envision the solutions.
Under Pressure – May 26 through June 27, 2022. Reception June 5, 2022, 2-4 p.m. Under Pressure is an exhibition of work by the Central Coast Printmakers, a group of around thirty artists who share a love of printmaking. Printmakers use many different surfaces such as wood, metal, linoleum and plastic, and methods like carving blocks, etching with acid, and painting materials to print, using a large assortment of papers to achieve these images. This exhibit of hand-made prints presents a wide variety of styles and techniques.
Pastels USA – June 30 through August 8, 2022. The opening reception is July 10, 2022, 2-4 p.m. and a very special closing reception with award ceremony Sunday, August 7, 2-4 p.m. This juried event is the 36th Annual International Exhibition of Pastels USA hosted by the Pastel Society of the West Coast. This collective of exceptional pastel artworks features some of the finest contemporary artists in the world. Many of the artists are internationally acclaimed. Former entries have come from all over North America and as far away as Africa, Turkey, Asia and Europe!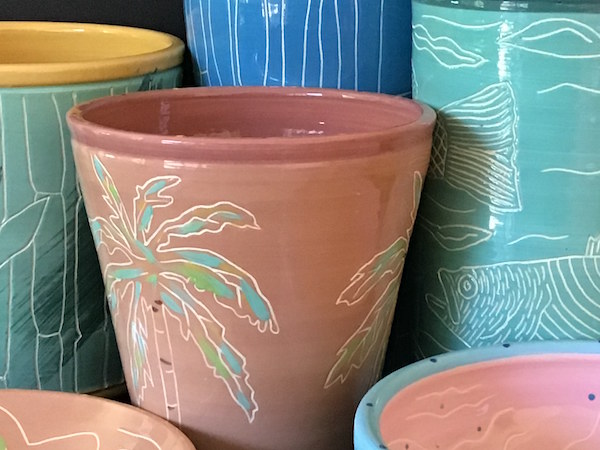 Featured Artist – Phillip Lopez
The ceramic pottery of Los Osos artist, Phillip Lopez, will be on display from June 30 through August 8, 2022. His love of the sea has guided his current series, hand building, throwing on the potter's wheel and creating one-of-a-kind sculptures reflecting Phillip's sense of design, creativity and artistic interpretation. His emphasis is on color and design, primarily using the decoration method of sgraffito, which is carving on an unfired clay body revealing the contrasting slip/color of the underlying layer.
Phillip's love of ceramics began in high school and he then continued to earn a BFA from Cal State University Long Beach, an MFA from UCLA as well as studying at Haystack Mountain School of Crafts, Dear Isle, Main and Pilchuck Glass School in Washington.
The Phillip Lopez exhibit runs from June 30 through August 8, 2022. The opening reception is Sunday, July 10 2-4 p.m. Closing reception is Sunday, August 7, 2-4 p.m.
Classes, workshops and demonstrations
Free demonstrations by talented artists and open to the public, are presented on the second Monday of each month from 3 -5 p.m.
Youth and family art classes are offered during the summer and adult classes and workshops throughout the year. Classes, for a small fee, include watercolor, pastels, life drawing, mosaics, jewelry, art with succulents, and classes for creating items for home and garden. Join the free Creativity Class; bring a project and lunch to spend time creating in the company of other artists.
Classes are available throughout the year so check the website regularly.
A history of art and community
Beginning in 1951, seventeen artists met in local homes, hanging their paintings on neighborhood trees and using whatever space was available for shows. The association acquired its current home in 1971 and since opening its doors, has become an integral part of the community.
The center works with local high schools to provide an internship program and scholarships to deserving youths. The MBAA is also the proud sponsor of Morro Bay Art in the Park, the second oldest park show in California!
A board of directors-run, member-supported non-profit organization, Art Center Morro Bay is completely operated by volunteers. Members are the heart of the organization and membership is open to all. Visit the website to join.
Art Center Morro Bay is located at 835 Main St., Morro Bay, CA, open 12-4 p.m. daily. For more information call (805) 772-2504 or visit artcentermorrobay.org.
comments