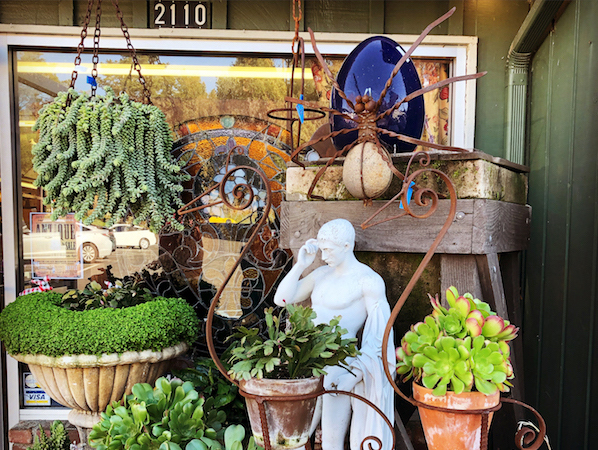 Rich Man Poor Man is open and thriving. "We are most thankful to the many customers new and current that have returned to the store," says co-owner JoAnna Crebs. The stores are filled with many treasures that span the spectrum of antique, mid-century, vintage, and collectible.  "Our pet-friendly stores are destinations for vintage and antique collectors from all over the United States and the world. "We have regular customers from everywhere," said Crebs, who owns the business with her husband Myles.
"Our visitors are from everywhere in the US and from other countries like Australia, China and European countries. One couple, visiting from Holland, told me they came in on the recommendation of their friends in Holland!" We will be glad when our foreign customers start returning after the global restrictions due to the virus are lifted.
Fifty dealers fill two separate buildings that are just steps from one another on Cambria's Main Street in the Redwood Center. Both stores are easily reached from centralized parking. Most of the vendors specialize in antiques but vintage and collectibles, art and pottery are still to be found.
Jewelry, furniture, decor, clocks, books, toys, table settings, coins, sports memorabilia, tools, Native American, and western collections, Tommy Bahama Hawaiian shirts, and crystal are all there. Rich Man Poor Man Dealers are "some of the best and most experienced dealers in the business." There is even an outdoor patio section in both stores dedicated to garden furnishing and decor.
Both stores have fabulous artwork from U.S. and foreign artists. The artwork spans the early historical periods and also mid-century. A special man cave offers a wide selection of "mantiques." Gas and oil memorabilia, old oil cans, knives, oil field porcelain signs, vintage bicycles and vintage and antique military items are some of the collections found in the mantique room.
Art collectors can find works by artists like Ralph Costantino and other prominent mid-century artists, local artists and famous American and foreign artists. Pottery collectors will find Mid Century Art Pottery, Roseville pottery, California artist pottery, and more.
A Central Coast fixture for over 30 years, Rich Man Poor Man is open every day except Christmas Day. With two restaurants serving breakfast and lunch just steps away, shoppers and browsers can take a break to refuel then get right back to the shops.
"We've been told that our store is the friendliest and most fun to visit," said Crebs. "If we don't have what you are looking for we can probably find it." Most items can be delivered to customers anywhere in California. The inventory is constantly changing. The Rich Man Poor Man website is filled with tantalizing photographs of "I've been looking all over for that!" But, "that" might not be there when you get there. Call the store to claim it!
Have you seen them on Instagram? Follow @richman_poorman_antiques for sneak peeks of their exciting antique stock and other vintage snapshots. Pictures include vintage stock and visual observations in Cambria and the Central Coast. If you see anything you like. Just leave a comment or send a direct message and Myles and JoAnna can assist you with the price and other details.
The showrooms are located at 2110 Main Street and 2084 Main Street in Cambria. JoAnna and Myles Crebs invite you to stop in anytime from 10 a.m. to 5 p.m. Daily (except Christmas Day). Pets welcome! Call the main showroom at (805) 203-5350 and check out www.RichManPoorManAntiques.com for more information.
comments