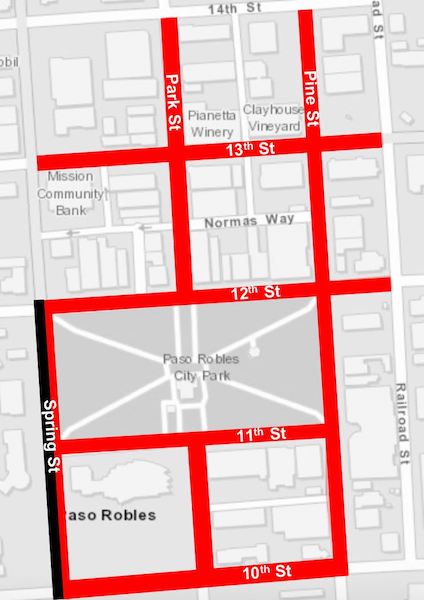 –The City of Paso Robles has installed 34 pay stations in centralized locations throughout the downtown area for on-street parking in preparation for the launch of paid parking on Aug. 14. The city started installing paid parking signage this week.
The city will be promoting and providing information about the paid parking program at the Tuesday morning Farmers Market (8/6 and 8/13) and the Thursday evening Concerts in the Park (8/8 and 8/15). Stop by the booth for the opportunity to win free parking!
The goal of the paid parking program is to create more convenient on-street parking availability for downtown customers, residents, and visitors by encouraging employees to participate in the city's downtown parking permit program, which reserves parking spaces for permit holders in 5 public parking lots downtown. The paid parking program has been customized for Paso Robles to offer a customer-friendly program that will improve the overall parking experience downtown.
The paid parking program will provide 2 hours of free parking when your license plate is registered at a pay station or through the convenient mobile app, as well as a merchant validation program for customers to receive additional free parking time, and a downtown parking permit program.
Starting Aug. 14, parking will be free for the first two hours, followed by a $1.00 per hour rate. Pay stations will require payment between 9 a.m. – 6 p.m. Monday – Friday. Drivers will input their license plate number into the pay station or mobile app to initiate a parking session, even when parking for two hours or less. Each license plate number will be eligible for two free hours of parking per day.
Paid parking will be implemented in the area displayed on the attached map, from 10th Street to 14th Street, and from Spring Street to Pine Street. Spring Street will only have paid parking on the east side between 10th Street and 12th Street.
All 34 pay stations will accept debit and credit card. Three pay stations will also accept cash payments. The cash enabled pay stations are located near the entrances of the Paso Robles Downtown City Park at 11th Street and Park Street, 12th Street and Park Street, and the southeast corner of 13th Street and Park Street. No pay stations will accept coins. The WayToPark mobile app is also available to pay for parking. WayToPark can be downloaded by visiting www.waytopark.com. If you used the Way To Park app, you can add more time to your parking session remotely.
Interested businesses can participate in the downtown Paso Robles Merchant Validation Program to provide free parking for their customers. Merchants can choose from three validation options: pay station validation codes, Way To Park mobile validation codes, and the tablet validation app.
Merchants can choose to provide pay station validation codes, which can only be used at downtown pay stations for free parking. The Way To Park mobile app validation codes can be offered to customers to apply a value or percentage discount on their next parking sessions. WayToPark validation codes must be entered into the Way To Park app and cannot be used at the pay stations. Please note that parking codes can only be applied to future parking sessions.
The tablet validation app will allow merchants to utilize their own iPad or another tablet within their business to offer free parking time to customers. Free parking time will activate for a customer once their license plate number is entered into the tablet application. The city may roll out additional validation options in the future.
Employees who have not yet signed up for a downtown parking permit are encouraged to sign up before the launch of paid parking here: https://forms.gle/6VKp7yweshVKm1q49. The downtown employee parking permit will remain at $5 per month. If employees plan on parking for more than 1 day downtown, it is more cost-effective to purchase an employee permit. The city will make adjustments to the permit parking supply based upon demand.
A number of free parking locations will also remain available, such as along 14th Street, Railroad Street, Pine Street south of 10th Street, the west side of Spring Street, and within certain public parking lots.
To learn more about parking in downtown Paso Robles, please visit www.prcity.com/361/Downtown-Parking. If you have any unanswered questions, please email parking@prcity.com.
comments