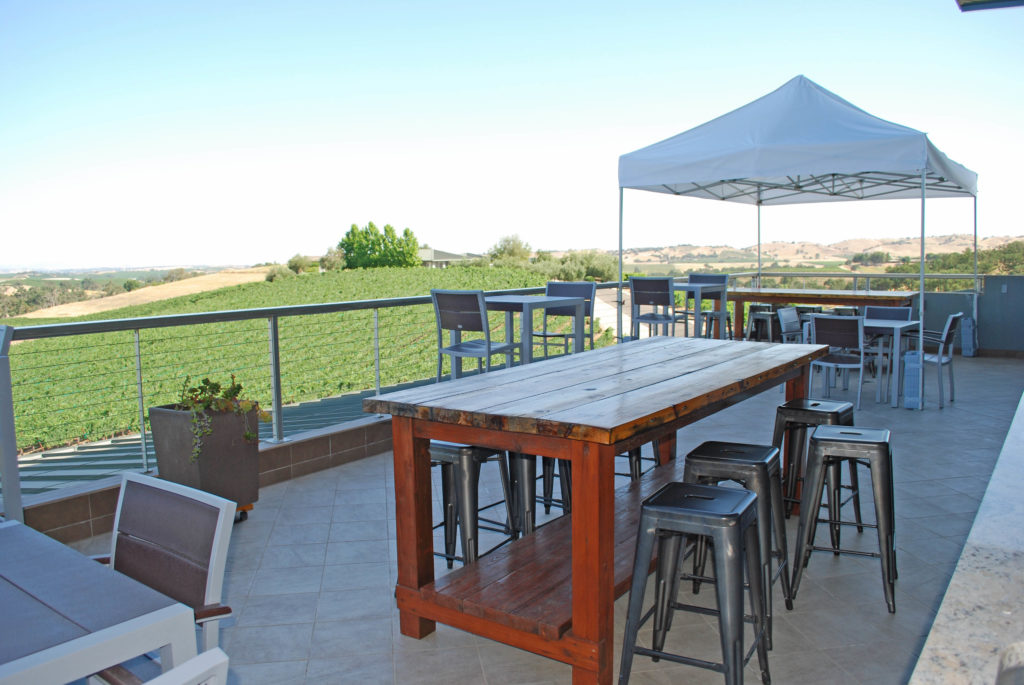 Bovino Vineyards, located an easy drive from Paso Robles, Templeton or Atascadero is the home of the elegantly structured Joludi and gen-er-os-i-ty estate wines. Bovino produces a limited number of these wines that are only available from the tasting room, the Wine Club, or online orders.
Add Bovino Vineyards tasting adventure to your wine tasting list. Enjoy an afternoon of spectacular wine, food and views.
The wine
Joludi, pronounced (Joe-Lu-Dee), is a tribute to winery owner Dan Souza's parents Joe and Ludrie, lovingly called Jo and Ludi by friends and family. Souza inherited his parent's legacy and strong work ethic, expressing those values in the success of Bovino wine and winery.
gen·er·os·i·ty represents the act of giving without expectations, being kind, understanding, not selfish, especially a willingness to give resources to others. A portion of all gen·er·os·i·ty wine sales are donated to local charities. Bovino features a different local charity every month.
Bovino Vineyards, grows 16 varieties ranging from Italian to Bordeaux to Rhône. The vineyard presents a rare opportunity to try unique varietals, such as Arneis, alongside the more traditional, while maintaining the distinctive terroir of the El Pomar District and Bovino.
Souza and Winemaker Steve Anglim believe that great wine begins with great fruit. From great fruit the rest will take care of itself. Their winemaking philosophy to create balanced, terroir driven wines, unburdened with excessive ripeness has paid off with recognitions by Josh Raynolds of Vinous, awarding an impressive 91 points to Joludi Left Bank Reserve and 90 points each to Joludi Right Bank Reserve, Joludi Cabernet Sauvignon and Joludi Sangiovese Reserve.
The wine club
Enjoy award-winning wines in the Bovino tasting room and through the wine club. Wine club members receive two shipments annually in April and October. Membership perks include a 25-percent discount on wine, guaranteed allocation of Bovino hand-crafted wines, first access to special and limited wines, invitations to special tasting events, complimentary tastings for up to six people and rental discounts for the Estate Guest House.
Food and events
Enjoy freshly prepared food from the Bovino kitchen on Friday, Saturday and Sunday starting at noon. The menu changes so be sure to check the Kitchen page on the website and make your reservations. The Tasting Room opens at 11 a.m. Thursday thru Monday. Enjoy perfect food and wine pairings on the weekends!
Bovino schedules events throughout the year. Wine club members are usually notified in advance in the newsletter, but be sure to check the website, too.
The winery is celebrating Harvest Wine Weekend, October 15-17. The highlight of the evening will be the October 16th Harvest BBQ and Barn Dance at Twist Ranch, one of Souza's cattle properties. Be sure to get your ticket, wear your boots and dance until the cows come home. Visit the website and make your reservation.
Bovino Vineyards is located at 5685 El Pomar Dr, Templeton, CA. The tasting room is open Fri and Sat from 11 a.m.-5 p.m., Sun-Thur 11 a.m.-4 p.m. The kitchen offers food service Fri-Sat from noon-4 p.m. and Sun from noon-3 p.m. For reservations of more information visit bovinovineyards.com or call (805) 238-2007.
comments