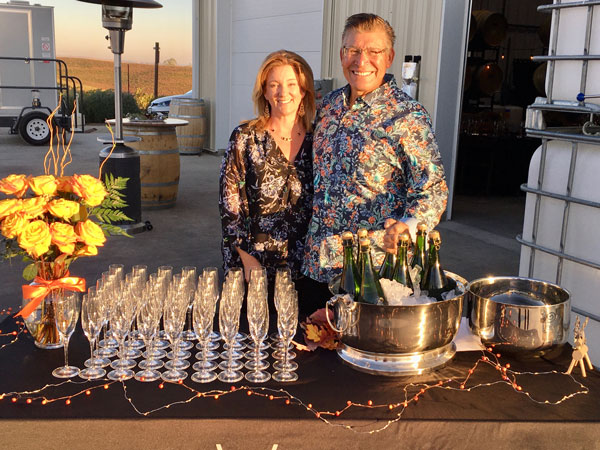 The wine, the view and the experience
Wine, winemaking and food pairings are the topics of conversation during a visit to Vino Vargas in the scenic foothills of San Miguel. Visitors are personally attended by both Pedro and Vicky Vargas. Pedro, the winemaker, and Vicky, Certified Sommelier, share their enthusiasm about wine and how they came to produce their award-winning wines.
Most recently, the winery was awarded for their sparkling wines that are made 100% in-house in the traditional method of Champagne. The Paso Doble Rose Sparkling wine won a Gold and the two white Paso Doble Sparkling wines won Silver. The name "Paso Doble" means "double pass" in Spanish and was chosen to recognize the origin of the sparkling wine ("Paso" Robles) and the "double" fermentation required to create the bubbles.
The current line-up of wines available for tasting include award winners:
2020 Costa Rosa, Rose of Grenache – Gold
2018 Si, Petite Sirah – Silver
2017 Tres Bien, GSM Blend –Best of Class, Double Gold, 97 pts
2017 Toro Tinto, Tempranillo –Silver
2017 El Taxi, Cabernet Sauvignon –Silver
2017 CruZin, Zinfandel – Silver
'Stars in a Glass'
In June 2020 Pedro released his book, "Stars in a Glass," de-mystifying the method that puts the "stars," or the bubbles in sparkling wine. The book contains step-by-step details for making high-quality sparkling wine like the Vino Vargas Paso Doble, using innovative methods and tools he developed.
"When I started out, I just assumed that I would find a book about making sparkling wine that would detail the process from end-to-end," said Pedro. "All I found were fragments of information that I had to cobble together."
Stars in a Glass is available from Amazon Books and at the winery. Get your copy now and ask Pedro to sign it on your next visit to Vino Vargas.
More about Vino Vargas wines
Vino Vargas offers chardonnay, albariño, viognier, rose, pinot noir, grenache, a grenache-syrah-mourvedre blend, zinfandel, tempranillo, malbec, petite sirah, and cabernet sauvignon, along with a white, rose, and red dessert wines. Vino Vargas wines are not available in your local grocery store, but you can experience and buy them at the winery or by joining the wine club.
"Our wines spend at least 18 months in the barrel," said Pedro. "We start tasting at about a year." Winemaker Vargas, also a musician compares his winemaking to tuning a musical instrument. "It is an intricate process from selecting the grapes all the way through to bottling." Vargas makes single-vineyard wines and all the grapes, personally selected from local Paso Robles vineyards, are handpicked. "I get to know the people who are growing and working with the grapes," said Vargas. "To really know the wine, I have to know the people and the land."
Pedro Vargas got his start in 2008, helping a friend make wine on weekends. Inspired by wines the couple experienced during their world travels Vargas's curiosity about winemaking led him to completing a Certificate of Winemaking from the School of Oenology at UC Davis in 2011 and producing the first Vino Vargas vintage that same year. Meanwhile, Vicky Vargas achieved her sommelier certification from the Guild of Master Sommeliers after studying at the French Culinary Institute.
Though only two miles from 101, the road to Vino Vargas wanders along rustic country roads, past vineyards, grazing horses, and through rising foothills to the winery perched atop a hill offering vineyard views that make visitors feel relaxed and content.
The tasting room is open by appointment. For reservations call: (805) 369-1440, email winery@vinovargas.com or visit their website, www.vinovargas.com. Vino Vargas is located at 950 Indian Dune Road, San Miguel.
comments