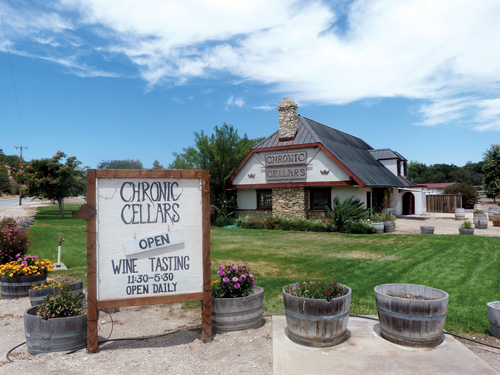 Chronic Cellars
What started as an idea tossed around between brothers Josh and Jake Beckett has taken form as Chronic Cellars. Josh says they began "kicking around the idea" for a winery of their own in 2004. The idea that the brothers casually dreamed up while spending time with friends evolved into a side project and then into a full-blown winery.
Chronic Cellars' tasting room on Paso Robles' west side has been open for three years, and is open to wine tasters daily. The brand is distributed in small amounts in what Jake describes as "interesting markets" all over the world, including Hawaii, Georgia and even one store in China.
While they have enjoyed some the success that has allowed them to expand over the years, both brothers say that they do not want to grow Chronic Cellars too much. They want to keep the winery small enough so that they are able to produce wine that is up to their standards.
While the duties of the winery are technically distributed between the bothers so that Josh is in charge of the grapes and wine and Jake takes care of sales and marketing, they both say that the lines are blurred. Says Josh, "We kind of do it together." This means that Jake will ride along as Josh inspects the vineyards and that Josh has a lot of input on the way the wine is marketed.
A lot of the marketing of the brand is done through social media, as the brothers prefer to put as much money as they can back into the wines they produce rather than spending it on marketing. And, says Jake, this strategy has been working, "Good wine, really good wine at good prices, sells."
Much of the business of Chronic Cellars is family-fun; Dawn, Jake's wife, and her mother Jean both work behind the scenes running the tasting room and business end of the winery.
It was important to Josh and Jake that their winery reflect their own personalities and tastes. They wanted to make wines that would be available to a larger group than the typical wine drinker, and which felt approachable to people interested in learning about wine.
A big part of the image of Chronic Cellars is the label art. All of the artwork for the labels—as well as most of what is displayed in the tasting room—is by local artist Joseph Kalionzes. Joseph is a longtime friend of Josh and Jake, and is very involved in the process of designing each label. Josh and Jake say that they collaborate with Joseph on label designs and that they all have a hand in creating the concept behind each label.
Their labels unique look reflects the easy-going personalities of Josh and Jake, and do the trick in easing new wine-drinkers into the wine world. Josh says that they get a lot of new wine drinkers in the Chronic Cellars tasting room, and that they have worked to stay away from the snobby side of wine in creating Chronic Cellars.
Chronic Cellars was named as a nod to what Josh describes as the brothers' "recurring" and continuous winemaking. The brothers' love for winemaking is still rooted in their experience growing up in Paso Robles wine county – Josh and Jake grew up working at their family's Paso Robles winery Peachy Canyon Winery. Josh says, "We are still farmers."
And, they credit a lot of their success to the warm reception that they have received from the community on the Central Coast. Says Josh, "We are always thankful for local support." He continues to say that the community appreciates that they have stayed true to their goal of making quality wine rather than focusing on the marketing aspect of the business. As Jake put it, "The Central Coast has been super-awesome to our business."
Both locals and visitors will find that this unassuming winery has stayed true to Josh and Jake Beckett's original goal of making good wine available to all.
Visit Chronic Cellars at 2020 Lake Nacimiento Lake Drive in Paso Robles, open daily from 11:30am – 5:30pm. Call (805) 237-7848 for more information, or visit their website at chroniccellars.com.
— Kate Joyce
Subscribe to weekly travel news
comments