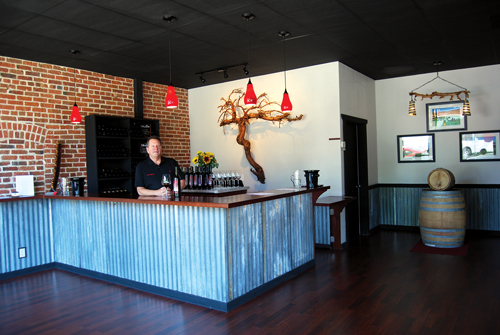 Grizzly Republic Wines in downtown Paso Robles
Grizzly Republic was started in 2004 with a few barrels of Zinfandel from Amador County. At the time, Winemaker Brian Cheeseborough was working for a large wine consulting company in Sonoma County, came across them while working. He was so impressed with the vineyard, he contracted production of his first wine that would make it to the bottle. Soon, he was making wines from all over California at Paso Robles Wine Services. As the aging process continued, Brian began looking for investors. He approached Bill and Judi Hatzman, a pair of walnut-growing friends, for help financing the operation, and they recruited Bob Harper, an old friend who had been working as a wine distributor in Georgia, to help with sales.
The wine was too good and too new on the scene to sell for an affordable price through retailers, so the group decided to open a tasting room and bring the wine to the people. Their doors opened in downtown Paso Robles in July, and Grizzly Republic is already making a huge impression.
"Now that it's started, it's become so exciting," Harper said. 
He's right at home in the tasting room, eager to help patrons enjoy his favorite passion while sharing stories of his many travels. Harper served in the Navy for two decades, seeing lands from Asia to South America. He also did public relations for aircraft manufacturer Lockeed Martin, a gig that gave him the opportunity to interview espionage author Tom Clancy, before settling in Georgia to run Atlanta's largest wine distributor. His southern hospitality and warmth are apparent the moment you meet him 
"I've seen wine country in Chile, Italy, all around the world," Harper said. "People are my forte, so I absolutely love working the tasting room."
It's a small space that's both comfortable and elegant. Corrugated tin lines the bottom of the walls while oak barrel furniture and grape wood sculptures decorate the interior. A brick wall, miniature marble fountain, and mahogany bar can't help but bring images of Italy to mind, and full length windows let sippers watch the hot Paso Robles streets from inside the refreshingly cool room.
"It was designed for simple, clean lines," Harper said. "Nothing utilitarian is visible."
The name "Grizzly Republic" comes from an early attempt to choose a name for what would become California. It was chosen because the winemaker had Californian roots that ran six generations deep, and he used grapes from all over the state. 
Now that the business has settled in Paso Robles, the group is shifting its focus to local fruit for most wines, including their flagship vintage, a Petite Sirah that's so dark it's almost black, so deep it's practically impossible to drink with open eyes. It's far better to get lost in the layered flavor with no intrusion from the visual world, to let it wash over you in a moment of simple serenity.
Their 2007 Petite Sirah won the "double gold" award from the San Francisco Chronicle and "best of class" in the Los Angeles International competition. 
"That's a real achievement. We weren't just competing with wines from that year, but from all years," Harper said. "They had more time to mature and get beautiful, but the judges liked us more." 
Get it while you can, because there are only 63 cases remaining. Harper lamented that there's nothing sadder selling the last bottle of a favorite wine.  
"It's heartbreaking because nothing exactly like it will exist again," Harper said.
But don't fret. Grizzly Republic has produced two newer batches of Petite Sirah along with a host of other varietals. They produce roughly 3,000 cases per year, so there's plenty to choose from, and they're all good – from the big, jammy Zinfandel to the delicate Sauvingnon Blanc, which Harper described as "a kiss from the grape."
Fans can join the Grizzly Club to get three shipments of three bottles every year at a 30 percent discount, a huge price break considering that some of these high quality concoctions sell for up to $45 in the tasting room. Club members can also bring two friends to taste for free anytime a craving strikes.
"The biggest compliment I've heard, the thing I'm most proud of, is that people like all of the wines, not just one or two," Harper said.
Harper described his winemaker as equal parts scientist and artist. To taste what happens when passion and chemistry combine, visit the Grizzly Republic tasting room at 840 13th Street in Paso Robles. They're open Wednesday, Thursday, and Sunday from 12:30-6:00pm. and Friday and Saturday from 12:30-7:00pm. You can also visit them online at grizzlyrepublicwines.com.
— Nick Powell
Subscribe to weekly travel news
comments