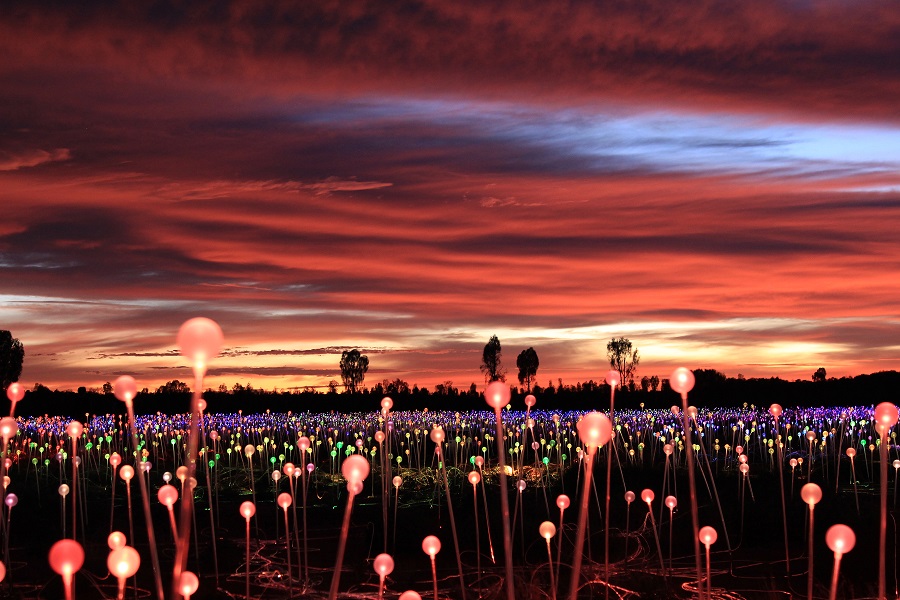 The world's largest exhibit of work by the British artist
The world's largest exhibit of work by the British artist added two new exhibits in 2023
—Since opening in May 2019, the exhibit has captured an international audience, with over 400,000 visitors from across the country and around the globe snapping up tickets to the remarkable event. It is the world's largest exhibit of work by the acclaimed British artist and is entirely powered by solar.
In April 2021, Sensorio commissioned a second work by Munro, Light Towers located next to the Field of Light. Featuring 69 towers composed of more than 17,000 wine bottles illuminated with glowing optic fibers whose colors evolve to an ethereal musical score, Light Towers celebrates Paso Robles's extensive wine country environs.
In May 2023, Sensorio announced the addition of two more new exhibits by artist Bruce Munro: Gone Fishing and Fireflies" Adding another half-acre to this enormous walkthrough dreamscape, these new works complement the current exhibits, creating a deeper experience of wonder.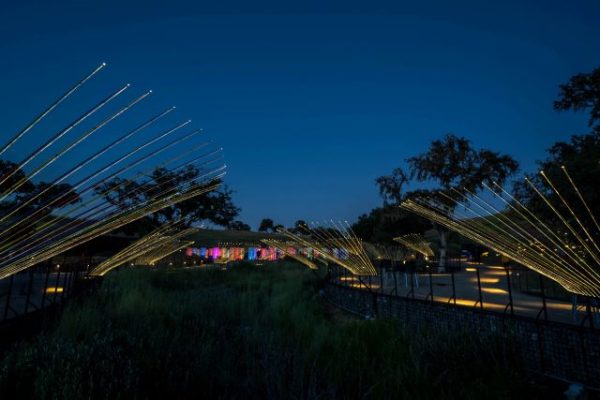 Comprised of 30 circular arrays of 25 multi-colored fishing rods, Gone Fishing at Sensorio represents Munro's "fascination with the contemplative act of standing by a stream." Each bloom, threaded with fiber optics, gently illuminates the surrounding hills.
The adjacent pathway is dotted with Munro's Fireflies, inspired by two of his favorite books, Kim by Rudyard Kipling and Siddhartha by Hermann Hesse. The artist's ongoing dream to capture something of a similar essence in light resulted in these whimsical works, made up of 9,720 flickering points of light. Munro notes, "It is my belief that light is a wonderful medium to connect mind, body, and soul with the natural environment. I hope this installation instills a sense of wonder and surprise to those that see it."
For the first time ever, the public is invited to a special Sunrise Event on September 24. Arrive anytime between 4:30-7:30 a.m. to immerse in the magical hues of the rising sun, painting the sky with an array of colors. The price of the ticket includes coffee, water, and pastries. Breakfast burritos and espresso coffee are also available for purchase. Tickets can be purchased on the website at sensoriopaso.com.
Sensorio has been hailed for creating a "movement that infuses culture in valleys of viticulture" (The New York Times) and offering a unique adventure described as "the future of public wellness" (Forbes), and a "pilgrimage-worthy art escape" that is "meant to complement, never compete or detract, from the beauty of the landscape" (Travel + Leisure).
Other critics have described Field of Light as "mesmerizing" (Los Angeles Times), "art that you experience" (San Francisco Chronicle), a "dreamlike glowing landscape" (SLO Tribune), and a "well-considered mix of technology, art installations, and community elements" (Forbes). in 2022. Los Angeles Times also featured Sensorio in its "101 Best California Experiences."
Sensorio enhances the viewing experience with nightly live entertainment by local musicians and offers food and beverages including wine, beer, and a selection of mixed cocktails, snacks, and meals.
London-born Bruce Munro is best known for large-scale light-based artworks inspired largely by his continuous study of natural light and his curiosity for shared human experiences. With a fine arts degree, early career training in the lighting design industry, and an inventive urge for reuse, Munro creates art that captures his responses to literature, music, science, and the world around him. His work has been commissioned by and displayed in special exhibitions in galleries, parks, grand estates, cathedrals, botanical gardens, and museums around the globe.
Sensorio was created by locals Ken and Bobbi Hunter as a destination for entertainment, exploration, meditation, adventure, and delight, honoring the natural topography of the landscape and intended to offer a wide range of amusing, mystical, and kinetic experiences. Since its opening in 2019, Sensorio has become the backdrop for dozens of marriage proposals.
For the schedule, hours, and more information, or to purchase tickets, visit sensoriopaso.com or call (805) 226-4287. Sensorio is located at 4380 Highway 46 East, Paso Robles.
comments