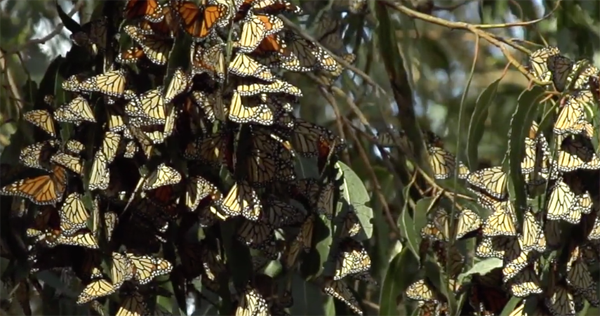 Visit the mighty Monarchs
The Pismo Beach Monarch Butterfly Grove is one of the five California sites that is visited annually by over 10,000 butterflies. Thousands of this declining population of vibrant orange and black Monarch Butterflies travel from as far away as Canada seeking shelter from freezing temperatures.
From late October to February the butterflies cluster in the limbs of the Eucalyptus trees that fill the landscape around the estuary that flows to the Pacific Ocean. The monarch butterfly population has been a concern for scientists and butterfly enthusiasts since 2014 when a dramatic decline was observed in butterflies hibernating in Mexico. Scientists attribute the decline to the disappearance of the monarch milkweed plant, the only plant the monarch caterpillar will eat.
Visitors to the grove of Eucalyptus trees at Pismo State Beach, located on State Highway 1, will be greeted by knowledgeable and well-informed volunteer docents offering daily talks and information on the clusters of butterflies visiting the grove. Call the Chamber of Commerce at (805) 773-4382 for more information.
On the Central Coast, the Monarchs also winter in Morro Bay. Visitors can see the butterflies at the Morro Bay State Park, typically around campsite 116. The Museum of Natural History, located at 20 State Park Rd in Morro Bay, is an excellent resource for information about Monarchs. Call (805) 772-2694 for more information.
Be sure to check out their website at monarchbutterfly.org for more information about the Pismo Beach Monarch Butterflies.
comments