Cambria — the scenic North Coast getaway
Nestled in a forest of coastal pines, Cambria rests along a rugged coastline, offering spectacular views, top-notch cuisine and quaint shopping.
The town is charming and filled with boutique shops and roads lined with wildflowers. Walking through Cambria is like revisiting the quiet, isolated community that flourished in the early 1900s.
Today, Cambria is the biggest settlement on the North Coast with two villages  filled with small shops, restaurants, motels and seaside cottages. It is also the gateway to the California State Parks most popular attraction — Hearst Castle.
Cambria boasts some of the finest restaurants in San Luis Obispo County. They run the gamut of tastes from California cuisine to seafood, but share a common goal of absolute freshness. In October, don't miss the town's annual Scarecrow Festival.
Located about 35 miles north of San Luis Obispo on scenic Highway 1 and about 30 miles west of Paso Robles over wine country's Highway 46 West. Either drive is filled with stunning landscapes. Take your time on the drive and don't forget to bring your camera. There will be plenty of opportunities for photographs of panoramic views, coast lines, elephant seals, tidepools, sea birds and maybe even a whale or two.
Attractions
Nitt Witt Ridge
Landmark #939 is famous for the artistic use of recycled materials used in its construction. Reclusive artist Arthur Harold Beal purchased the land in 1928 and spent the next 50 years creating his own version of a castle. Building materials include beer cans, concrete, washing machines, car parts, old stoves and abalone shells. Call (805) 927-2690 to arrange a tour.
Piedras Blancas Lighthouse
The historic Piedras Blancas Light Station gives visitors a glimpse into our nation's past when lighthouses served a vital maritime role. The lighthouse is a California Coastal National Monument. Some of buildings are listed on the National Register of Historic Places. For more information and to arrange a tour visit piedrasblancas.org.
Covell's Clydesdales
Take a trail ride through acres of Monterey pine forest, through pastures of grazing cattle and along a spectacular ocean view. Covell Clydesdale Ranch in Cambria offers guided trail rides atop their 2000-pound gentle giants. For more information visit www.covellsclydesdaleranch.com.
Moonstone Beach
The Moonstone Beach Boardwalk is a comfortable way to take in the magnificent beauty of the Pacific coastline. The 1.5 mile boardwalk is easy to find. It runs parallel to Moonstone Beach Drive. There are benches to sit and enjoy the views and stairways that lead to the sandy beaches. Look out for the friendly squirrels. They will jump right up to you if they think you have food. Other wildlife includes ducks, egrets, seals, and the ever-present seagulls, which will also snatch food. For more information visit www.parks.ca.gov.
Elephant seals
The elephant seal rookery extends six miles along the shoreline near Point Piedras Blancas in the Hearst San Simeon State Park. The seals may be seen all year but the largest populations are present during late January, April and October. Visit the Friends of the Elephant Seal website at elephantseal.org for information about the best viewing times and spots
Hearst's Castle
Join the millions who have visited hilltop San Simeon estate of Hearst Castle to explore the architecture, art, and gardens of "The Enchanted Hill." Hearst Castle opened to the public as a California State Park in 1958, but before that it was the home of publisher, movie producer, and art collector William Randolph Hearst (1863-1951). After being closed for two years, the castle reopened in May 2022, with a new Julia Morgan tour, taking an in-depth look at the life and career of this extraordinary woman as well as ours of rarely seen areas of Hearst Castle. Morgan, the architect of Hearst Castle, the Hearst San Simeon property and other Hearst properties, was the first woman to open her own architecture firm. Call (800) 444-4445 or Visit hearstcastle.org or call (800) 444-4445 for more information and reservations.
Tidepools
Anywhere there is rocky ocean shoreline there are tide pools and there are some impressive pools to be found along the coast from Piedras Blancas south to Montana de Oro in Los Osos. Gazing into these many small ponds at low tide you will be privileged to see miniature ecosystems filled with anemones, snails, shell fish, and more exotic sea creatures. If you go tide pooling, please leave the areas as you found them. Replace rocks and creatures exactly as they were and handle everything gently. Wear non-skid shoes capable of getting wet and a walking stick for support. The Central Coast Natural History Association offers docent walks at many tidepool locations. Call (805) 772-2694 for information.
The best places to visit tide pools while in Cambria are:
Cambria – Moonstone Beach
Cambria –Leffingwell Landing
San Simeon-The rocky reefs off Highway 1 at Piedras Blancas
Fiscalini Ranch Preserve
Unique beauty and solitude welcome you on the Central California coast. The Ranch extends from dramatic ocean bluffs along the shoreline, through a grassy marine terrace, rising inland to a forested ridge with breath-taking views of migrating whales, birds, and playful otters, all accessed by miles of trails. Open 365 days a year from dawn to dusk and admission is free. For more information visit fiscaliniranchpreserve.org.
Harmony Headlands State Park
The park, easily accessed from a parking lot about a half-mile south of Harmony on Highway 1, supports diverse and unique habitats for rare, endangered and sensitive plant and animal species. Along the rocky outcrops, lichen, ferns and Indian paintbrush are scattered throughout the grasslands. In the fresh water habitats of wetlands, riparian corridors and ponds, willows, rushes and cattails can be seen. Along the intertidal areas, sea mammals can be seen and heard. Overhead seabirds and shorebirds soar. Making their way through their grassland homes, California ground squirrels, brush rabbits, skunks, coyote, mule deer and raccoons are among the residents. On our hike we saw squirrels, rabbits, deer, a sea lion and lots of wildflowers.
The trail is a four-mile round trip easy hike over a wide and comfortable, compacted trail. The park is open from 6 a.m. to sunset. A small parking lot is visible along the west side adjacent to the southbound lane of Highway One. The parking lot can accommodate approximately 10 vehicles. See more details at California State Parks.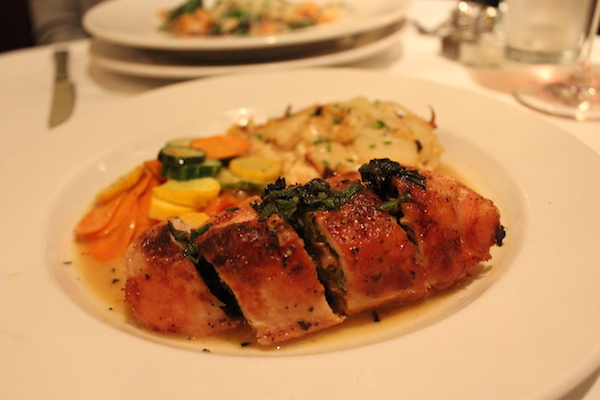 Dining & drink
Madeline's Restaurant & Wine Cellar
The original Madeline's Restaurant and Wine Shop, in the heart of Cambria, has been a favorite place to wine and dine by locals and visitors since opening its doors in 2002. The popular dining spot has expanded to a second location overlooking Moonstone Beach. Diners have a choice of two different experiences from the same favorite restaurant family.
Madeline's Restaurant and Wine Shop, in downtown Cambria services American-French influenced cuisine, local boutique wines as well as their own label. Located at 788 Main St., Cambria. Visit madelinescambria.com or call (805) 927-4175.
Madeline's on Moonstone is located at the Cambria Shores Inn at 6276 Moonstone Beach Drive. Follow Madeline's on Moonstone on Instagram.
Las Cambritas
Family-owned local favorite serving creative Mexican home cooking and unique daily specials. Happy hour includes margaritas, well and beer. Central Coast wine list and live music on our pet-friendly patio on Sundays. Located at 2336 Main St., Cambria. Visit lascambritas.com,  (805) 927-0175.
Allocco's Italian Bakery
A unique Italian bakery, specializing in fresh baked bread, Taralli Italian gourmet pretzels, Italian pastries, house sandwich & Italian coffee. Located at 1602 Main St., Cambria. Follow on AlloccosItalianBakery on Facebook, (805) 927-1501.
Cambria Pines Lodge Restaurant
A casual, relaxing lodge environment with beautiful garden views. Indoor and outdoor seating is available. Features organic produce from the Lodge's organic kitchen garden. Open for breakfast, lunch and dinner. Reservations are recommended for dinner. 2905 Burton Drive, (805) 927-4200 ext 2111.
Cambria Pub & Steakhouse
Fresh seasonal food served in a casual atmosphere. Featuring Harris Ranch beef, fish, poultry and vegetarian dishes. A full bar serves cocktails, local beer and wine. The outside covered patio is heated and pet friendly. 4090 Burton Drive, (805) 927-0782
Wine Tasting
Hearst Ranch Winery
Taste remarkable wines, enjoy the beautiful sites of Old San Simeon Village and relive a little history by visiting the coastal tasting room in Sebastian's General Store & Café. Located at 442 SLO San Simeon Rd., San Simeon. Reservations required, visit HearstRanchWinery.com, (805) 927-4100.
Fermentations
Wine tasting, gourmet food and gift baskets, wine accessories and more. A great experience for local wines as well as wines from other countries. Located at 2306 Main St., Cambria. Visit fermentations.com or call (800) 446-7505 or (805) 927-7141.
Stolo Family Winery
The old farmhouse and dairy barn at Stolo Family Vineyards date back to the late 1800s. Less than three miles from the Pacific Ocean, the estate vineyards thrive in Cambria's unique microclimate, producing unmatched, coastal-style Chardonnay, Sauvignon Blanc, Gewurztraminer, Pinot Noir, and Syrah. Located at 3775 Santa Rosa Creek Rd., Cambria. Reservations required, visit stolofamilyvineyards.com or call (805) 924-3131.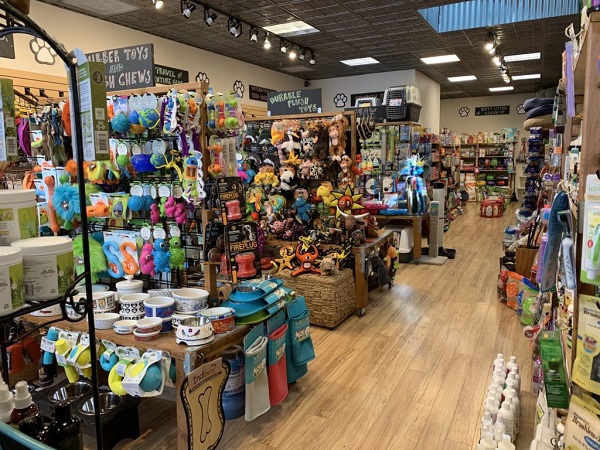 Shopping
Farmer's market
Fridays 2:30–5:30 p.m. at 1000 Main St.
Maddie Mae's Pet Pantry
Pamper your pooches and kittens at Maddie Mae's Pet Pantry. This boutique-style pet shop is fully stocked with all the latest and greatest in pet supplies, adorable accessories, healthy treats, high-quality foods, and safe supplements. Two shops located at 614 Main St., Cambria and 1121 Rossi Rd. Templeton. . For more information, visit www.maddiemaespetpantry.com or call (805) 924-1139.
Rich Man Poor Man Antique Mall
Two antique and collectible malls filled with vintage picks from over 30 dealers. Both pet-friendly stores are filled with many treasures that span the spectrum of antique, mid-century, vintage, and collectible. Located at 2110 Main St. and 2084 Main St., Cambria. Visit RichManPoorManAntiques.com or call (805) 203-5350.
Ebb & Flow
Bold and stylish clothing, jewelry, artwork, books, and more for individual style located in an iconic beach house that was once an art gallery on Moonstone Beach. The eclectic choices in the store inspire individuality and serenity. Located at 6100 Moonstone Beach Dr., Cambria. Visit ebbandflowoceanfront.com or call (805) 203-5538.
Ball & Skein & More
A stroll into the Ball & Skein & More in Cambria greets visitors with splashes of rich colors and deep textures. Long skeins of luxuriously textured yarn from spinners and dyers in the US and around the world hang from nearly seven-foot tall racks. Balls of soft color fill shelves and bins. in corners, between display racks, and nooks throughout the store.
A wide variety of unique yarns, knitting and crochet supplies, buttons, and kits greets visitors with splashes of rich colors and deep textures. Something for everyone, from the beginning knitter to the serious fiber artist. Beautifully handcrafted buttons, crochet hooks and knitting needles, patterns, kits, looms, and spinning and felting supplies can all be found. Wearable items and unique gifts from purses, socks, sweaters, vests, caps and more are also to be found. Located at 4210 Bridge St., Cambria. Visit cambriayarn.com or call (805) 927-3280.
The Garden Shed
Calling all garden lovers! The Garden Shed is a collective of unique and creative shops full of an ever-changing inventory of garden and home accessories. Take a relaxing stroll through the back patio and explore several great shops and find exotic succulents, women's clothing, home decor and local art, and more. Located at 2024 Main St., Cambria, (805) 927-7654.
Cambria Nursery and Florist
Display gardens, flower shop, rare plants, home furnishings and gifts. Located at 2801 Eton Road, Cambria. Visit cambrianursery.com, (805) 927-4747.
Salons and Spas
Diva Day Spa
A welcoming spa and salon. Specializing in pampering and treatments for both men and women. Massage, face and body, nails, hair, weddings, special events. Located ocean front, minutes from Hearst Castle and Cambria. 250 San Simeon Ave #4, San Simeon. Visit DivaDaySpaOnline.com, (805) 927-4252.
Therapy by the Sea Day Spa
Enter and be transported with a sense of calm in this peaceful, intimate space offering a variety of massage treatments, spa facials and spa packages to choose from. Best value for your dollar. 816 Main Street, Suite F, Cambria. Visit therapybythesea.com, (805) 927-2956.
Lodging & Vacation Rentals
Cambria Vacation Rentals
Amazing vacation rental homes with ocean views and stunning sunsets. Office located 784 Main St. Cambria. For reservations or more information call (805) 545-5079 or (805) 927-8200 or visit cambriavacationrentals.com.
Breen Vacation Station
Reserve the perfect vacation home for families, friends, wedding parties and more. Offices located at 768 Main St., Cambria, (805) 927-1303 or visit www.breenvacationstation.com for reservations and more information.
Scenic Coast Property Management
Find the perfect oceanfront homes or cottages in the pines. Pet-friendly and monthly vacation rentals are also available. Offices located at 712 Main Street, Cambria, (800) 927-6163. For reservations of more information visit www.cambriacoastrentals.com.
The Pickford House
Experience a once in a lifetime opportunity to stay at Cambria's largest mansion for your family reunion or friends gathering. 9 bedroom, 9 bath, 1920s film star theme. Reserve now to book exclusively for your family or group. For reservations and more information visit thepickfordhouse.com.
comments