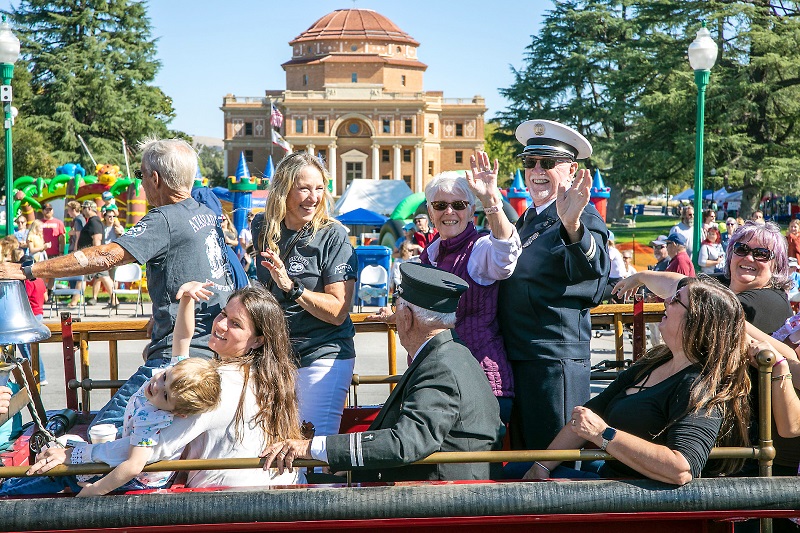 Parade, vendors, music, food, and more at the 50th annual event on October 7
—Featuring a parade, vendors, dog races, music, and more, the 2023 Atascadero Colony Days celebration on Saturday, Oct. 7 from 10 a.m. to 3 p.m. is shaping up to be bigger and better than ever. With a theme of "Celebrating Community Always" the 50th anniversary of the festival is a special time for committee members and the community of Atascadero as a whole.
"We are all neighbors – businesses, patrons, services, schools – and this is a day to sit back and watch the kids, the sports teams, the organizations, and take in all that makes us a community," said Karen McNamara, chairperson of the Atascadero Colony Days Committee, a 501(c)3 non-profit.
The Atascadero Colony Days Committee is dedicated to ensuring a safe and fun celebration of the community of Atascadero for the entire family. Dianne Greenaway serves as vice-chair, and secretary, and coordinates Tent City, while Liz Enrique-Phillips is chair of the parade and oversees social media and marketing.
50 years and counting
The annual event was first introduced to the Atascadero community back in 1973 by Maggie Vandergon. Since then, the celebration has grown to include a parade featuring bands from local high schools, classic cars and farm equipment, Tent City, wiener dog races, robotics, toy train rides, vendors from across the county, and the Atascadero Community Band.
"Maggie has always said she started this as a way to bring our community together," McNamara said. "That's still our focus now, and that's how we came up with our 50th-anniversary theme. It's all about bringing people together and celebrating all of the wonderful things about our community…always! We have to support one another, and this is a way to remember what ties us all together."
Honoring the past
The Colony Days royalty will be announced at the Quota Club Tea on Sunday, Oct. 1 and then the king, queen, and grand marshal will be introduced to the public at the Colony Days Mixer, taking place at BridgeWorks. The time of both events is to be announced; see colonydays.org for up-to-date information.
Tent City, an elaborate re-creation and re-enactment of Atascadero back in 1916, pays tributes to residents that lived in tents while waiting for their homes to be built. Volunteer crews will spend Thursday setting it up, and local third-graders are invited to tour the space on Friday. Hands-on activities include pressing apples for juice, washing clothes on a washboard, and visiting The Printery to learn about setting type at a printing press.
"It's an important part of our history, when people came here, lived in tents, and worked to build this community," McNamara said. "Most of the very earliest houses were not built until 1915 through around 1920. In the meantime, people were living in these amazing tents with electricity, a dining facility, and unique features. We set up the tents now to show what it was like back then, and it's really fascinating, especially for the children."
Fun for all ages
Bring the entire family to celebrate the 50th anniversary of Atascadero Colony Days. With activities for all ages, this annual event is not to be missed.
"It's the best way to learn about the entire community of Atascadero," McNamara said. "You will see all of the community services options, non-profit organizations, schools, businesses, and ways to connect and become involved. There's so much history here, and we want everyone to not only remember that history but also be part of the future of this wonderful city. Plus, you are always sure to see someone you know during the parade and festival, and it's just really a lot of fun for the entire family."
For up-to-date information on Atascadero Colony Days, including schedule and vendors, visit colonydays.org. Follow on Facebook and Instagram at Colony Days.
—By Meagan Friberg
comments