Drop in for a tasting or join a class and become a winemaker for a day
—Wine masters Michael Keller, Magdalena Wojcik and Chris Payne opened their second location for the Blending Lab in Paso Robles this summer. Even though they are new to Paso Robles, they are not new to winemaking. They first launched The Blending Lab Winery in Los Angeles in 2016.
According to Michael, "We love Paso Robles and have been sourcing the majority of our grapes from this region to surprise and delight people through our blending classes and wine offerings. We were attracted to the diversity of the AVA with different soils, climates and varietals. We want to use our educational tasting experiences to complement, not compete with, all of the incredible viticulture and winemaking that is happening in SLO County. If people knew just a bit more about wine fundamentals, then they'd be so much more enthusiastic about exploring the incredible diversity that the region has to offer. It's always been a goal of ours to open a tasting room in this area."
The winery sources the grapes and produces between 800-1000 cases of wine each year. Instead of a typical wine tasting, the tasting room in Paso Robles offers educational experiences. They offer two tasting flights that introduce customers to the basics of wine tasting. One is a traditional tasting flight, while the other helps people identify why they like certain wines, so they know what to look for when shopping for a bottle to enjoy.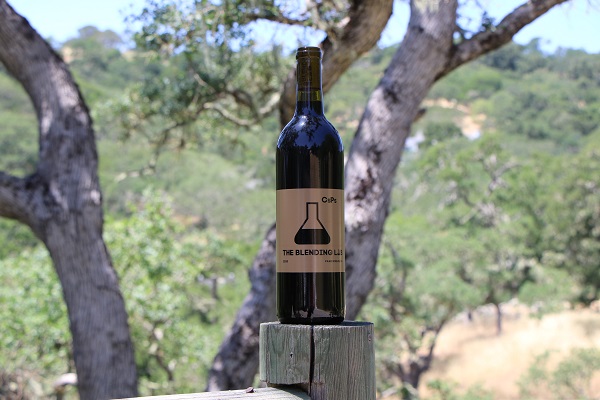 Magdalena says the Blending Lab's goal is to help people find wines that delight them. She says they offer a type of wine-matching service. "Our business is based on the premise that wine is for everyone. We utilize blind tasting for those who know little or a lot about wine. Wine is fun! We want people to come with an open mind and enjoy the experience of exploring the many nuances of wine in a fun environment on their own terms."
A great way to learn more about wine and winemaking is to take a class. During their blending class, attendees will learn about wine tasting and have the opportunity to be a "winemaker for a day" by blending wines to create a bottle to take home. They offer a red wine version of the class, with a white wine version coming soon. Groups may book a private class that can be customized based on their interests and backgrounds. It's a great team-building experience.
If you are not able to attend a class, the Blending Lab offers wine-blending kits that customers can use at home. The kits come with all the tools and instructions needed to learn how to taste wine to make distinct blends. Different sets include three wines each in both 375ml and 750ml formats. They sell Rhone, Bordeaux and mixed varietal sets.
The owners encourage you to stop by to say hello and enjoy a glass of wine. The wine club is another great way to explore the best blends and varietals produced by the winery, including some of the unusual wines like the 2022 GG Orange made from grenache gris.
The Blending Lab is located at 618 12th Street in downtown Paso Robles. Hours are Fri, 2-7 p.m., Sat 12-7 p.m., Sun. 12-5 p.m. For additional information or to book a class, visit thewineblendinglab.com.
—by Lisa Pretty
comments