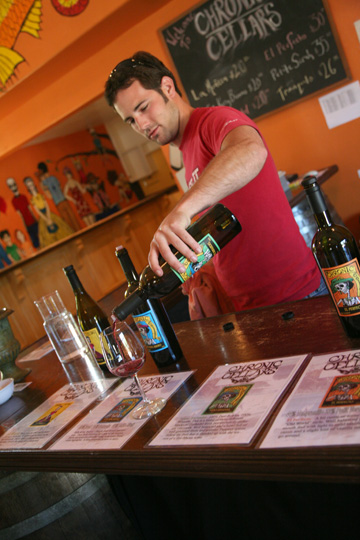 Although Jake and Josh Beckett come from  a well-established wine family in Paso, they do not rely on tradition to shape them.  Instead, they draw their influences from the world around them–surfing, motocross, family, art–and make wine that fits their world.  They want the approachable feeling of their tasting room to translate to the wine them make.  They strive to make wine which can be easily approached by connoisseur and new wine-drinker alike.
As experienced winemakers they are confident enough to let the wine speak for itself, and have fun with the outside of the bottle.  This has  allowed the image of the winery to take shape naturally.
Jake and Josh Beckett grew up in the Paso Robles wine industry, learning winemaking through watching their parents run Peachy Canyon Winery.  After finishing college, they each returned home to Paso Robles to make wine at their parents' winery.
As they worked side-by-side during this time, an idea began to grow: a winery which would reflect their own lifestyles.  Thoroughly versed in the good life of California's Central Coast, Jake and Josh saw a need for great wine for wine drinkers who live outside the borders of traditional wine culture.
Though they are still close to their roots, they have branched out to turn this idea into a reality.  Their own winemaking venture, Chronic Cellars, produced its first vintage in 2006.  For Jake and Josh the name evokes their continual and habitual involvement with making wine.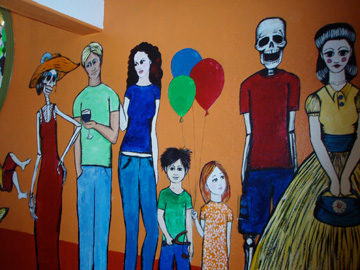 As the sons of winemakers they saw harvest come each fall as surely as each of the other seasonal events which frame the passing of years.  Winemaking is natural, continuous, a "chronic" condition for them.
With blends like "El Perfecto" (an intriguing mix of Tempranillo, Petit Verdot and Malbec), "La Muneca" (a 50/50 blend of Viognier and Roussanne) and "Sofa King Bueno" (Syrah, Grenache and Petite Sirah blend), Chronic Cellars is not afraid to stray outside of the box to make good wine.  They also make a straight Petite Sirah and a Zinfandel as well, showing that a little tradition doesn't scare them, it just can't hold them.
Just as winemaking is a part of their lives, their lives are a part of their winemaking process.  Their kids are no strangers to the tasting room, and have a play area in the office upstairs.  Many parts of the business are kept within the family.
They have officially divided the responsibilities between them so that Jake makes the wine and Josh runs the business, but each one is just as likely to make decisions in each part as the other.  Very much a team, the division between the two parts is not firmly-defined.
In this same spirit, another defining part of Chronic Cellars–the art which adorns its labels, tasting room walls and website–is from a source close to home as well.  The images which are such a big part of the winery are the work of a life-long friend of Jake and Josh, Joe Kalionzes.  The design for the Chronic Cellars labels came about in much the same way that the idea for the business did: creative collaboration between friends.  This is a process which Josh compares to a band making music.
In making the art  for Chronic Cellars Joe is inspired by the wine as well as the winemaking process which his friends undergo each year.  Much of his work is hand-carved woodblock prints, and Josh likens this process to making wine, "The wine is already in the grapes–you just have to bring it out, just like the art is already in the woodblocks–Joe brings it out."
The brand has evolved naturally; for the 2008 vintage the labels will be six different images created by Joe.  Though the labels will be different from one another, a twist on the mainstream goal of rigid continuity within a brand, they will all be similar in style.
The Becketts have faith that the spirit of the art, as well as the spirit of the wine, will shine through to fans of this unique winery.
Chronic Cellars is open Thurs. to Sun., 12-6pm. 2020 Nacimiento Lake Drive, Paso Robles, CA 93446  (805) 237-7848.
—Kate Joyce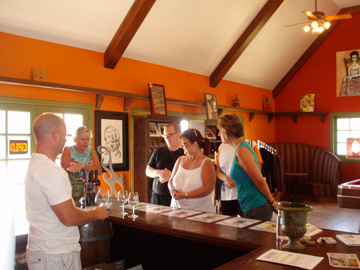 comments