Paso Robles' hot summer days, paired with cool nights, have proven to be the perfect climate for growing Petite Sirah grapes.  The heavy and dense grapes are anything but petite and have a deep, rich color that matches its heavy taste.
Robert Hall's Don Brady is one of many winemakers who say Petite Sirah is surging in popularity in the region.  "It's a great varietal," Brady said. "It does very well in Paso Robles. It's a great fit for the region."
"It's the most intense wine in the world"
Petite Sirah grapes stay on the vine longer than Syrah grapes. Syrah and Petite Sirah wines placed side by side are distinguishable from one another by the deeper hue of the Petite Sirah. The Petite Sirah also has a much heavier flavor than Syrah, which is more fruity.
Frolicking Frog owner/winemaker Stu Goldman said Petite Sirah grapes are completely different from Syrah grapes and noted that the similar name in sound is spelled differently. With the larger, denser clusters of grapes, the varietals do not handle moisture well and have to be well-monitored for mildew.
Paso Robles Wine Country Alliance communications director Chris Taranto said Petite Sirah "is a varietal that does well here because of the growing conditions here. It likes the heat."
"A lot of winemakers have recognized that Petite Sirah does very well in Paso," Taranto said. "It has been around for a very long time – people are just starting to recognize the value."
Like many winemakers, Alta Colina Winery owner Maggie Tillman said they have been growing a small lot of Petite Sirah grapes for blending purposes, until they discovered that the grapes produced a very good pure Petite Sirah.
"It tasted so great on its own that we decided to bottle it," Tillman said.
Because of the small number of Petite Sirah grapes planted, the most number of cases that will ever be produced of Petite Sirah for Alta Colina is 150 cases. The 2007 vintage has 48 cases.
River Star owner Ed Dutton said that Petite Sirah is like Pinot Noir in that there are people who are "Petite Sirah people" and added that the normal person going into the tasting room does not go in for Petite Sirah.
"It's a beautiful, rich wine," Dutton said.
Malani Anderson of Turley Winery said that while Turley bottles a Petite Sirah, they don't pour it in the tasting room. "It's a food wine and is too intense to drink alone," she said. "It's the most intense wine in the world."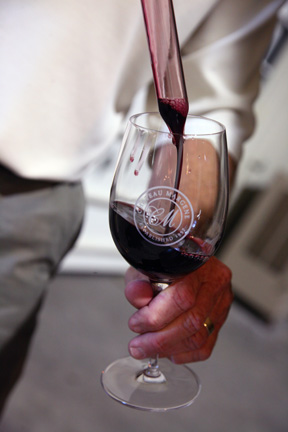 Chateau Margene owner and winemaker Michael Mooney said Petite Sirahs go great with game such as venison, wild boar, roasted duck or spicy lamb.
Mooney started producing Petite Sirah in 2004 and now offers it under the Mooney Family label and has been producing it ever since.
"It's viewed as one of those rare varietals that fewer wineries focus on," Mooney said. "It's a very inky, dark, massive wine."
Mooney produces 350 cases of Petite Sirah each year and always sells out of it. With only selling the wine through the wine club and the tasting room, the 2006 Petite Sirah was sold out in six months; the 2007 vintage was released Aug. 15. Mooney said his Petite Sirah goes over well with their Cabernet Sauvignon lovers as he generally adds a little Cabernet to his Petite Sirahs.
"Petite Sirah is dense and robust, with notes of berry, pepper, nutmeg and spice," Mooney said on some of the differences of Petite Sirah from Syrah. "The Petite has a powerful tannic finish and should be cellared as compared to the elegant finish of a Syrah."
Alta Colina, a young winery, has one pure Petite Sirah and blend with the Petite Sirah included in its five Rhone wines that it produces. The winery's first vintage, 2007, was just released.
Outstanding Petite Sirah
Bianchi Winery, 2006 Petite Sirah. The deep, dark, earthy-coffee, blackberry flavor wine is the reddest of reds, the boldest of bolds. To appease the strength, depth, and tannins, a higher proportion of aggressive American oak barrels for aromas, along with some French oak were used.
Chateau Margene, 2007 Petite Sirah. Dense and robust, with notes of berry, pepper, nutmeg and spice. A powerful tannic finish and should be cellared
Chronic Cellars, 2006 Petite Sirah. Big, Bold and Sexy!! Dark purple color that sets you in a trance as you daze into the glass. Hints of Tobacco, blackberry and bacon fat bring you a true Petite Sirah. Fully dry and full bodied with well balanced tannins on the palate.
Clavo Cellars, 2005 Petite Sirah 'Dreamer.' It's a bold yet velvety, intense yet balanced, a testament to the remarkable fruit grown at little Catherine's Vineyard between Paso Robles and Creston. Aromas of violets and blueberry anticipate juicy, luscious flavors of boysenberry, blackberry, mocha and vanilla bean. The texture is deep and silky, finishing with sweet, supple tannins.
Donatoni Winery, 2005 Petite Sirah. With Grapes from the Locatelli Vineyards in San Miguel, it's robust, fruity, intense and well balanced. It is very drinkable.
F/S Cellars, 2005 Petite Sirah 'Reserve'. This wine consists of full body flavors, a deep robust red color and tannins that will continue to soften over time, it has hints of black pepper and a whisper of black licorice that finishes with a full mouth feel and aging tannins. Enjoy now with a spicy pot roast or age in your cellar for years to come.
Hunt Cellars, 2004 Petite Sirah Old Vine 'Irresistible'. Flavors of wild spice, hints of Christmas clove, dried plum, and a taste of cherry, black licorice, sweet tobacco, and deep dark fruit. It was barrel aged for 30 months French and American hybrid barrels. Perfect with hearty beef, lamb, or BBQ.
Martin & Weyrich Winery, 2006 Petite Sirah. The grapes for this Petite Sirah were originally planted for blending. The grapes were from an estate vineyard and exhibit elegance and finesses with dark berry, chocolate and spice flavors. Only 150 cases produced.
Opolo, 2005 Petite Sirah. Estate vineyard. Luscious and hedonistic in style, with gobs of dark berry fruit. Aged in primarily french and american barrels, one-third new barrels, for about 22 months. The oak aging added some toasty butterscotch and a cinnamon graham cracker spice that evolves on a very lengthy smooth finish. Ranchita Canyon Vineyard, 2006 Old Vine Petite Sirah. First bottling used exclusively old vine Estate Grown Petite Sirah wine grapes. The wine shows a beautiful deep, dark color, with fruitful aromas of blackberries and cherries. Dry on the palate with a rich and full-bodied flavor, and finishes with well defined chalky tannins that will soften with further aging.
Robert Hall Winery, 2006 Petite Sirah. This wine has bold aromas reminiscent of blueberry and blackberry with marked suggestions of earthy leather and pungent sage and spice. The color is deep red with a concentration of opulent mouth filling flavors.
Rocky Creek Cellars, Petite Sirah. This Wine is dark, tannic, and rich in color. This wine has a highly distinctive, enjoyable flavor.
Sculpterra Winery, 2006 Petite Sirah. The wine has a brilliant color with intense aromas. The wine contains big flavors and plum notes on the palate but also has a smooth mouth feel followed by a pleasant finish. The berries were incredibly tiny.
Talley Vineyard, 2006 Petite Sirah. Hand harvested from Ranchita Canyon Vineyard in San Miguel, fermented with native yeast in open top steel tanks, aged 21 months in French and American oak barrel. It has an inky purple color, a vibrant nose of blueberry, cranberry, maple and pepper leads into silky mid-palate flavors.
Vina Robles, 2007 Petite Sirah-Jardine. A blend of grapes from the Jardine, Penman Springs, and Creston vineyards. Displays great complexity, structure, and balance. Big rich texture, spicy and cedary with highly extracted blackberry flavors. Pairs well with rack of lamb, braised short ribs or any cut of beef.
comments