This hidden treasure has a welcoming atmosphere
—Located away from the hustle and bustle of Templeton's Main Street lies Chulos Cafe & Cantina, a secluded and friendly place to enjoy authentic Mexican food. For the past ten years, Chulos Cafe & Cantina has cemented itself as a locals favorite spot for delicious drinks, outstanding food, and welcoming service.
"Our goal is to create a memorable visit and to transport you to different places in Mexico through our food, with our ingredients, the variety of sauces, and relaxing experience," said Karol Ruiz, who owns Chulos Cafe & Cantina along with partner Luis Ruiz.
Breakfast at Chulos Cafe & Cantina cannot be missed as there is a great mix of classic and innovative dishes to choose from daily. The most popular creations include huevos rancheros, chilaquiles, and various types of egg benedicts, including bacon, spinach, roasted poblano pepper, and a corn beef hash style. For lunch, try some favorite local picks such as a carnitas burrito or taco, chile relleno, or cheese enchiladas. The coffee section of the menu cannot be missed as there are the classic choices and delicious new creations. The coffee "With a Kick" include the Café Mexicano, a tequila and steamed horchata espresso, the Irlandes Brevé, a whisky and Irish cream espresso, and the Kafé Lua, a kahlua shot espresso. The dinner menu has expanded and will restart in a few months after taking a small break due to COVID, with Karol noting that this break allowed time to create new and exciting dishes for the community to try soon.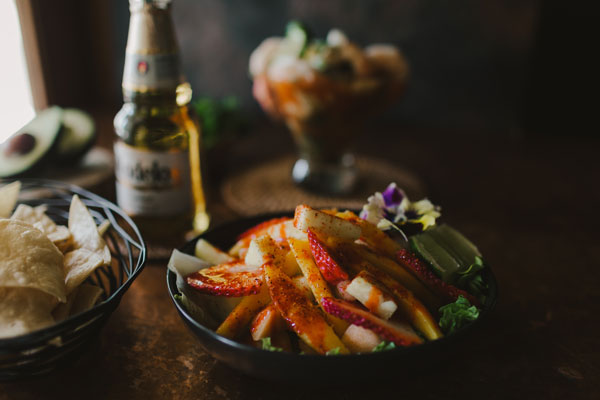 "We make everything from scratch. It's our passion and we put a lot of effort into absolutely every detail, such as the flavor of food, the presentation, and the service," said Karol, noting that ten years in business has shown a loyal clientele who helped support them, especially during COVID.
Chulos Cafe & Cantina is always planning new experiences for the community and visitors while providing exceptional food. Along with the anticipated reopening for dinner in the summer, happy hour and live music is making a comeback. The cozy indoor seating, along with a spacious patio, ensures an enjoyable summer night can be found at Chulos Cafe & Cantina. In addition, brunch catering will soon be available.
"We are happy to serve this community because the way they support us is the best feeling. That's the reason we get up every morning. This community is amazing," Karol said.
Chulos Cafe & Cantina is located at 335 Posada Lane in Templeton. Open every day from 8 a.m. to 3 p.m. For more information, call (805) 434 – 3044 or visit chuloscafecantina.com.
 —Sadie Mae Mace
comments