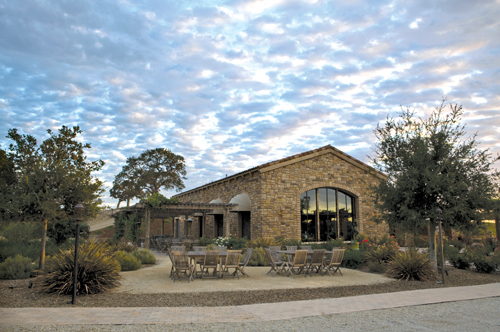 When guests hear the name Pear Valley, they often don't know it's a winery that produces some of the finest local selections in the Central Coast's up-and-coming wine country.
Travelers and locals are welcome to enjoy the breath-taking scenery that includes a hilltop view of the Salinas River surrounded by an exhilarating landscape of the crowns and valleys of Paso Robles.
The experience is accentuated by an opportunity to taste a wide selection of award-winning varietals offered by Pear Valley Vineyards. The tasting room is surrounded by picnic tables for visitors to eat al fresco in the picturesque setting.
The beginnings of Pear Valley, which is family-owned and operated by Tom and Kathleen Maas, are rooted in the late 60s when Tom was stationed on an army base in Germany, located in the midst of a vineyard. Here the dream of being a proprietor of a vineyard was seeded.
Tom's dream of owning and living on a vineyard soon came to fruition in 1999 starting with just 20 acres. Now, the Maases own 113 acres where they constructed a 14,000 square-foot winery and 5,000 square-foot tasting room, located at 4900 Union Road in Paso Robles.
"Having a winery in Paso Robles is perfect for 'retirement'.  I can't stay still so this gives me a great chance to meet people from all over the world and share with them the beauty of our vineyard, our wine and our area." Tom said. "It's more fun than work."
Pear Valley also offers wine aficionados an opportunity to enjoy membership in Pear Valley's Distraction Wine Club.
"Having opened in the recession, our wine club is designed to be easy.   We ship two bottles three times per year, January, April and October with a 30 percent discount.  We have case specials for wine club members at all times." Kathleen said. "We like to have people join our Pear Valley family."
The Maases also host a variety of music concerts.  During the winter time, guests can sit by the welcoming fire in the tasting room every third Friday of the month. In May, guests are invited to delight in music outdoors every third Thursday of the month while relishing their favorite selections.
"We are a family-owned vineyard and winery located in Paso Robles. We believe everything in life is better when shared, especially a great glass of wine. The peaceful beauty of our vineyards is what draws us here and we are eager to have you visit and share the experience with us," said Kathleen.
The Distinction
In order to create wines that fully reflect all nature has to offer, the Maases selected their location because of its topography, which is not only beautiful, but also keeps growing temperatures cooler and more suitable for the fruit to be nurtured.
"We want to be good stewards of the land we are entrusted with. We want to take the fruit and make the best wine and interfere with nature as little as possible," Kathleen said.
The soils at Pear Valley receive special enhancements to meet the organic needs of the fruit. The soil temperature and leaf wetness are monitored to a high level of efficiency, which is a difficult process considering Pear Valley offers 24 varietals.
According to the Maases, their focus is on quality which begins in the vineyard with low yields to produce intense flavors. All the fruit is hand-harvested and immediately sorted and processed at their estate winery while the fruit is still cold and fresh.
Once the fruit reaches the winery, the wines are processed and aged to bring out the best the varietal has to offer. Once the wines are finally released, they are ready to be shared and consumed.
 "We grow every grape we have to make the different blends and varietals," said Kathleen. "All grapes are hand-farmed, hand-pruned and hand-picked."
The vineyards are operated with sustainable farming practices to ensure that the best fruit possible will still be grown for generations to come. The Maases are dedicated to providing the best environment possible. The winery and tasting room were designed in partnership with PG&E through their Savings By Design program to design buildings that are energy-efficient and environmentally sound.
The Wine
Wines at Pear Valley are made from 100% estate-grown fruit. They have three Paso Robles vineyards known as Pear Valley, Mission Almond and Union Road, which are planted with premium fruit of French, Italian, Spanish and Portuguese descent. The goal of the Maases is to create unique vintages that reflect vibrant fruit nourished by ancient soils under ideal climate conditions while leaving little impact on the environment.
Pear Valley's current offering includes Chardonnay, one that was aged in oak and another in stainless steel, Sauvignon Blanc, Muscat, Orange Muscat, Merlot, Cabernet Franc, Cabernet Sauvignon, Syrah, Zinfandel and their signature blend named Distraction, which Kathleen describes as an on-the-nose, blackberry, cherry tobacco, and dark chocolate followed by a faint hint of mint. It is initially soft on the palate and then opens with wild berries, black currants and Morello cherries. The fruit is supported by a firm undercurrent of earth, warm saddle leather and forest floor. She describes Distraction as a wine of power and grace that will continue to develop over the next eight years.
The wines at Pear Valley have received accolades including as Best of Class for its 2009 Orange Muscat at the 2010 Central Coast Mid-State Fair as well as multiple gold medals for its 2006 Cabernet Sauvignon, 2009 Charbono, and 2009 Merlot to name a few.
Kathleen says their goal is to make high-quality wines that are affordable for everyone. Costs are reduced by limiting the use of excessively expensive bottles or labels.
"The quality of the wine has nothing to do with the bottle or its label," Kathleen said.  "We strive to deliver the highest quality wines at affordable prices so you can enjoy them with friends and family daily."
The tasting room, which was designed with the charm of Old-World Spain, is open daily from 11 a.m. to 5 p.m.
It's a delightful experience. The views are spectacular," Kathleen said. "Come, sit and enjoy the vineyard life."
— Ben Banuchi
Subscribe to weekly travel news
comments