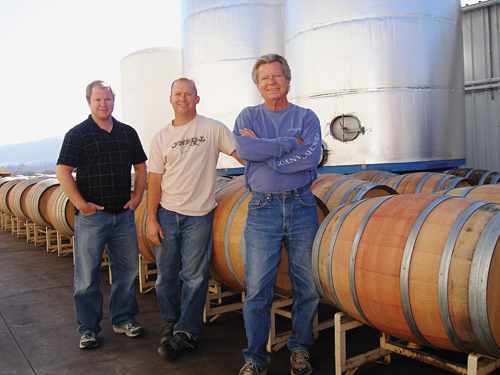 Josh Beckett moves to consulting role as winemaker Terry Culton takes over
Josh Beckett, winemaker and son of owner Doug Beckett, has announced that he will move to a consulting role at Peachy Canyon Winery. He has hired Terry Culton, formerly of Adelaida Cellars, as winemaker. Terry has a proven record of making highly sought-after wines with consistent 90+ ratings in every major industry publication.
Terry has been called a "top-flight winemaker" by notable writer Robert Parker of The Wine Advocate. He has a broad range of winemaking prowess with multiple grape varieties due to making wine at Calera Wine Co., Willamette Valley Vineyards, Edmeades and Wildhorse. "Terry Culton brings the best our industry has to offer. As a friend and associate for over 20 years, Peachy Canyon is excited to have both Terry and his talent on board," says Doug Beckett, owner of Peachy Canyon.
Josh Beckett will stay on in an executive role as a partner of the family-owned Peachy Canyon Winery. He will begin to take a full-time role as winemaker for his own brand immediately.
When asked about the change, Josh mentioned, "I have always been a huge fan of Terry's wine over the years. The experience that he brings to Peachy Canyon making wine throughout California and Oregon will bring us new ideas and knowledge. He is considered by many as one of the world-class wine producers today coming out of Paso Robles."
About Peachy Canyon: Peachy Canyon is a family owned and operated winery on the West side of Paso Robles, California. They are producers of premium and ultra-premium Zinfandels, Petite Sirah and Red Blends from their estate vineyard holdings of approx 100 acres.
Peachy Canyon's tasting room is located on the famous highway 46 West in Templeton, Ca. You can visit their blog at tastespeachy.com or visit them to shop online at peachycanyonwinery.com.
Subscribe to weekly travel news
comments