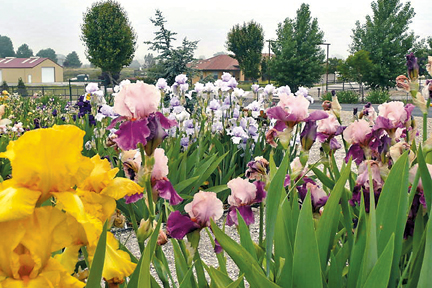 It has almost every color of the rainbow and its scientific name is the same as its common name. Just don't say it grows from a bulb. It is the Iris and you can see them blooming profusely at Burgard Iris Farm in Templeton.
"Irises grow from rhizomes," explained Catherine Burgard. "Most people think they come from bulbs." There actually is a type of bulbous iris, but the most popular bearded irises are not in that category.
Catherine has been growing irises for 13 years. When she met her husband, Emil, he came to realize that loving Catherine meant loving irises too. Emil has embraced that completely and is now just as active with the farm as Catherine.
The Burgards purchased their property on Climbing Tree Lane in Templeton in 2003. They are still developing their acreage and have planted and pulled up plants and replanted several times.
The Burgards grow only tall stalk bearded irises that bloom anywhere from late March through early May. The best way to make sure you catch the bloom at the farm is to check on their web site at www.burgardirisfarm.com where they will announce their seasonal opening.
"The biggest problem people have growing irises has to do with watering," Catherine said, "Too much water will kill them. Giving them a good soaking is best."
When planting the rhizome place them on a mound of earth and make sure you leave the rhizome a little above the soil. Irises do well in raised beds or on a slope. The plants are very forgiving as far as soil quality is concerned as long as it is well drained. They are not a high nitrogen feeder so check when buying fertilizer and find one that is low. Addition of phosphate helps them bloom. The plants do prefer to be in full sun at least for half a day. Planting them in the shade or under a tree will be disappointing and probably only result in green foliage and no flowers. Plant in the summer and next spring the flowers will appear.
Catherine and Emil dig up the rhizomes in July and start to fill their orders and ship to their customers. They have 75 varieties and are starting to experiment with producing hybrids. The farm is a certified nursery and during blooming season they are open on Friday and Saturday from 9 A.M. to 6 P.M. Other days are by appointment. Burgard Iris Farm is located at 840 Climbing Tree Lane in Templeton; phone number is (805) 239-1959.
– Ruth Ann Angus
comments