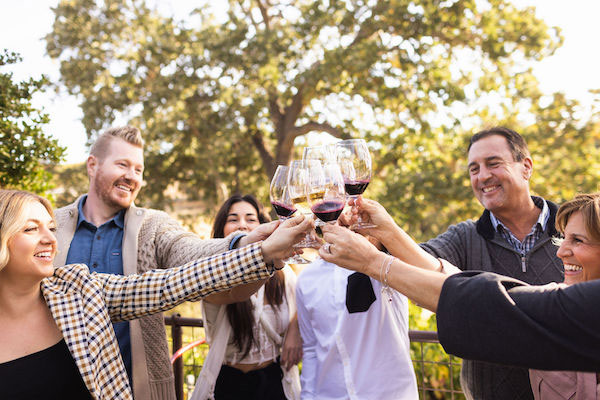 Four days of wine, food, music and close encounters with local winemakers start May 19
The Paso Robles Wine Festival began in 1983 with 17 wineries pouring in the Downtown City Park. With wooden planks over barrels and a notion that this celebration could attract visitors to the fledgling wine region, this annual event has lasted the years as Paso's marquee showcase of the Paso Robles wine region. Due to the pandemic, the last two years have gone without the annual jubilee which gave the Paso Robles Wine Country Alliance time to reimagine how the festival could be elevated into a whole new experience.
Much is new for 2022. There is a new location and a new moniker. Paso Wine Fest will take place at the Paso Robles Event Center which offers many built-in amenities including dedicated parking, concessions, restrooms, and shade. What continues is the themed weekend which offers visitors the chance to explore Paso Robles Wine Country with four days of wine tastings, winemaker dinners, live music, and more at the area wineries.
Paso Wine Fest kicks off Thursday, May 19 with two Winemaker Dinners at Thomas Hill Organics and The Hatch. Winemakers cruise the floor sharing their wines and stories behind the label, all with locally sourced and harvested cuisine known on offer from these two restaurants.
On Friday, May 20, the new Paso Starry Night Dinner takes place at the Paso Robles Event Center. This unique dining experience brings the delicious styling of Chef Kelly Wangard together with some of the region's most iconic wine brands. This specially created winemaker dinner showcases wine country cuisine and the true stars of Paso Robles Wine Country, the chef, and winemakers! This sure-to-sell-out event seats up to 100, spread outdoors under a warm Paso night sky.
Two educational Winemaker Seminars start off the day of the marquee Paso Wine Fest, Saturday, May 21. Winemakers geek out and present wines that are emblematic of the region, with plenty of detail on what makes the soil, climate, and geography so impactful of the wine in the glass. Audience members can nerd out then head into the Paso Wine Fest Grant Tasting event, which brings more than 70 wineries together to share their wines. There are a lot of new and refreshed elements making the 2022 fest exceptionally fun. Artisan vendors showcase their wares at a makers market. Along with complimentary bites to go with the wines, multiple food vendors are serving up delicious wine festival-friendly food, for purchase.
Two stages bring on the tunes and bands are set to perform all day. Guests are welcome to bring in their own picnics, blankets, and chairs to sit in the shade and watch the festivities. The new location offers an elevated guest experience with venues within the venue. A VIP Pass offers access to more exclusive wines, an additional stage, and more food options. This elevated ticket also grants the guest exclusive parking, a separate entrance, private bathrooms, the DJ Lounge, delectable bites, and tastes from Paso's most allocated wines.
After sleeping in on Sunday, May 22, explore the more than 150 activities for the weekend at participating wineries including barrel tastings, artisanal food pairings, live music, and so much more. Locals and visitors alike are encouraged to head out into wine country to discover a new favorite winery and go case collecting to carry the Paso Wine Fest experience through the rest of 2022.
Everything Paso Wine Fest can be found on the Paso Robles Wine Country Alliance website. For tickets and more information visit pasowine.com.
comments