Three ventures, one location equals a unique stop on your westside wine tour
The day the barn at Sycamore Herb Farms burned down was a dark day indeed, but a new light is shining on the property now thanks to Lone Madrone Winery and the Fat Cat Farm. It may seem like an unlikely pairing, but the winery and the new herb farm fit together nicely.
Lone Madrone began when Neil Collins, already the winemaker at Tablas Creek, discovered a vineyard in a setting on York Mountain that had grapes he couldn't resist. His label shows the one Madrone tree that still sits atop the hill in that vineyard. So in 1996 Neil began making wine from those grapes and distributing them from his sister'sout of a garage in Los Osos.
Jump forward a few years and we find Collins producing about 3000 cases a year with grapes from an assortment of vineyards selectively chosen by him because they are dry-farmed. Collins is convinced that dry-farming, sustainable methods are the future for the wine industry in that this produces a hardy, but quality product.
Collins is the winemaker, but he is a farmer first so recognition of the superior limestone soil on the west side of Paso Robles and the dedication that the small vineyard owners show to their crop is evident to him. Collins says he wouldn't buy fruit from anyone he wouldn't have over for dinner.
Collins honed his craft starting at the bottom at Wild Horse Winery and Adelaida Cellars and then refined his knowledge at Chateau de Beaucastel in the southern Rhone region of France.
Now he produces Lone Madrone wines, a combination of small productions of single varietals and quality blends.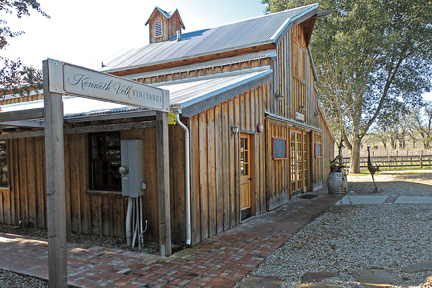 In 2006 he and his sister Jackie Meisinger built moved their business into the new barn that now houses their tasting room on the site of the former Sycamore Herb Farm. Also joining them in their own section of the new barn is the tasting room of Kenneth Volk Vineyards. Collins and Volk worked together when Volk owned Wild Horse Winery. The wines that each winemaker produces don't compete, but complement each other.
Jackie is in charge of the décor of the tasting room as well as the merchandise that is offered there.
Upon entering you see the beautiful hand-crafted bench made from local woods by Andy Needles of Dover Canyon Rustic Furniture and then your eyes take in the expansive bar, the art work, pottery, jewelry, and more.
Jackie has set up a fair trade collection of items from countries like Columbia with their black clay pottery, sustainable wood serving collections from Africa, and perhaps most interesting, the handmade Acholi beads from Uganda. These long beautiful beads are made from scraps of paper by the women of the Acholi tribe who are recovering from years of war in their country.
You can enjoy tasting the 20 different wine selections, or bring a picnic and sit out in the newly recreated herb gardens.
Rhoda Chute runs the Fat Cat Farm that is the rebirth of the former Sycamore Herb Farm. Chute worked here when Lone Madrone resurrected the farm in 2007, but that operation ceased and the farm fell into disrepair. Last year Chute was asked to take over the farm and she readily responded. She is busy now planting more herbs and has put in a new flower garden. Her current project is the establishment of a children's gardening area where the kids can play and have fun while the grown-ups shop, buy herbs, and taste wine.
Chute obtained a degree in crop science-ornamental horticulture from Cal-Poly in 1994 after spending too many years as an electromechanical drafter. She is bringing in drought tolerant perennials and annuals, heirloom vegetables, and "lots more herbs!" She hopes to resurrect the popular Basil Festival and plans to hold educational sessions for people to learn about the different herbs and vegetables and how to use them.
Chute already has a line of garden items such as birdhouses, metal signs, planting pottery, and windchimes. There are exotic chickens in the yard as well as goats, and an assortment of cats.
A stroll through the gardens shows that the Fat Cat Farm is well on its way in establishing a wonderful new garden and enjoying a great relationship with the resident wineries.
Two upcoming events will take place soon at the location. On April 1st and 2nd Lone Madrone's wine club will have an educational presentation by Neil Collins where he will explain a selectioneach of the wines produced by the winery. Wine club members can bring a guest but attendance is limited to 36 people. At this time Collins will introduce his latest release, Zin bBlanco, a 100% dry-farmed Zinfandel wine done in a blush style.
On April 17th Lone Madrone and the Fat Cat Farm will hold an Earth Week celebration from 10 A.M. to 2 P.M. with a bio-dynamic earth lunch prepared by world-class chef Nanette Smalley.
Visit them at 2485 Highway 46 West, Paso Robles. Call Fat Cat Farm at (805) 239-0743 and Lone Madrone Vineyard at (805) 238-0845.
– Ruth Ann Angus
Subscribe to weekly travel news
comments