Here in Paso Robles Wine Country, there are so many things to see and do, not to mention taste! There are some stunningly beautiful wineries in every direction, each unique in their own right. While simply visiting wineries to taste their wares is definitely interesting, there is so much more that goes on behind the scenes that you wouldn't necessarily know about while you innocently stand at the tasting bar sipping. What if you could go into the barreling room, see the bottling line, or check out the fermentation tanks where the wine you're drinking was handcrafted?
There are many wineries in the Paso Robles AVA that look forward to showing you how they make their wine and teach you about their unique winemaking style. While most wineries will gladly take you on a tour by appointment, some offer regular tours with no appointment necessary. This means that you can work a tour or two into your wine tasting follies by either planning ahead, or just showing up at the right time!
If you are tasting at one of the many smaller boutique wineries just ask if they have time to give you a tour. Many will.
The following wineries offer excellent tours for your pleasure, on a daily basis:
Robert Hall
Guided Educational Tours are available daily at 11 a.m., 1 p.m. and 3 p.m. The tours are approximately 30 minutes in length. You'll get to tour their state-of-the-art winemaking facility and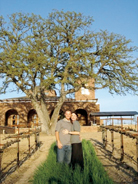 underground wine caverns, which happen to be the largest on the Central Coast. The caverns are used to store the wine you'll be drinking in the tasting room. Then on to the production area, where you'll be able to leisurely enjoy barrel samples as you learn about the winemaking process from the vine to the glass.
Eberle Winery
Visitors are always welcome to visit the winery's Tasting Room and to tour the caves. Tours run daily every half-hour from 10:30 a.m. to 4 p.m. You'll start out in the vineyards that surround the tasting room for a look at their growing practices. Then you'll head into the cellar to hear about how Eberle makes their wine, then into the underground caves for a look at storage. You'll get to see the VIP room, down in the caves where they hold winemaker dinners and other special events. Eberle is open from 10 a.m. to 5 p.m. during the months of October through March, and 10 a.m. to 6 p.m. April through September.
Justin Vineyards & Winery
Justin offers a variety of touring experiences for visitors to their site. Tours are scheduled at various times.
The Beginning Winery Tour is offered daily at 10:30am and 2:30pm. It costs $15/person and includes a tasting of the current releases. This tour lasts approximately 25 minutes and is complimentary for their club members and 2 guests.
The Intermediate Wine Production Tour is offered daily at 12:00pm and costs $20/person. It will take approximately 45 minutes, and is also complimentary for club members and 2 guests. You'll get to see how wine is made as you tour the production facility. During the tour you'll listen to how their winemakers create their wines. They'll also discuss the history of Justin Winery, the vineyards, fermentation, and aging wine in their caves. You'll finish the tour off with a flight of the Justin wines.
The Winery and Cave Tour is offered daily at 10:30am, 2:30pm and 4:30pm for those who have dinner reservations in Deborah's Room at The JUST Inn. The cost is $15/person, and includes a tasting of Justin's current releases. This tour is complimentary for club members and 2 guests, as well as for Just Inn guests. The tour last approximately 25 minutes.
The Justin Barrels & Bottles Tour includes a guided barrel sampling and education on the winemaking process. Your guide will use a "thief" to sample from three different barrels and will educate you on an array of production and barrel-aging techniques. Compare barrel samples from American Oak to French Oak and New Oak to Neutral Oak and learn how different varietals contribute to a red wine blend. Includes a tasting of limited JUSTIN wines. This tour is offered at 3:30pm, with 24 hours notice. It's $30/person or $24 for club members. It lasts approximately 45 minutes.
Advance reservations are suggested to ensure you a spot in the tour, and may be required for some tours and our educational programs. For reservations, call (805) 238-6932 ext. 3224 or (800) 726-0049 ext. 3224 or email innkeeper@JUSTINwine.com.
Tablas Creek
The Tablas Creek tours go out twice daily, at 10:30am and 2:00pm, and take visitors through the organic vineyard, the on-site grapevine nursery, and the winery.  They put a lot of emphasis on educating their visitors about why they make the winemaking choices that they do, and then the tour concludes with a tasting.  The tours typically take about 45 minutes, and the tasting another 45 or so.  Although tours are offered daily, they ask that people call in advance so they can plan accordingly.
Reserve space on a tour in advance by calling (805) 237-1231, or by email at visit@tablascreek.com.
– Matt & Annie Browne
www.hootnannieblog.com
Subscribe to weekly travel news
comments