Paso Robles Wine Glass Tours

Often, navigating a new wine region can be daunting–one hopes to find not only great wines, but friendly people and beautiful scenery along the way as well.  Even for repeat visitors, having a guide in wine country can help one explore new places and meet new people.  Gee Gee Mainini started Paso Robles Wine Glass Tours as a way to help visitors and locals alike explore and enjoy all that Paso Robles has to offer.
Gee Gee has set up her tours to feel more like one friend showing off favorite features of their town to another friend than a formal guided tour; although they are fully planned to the last detail, she strives to provide services beyond that of a driver or simple tour guide.  Gee Gee takes careful stock of each group she works with, and tailors the day to their needs.
Gee Gee's family has been in Paso Robles since the early 1900s, and though she also lived in the San Francisco Bay Area for a time, she says fondly, "I love Paso Robles."  Gee Gee raises cattle and grows grapes and hay.  She says she is happiest "living in the country."  Gee Gee says that "the reason I got into this business is because I always took family and friends on wine tours."  Her sons encouraged her to expand these informal tours into a more widely-available service, and Paso Robles Wine Glass Tours was born.
A tour with Gee Gee begins with her picking up her guests at their home or hotel around 10 am, and often includes a stop at her favorite local coffee shop in downtown Paso Robles for coffee and pastries–she dispenses wine tasting hints to her clients as a friend might, and encourages them not to go tasting on an empty stomach.  From there Gee Gee leads her group to the first of the day's wineries.  The first winery they visit usually includes a vineyard tour, as Gee Gee likes to get into the vineyards in the morning.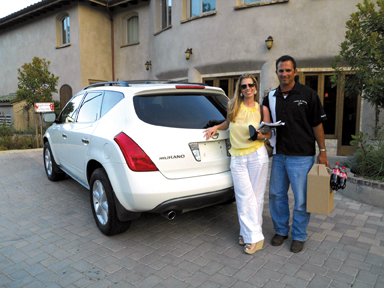 Each group of wineries that Paso Robles Wine Glass Tours visits is selected from the large group of wine industry contacts that Gee Gee has amassed during her years in Paso Robles.  She asks groups about their wine preferences–red or white, style, varietal–before choosing the day's winery list.  If a group has been to Paso Robles before then she will encourage them to visit wineries which are new to them.  The list of wineries from which Gee Gee draws includes all wineries of all sizes, and each visit includes a private tour.
Gee Gee tends towards wineries with winemakers who enjoy giving in-depth tours, and who like to interact with visitors.  This way her group tends to learn first-hand what went into the wines at each place they visit.  She also includes a bit of wine education before each tour starts, and varies the content to match each group's level of wine knowledge.  Gee Gee "tries not to be technical, but informative" and lets the winemaker go into the technical side of winemaking.  She says, "Most of what is in wine is not a mystery, it is just a matter of being aware of it."  Gee Gee's wine education can include a history of Paso Robles, talks about the wine industry and farming or other events or sights in the area.
Gee Gee likes to have her tour groups interact with winemakers because she believes that most winemakers are passionate about what they do, and therefore are good at talking about it.  Many winery tours include a tour of the lab, and she says that on every tour she "tries to have the opportunity to walk into the vineyard with the winemaker or farmer."  Often, a tour will include barrel or fermentation tastings in the cellar, and sometimes groups get to see just-picked fruit on its way to being processed.
Gee Gee "tries to find all those tucked-away little places" to give people a glimpse into wineries they might not otherwise have found, or have not visited before.  She chooses her routes to show people different things along each leg of the drive, sometimes including a tour of Paso Robles neighborhoods.  She never takes the same route to and from a destination, which keeps the drive interesting.  At the end of the day Gee Gee is happy to provide suggestions of places to eat, and will even make the arrangements for her guests and offers her services as an impromptu taxi service for the night of the tour: if her customers find that they need a ride after dinner she is available.
Paso Robles Wine Glass Tours is run entirely by Gee Gee.  She is fully licensed in all aspects of her business with the exception of catering, which she outsources.  She offers lunches that are "good for wine tasting" and which include full-grain breads, flatbreads, pita with cucumber, roast-beef sandwiches, cheeses and dark chocolate-covered almonds among other items.  She usually serves her picnics in the vineyard or in an orchard at one of the wineries her groups visit, and brings a table-cloth and real silverware to make the meal "upscale and casual."
In keeping with her tailor-made approach to her wine tours, Gee Gee also makes sure that she addresses any special dietary needs or allergies of her customers while she is planning their tour.  She makes sure that her guests stay hydrated, offering plenty of water along the way.  Each tour is designed to be about six or seven hours, long enough to include three to five winery visits without moving so fast that her guests become intoxicated.  She describes a Paso Robles Wine Glass Tour as a "more gentle tour, with a slower pace ­— scenic."
Each tour can be designed as either a one or two-day tour; if her guests opt for a one-day tour Gee Gee often suggests other wineries to visit based on their preferences as she saw them during their tour.  Any tasting fees a winery has are included in the tour.  Gee Gee can accommodate from one to ten people on a tour and suggests them for everyone: honeymooners, couples celebrating their anniversary, people planning family reunions, international visitors or locals wanting to branch out to new places in a familiar area.  Paso Robles Wine Glass Tours are offered during all seasons, and on any day of the week.
Towards the end of each tour Gee Gee will take her groups to a winery with "spectacular views" to relax and enjoy a dried fruit, nut and cheese platter.  She happily says of her tours, "We never end at the end of six hours" and that she and her guests enjoy the tours so much that everyone finds it hard to end the day.  Proving that Gee Gee is perfectly suited to the profession which she has chosen, she says, "I love seeing the way people respond to the area."  Paso Robles Wine Glass Tours offers a chance to see Paso Robles wine country through the eyes of one of its biggest fans.
To make a reservation, contact Gee Gee Mainini at (805) 296-3802 or geegee@pasowineglasstours.com.  Visit www.pasowineglasstours.com for more information.
— Kate Joyce
comments