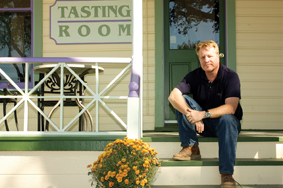 Matthew Talbert and Chris Cameron have joined forces to form Veris Cellars, now home of JanKris and Ben Hogan Wines.
Veris Cellars, named for "Spring" or the "Produce of Spring," was formed in early 2008 when Matthew, whose background is in international finance, acquired the property.
The estate is one of the original 17 wineries in Paso Robles, and its picturesque vineyards are some of the most easily recognized in the area. The tasting room is located in a historical Mennonite home on the property, which was built in 1892.
Matthew and Chris want to combine the history which is inherent in the property with their goal of making "world class wines" while maintaining the level of individual customer attention they see as one of the area's greatest traits.
They have changed the approach for the JanKris brand, and are throwing considerable energy into the new Ben Hogan Wines.
They are using "in-depth vineyard selection to create a high end brand." They also offer wines from their Nova Vita brand, which have just become available this year. Nova Vita wines are only available in the Veris Cellars tasting room, and include "a great Rosé."

Of the 200 acres which make up the Veris Cellars property, 132 are planted with vines. The estate grows Grenache, Tempranillo, Pinot Noir, Syrah, Petit Sirah, Sangiovese, Zinfandel, Cabernet, Merlot, Chardonnay, Viognier and four traditional Port varieties.
Some portions of the vineyards were planted over forty years ago. Together, Matthew and Chris have been "refocusing on the vineyards," an objective which they feel is of utmost importance to their goal of making high-quality wine.
Chris has been making wine for over thirty years, the last three of which have been in Paso Robles.
He is originally from Australia and has worked in numerous wine regions around the world. Chris finds that "everything about this area is so different."
He cites the extreme soil variation within small areas of land, and the fact that "the soil is so young" as defining traits to the region. He also likes that the "low relative humidity" lessens the risk of disease for the vines. This allows him to "be more creative in the vineyards."
For Chris, another key trait of the Paso Robles wine region is its lack of arrogance. He finds that "here, people still care about people."
Often, says Chris, visitors "still get to talk to the owner or winemaker." This is the case at Veris Cellars, where both Matthew and Chris are often available, and are "eager to talk with visitors."
Matthew is excited about the Paso Robles wine region as well, and finds that "Paso is the talk of the wine industry" and that it is "just now being discovered."
His confidence in Chris' winemaking abilities is great, and the two have formed a strong partnership based on their level of excitement for what they are doing at Veris Cellars.
Because of the attention they give to the international wine market, Chris says that "we do things a little bit differently" than many other wineries.
He strives to make wines with a "different structure" which are "fruit forward" and "more sophisticated" as opposed to wines produced soley to be intense and powerful.
So far, JanKris and Ben Hogan wines have been very "well received" by both visitors to the winery as well as critics. In the time that Matthew and Chris have been working to refocus the direction of the winery, the wines have received numerous awards and much attention from press and from wine reviewers on a national level.
Besides making good wine, Matthew says that "first and foremost everyone has to have a good time" at Veris Cellars. They have implemented an "Adopt A Vine" program for JanKris wine club members, under which each member is assigned his or her own vine on the property. Club members have gotten attached to their vines, and receive postcards from their vine and can decorate their vine during the holidays. Eventually wine will be produced and bottled from each individual vine specifically for its "adoptive parent."
The Veris Cellars estate contains some of Paso Robles' most photographed and painted vineyards. With views from the gentle rise of the tasting room and office stretching out in all directions, many artists are drawn to the property. The Veris Cellars staff is usually happy to allow artists to set up on the property, as long as the artist checks in first.
The wine club for Ben Hogan Wines "is very in-depth with golf" and the winery puts on yearly golf tournaments for its members. They have also chartered ships for Caribbean golf cruises and have plans to set up a tee into the vineyards for visiting club members.
Matthew decided to base the brand around Ben Hogan because he is "the greatest golfer of all time" and because he "worked harder than any other golfer" to have the amazing career for which he is famous. Ben Hogan Wines are nationally distributed and are popular at country clubs and golf clubs.
The focus and excitement which Matthew Talbert and Chris Cameron are bringing to Veris Cellars is driving them towards their goal of making world class wines in a region they love. Nova Vita, JanKris and Ben Hogan Wines have found their champions in the owner and winemaker of Veris Cellars.
Veris Cellars is open for tasting November to April each day from 11am – 5pm and May to October from 11am – 6pm at 1266 N. Bethel Road in Templeton, CA. Call (805) 434-0319 or see www.veriscellars.com and www.benhoganwines.com for more information.
comments