A personal invitation from the 'Godfather of Paso Robles'
— Gary Eberle just might be ready to take the term "The Godfather of Paso Robles" to heart. "It's certainly not a title I came up with," he said. "Telling people not to call me that didn't work. I am not really that special – it's the people that work for me that are truly special."
Eberle marked his 50th year in the wine industry in 2020. A native of Pittsburgh, Pennsylvania, Eberle started Pennsylvania State University in 1962, balancing between being a defensive tackle for the Penn State Nittany Lions and a biology major. His Bachelor of Science in Biology from Penn State, his work at Louisiana State University in cellular genetics earned him his Masters in Zoology and a National Science Fellowship to Charity Hospital in New Orleans.
One of his professors introduced him to the decadent world of food and wine. After tasting the Bordeaux from his professor's cellar, Eberle took a keen interest in Cabernet Sauvignon, envisioning an American wine that would rival those of Bordeaux. He soon found himself enrolled in the Enology Doctorate Program at the University of California Davis.
After earning his Ph.D. in Enology and Viticulture, Eberle began his career by co-founding the Estrella River Winery in 1973. After several successful years as the winemaker, Eberle turned his attention to producing premium, small production wine, soon starting his own prestigious label, releasing his flagship 1979 Cabernet Sauvignon.
Since then, he has earned recognition for wine industry firsts including co-founding the Paso Robles Appellation in 1983, the first to list the Paso Robles Appellation on his label, and the first to produce a 100% commercially produced Syrah. Industry awards include the Robert Mondavi Hospitality Award, the California State Fair Lifetime Achievement Award, Wine Industry Person of the Year from the PRWCA, and the 2020 American Legend Wine Star Award from the Wine Enthusiast.
Visit Eberle Winery and there is a good chance to be greeted by Gary with his French Poodles Sangio and Barbera. "I try to spend three or four hours meeting people and their dogs! We are very dog-friendly here. Come out and have a glass of Cabernet with me."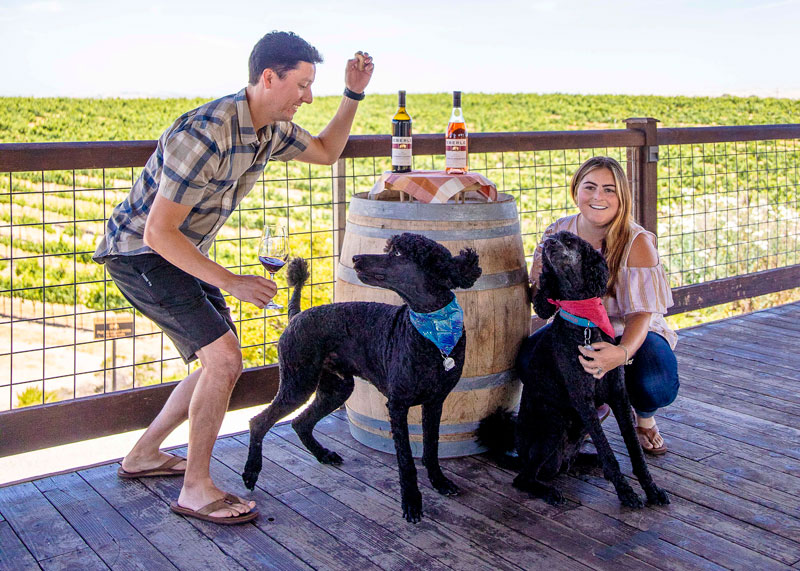 Winemaker Chris Eberle
Winemaker Chris Eberle – no relation – garnered degrees in agricultural business and viticulture from Cal Poly San Luis Obispo, and an enology degree from Washington State University.
Chris may not be related to Gary, but definitely has roots at Eberle Winery. Starting as a "cellar rat," Chris became the assistant winemaker before spending fifteen vintages honing his winemaking skills in South Africa, Germany, New Zealand, Australia and France. In 2015, Gary needing a head winemaker brought Chris back home.
"Chris is a spectacular winemaker with an excellent palate." Gary says. "I've never met a winemaker, including myself, so meticulous. You will never be disappointed with wine Chris makes."
"To make great wine, start with great fruit then put it in the hands of a very talented and competent winemaker," says Gary. "We grow about 75-percent of our own fruit and buy the rest – always from Paso Robles. I don't make wine from anywhere else. Local growers are important to our winemaking success and we give them credit for the fruit that goes into our wine."
Located at 3810 Highway 46 East, Paso Robles Eberle Winery is open daily except Thanksgiving and Christmas. Reservations are requested. Walk-ins are welcome. Maximum of six in a tasting party. For more information visit eberlewinery.com or call (805) 238-9607.
comments