Have a glass of wine with a true legend, Gary Eberle
—Although for many years he's hesitated to acknowledge his title as "The Godfather of Paso Robles", winemaker and winery owner Gary Eberle just might be ready to take the term to heart.
"It's certainly not a title I came up with," he said. "I'd tell people not to call me that but it didn't work and, now, I've been referred to this for so long that maybe I shouldn't fight it. Hey, maybe after 50 years I have earned this special position in Paso! But, I am not really that special – it's the people that work for me that are truly special."
Next year marks Eberle's 50th year in the wine industry. As a winemaker, he established and worked at his family's Estrella River Winery & Vineyards for 10 years before starting Eberle Winery. He is a co-creator of the Paso Robles Appellation, and his first Eberle wine, a cabernet saugivnon, was released in 1979.
Raised by his mom in a small Pennsylvania steel town, Eberle attended Penn State College on a football scholarship and earned his biology degree. He studied cellular genetics at Louisiana State University, and received his enology degree from U.C. Davis.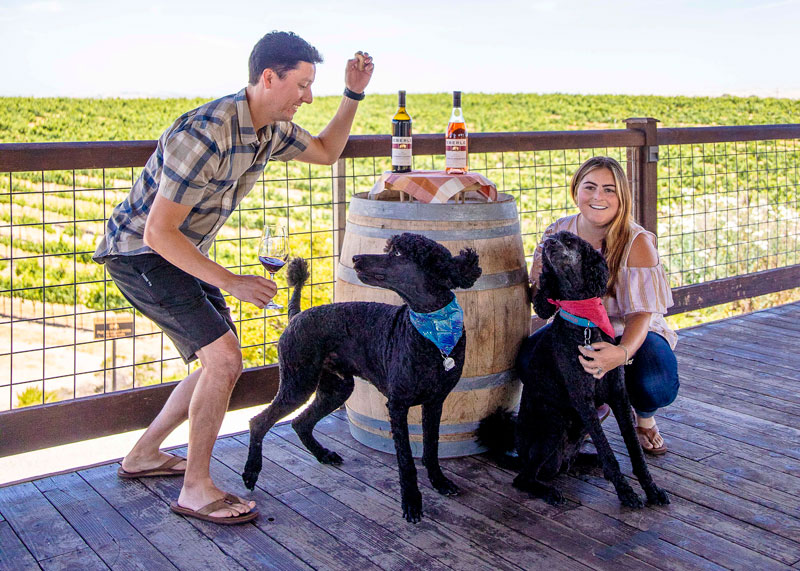 Winemaker Chris Eberle
Winemaker Chris Eberle – no relation to Gary – garnered degrees in agricultural business and viticulture from Cal Poly San Luis Obispo, and an enology degree from Washington State University.
After time as a "cellar rat" at Eberle, he became the assistant winemaker before spending fifteen vintages honing his winemaking skills in South Africa, Germany, New Zealand, Australia and France. In 2015, Eberle Winery was suddenly in need of a head winemaker and reached out to Chris.
"Chris is here as long as he wants to be," Gary says. "He is a spectacular young winemaker and has an excellent palate. I have never met a winemaker, including myself, who is quite so meticulous; he's really sharp. I don't care which of our wines you try, you will never be disappointed with the wine Chris Eberle makes."
And just what is the secret to delivering award-winning wines year after year?
"It's really no secret," Gary says. "To make great wine, you have to start with great fruit and then put it in the hands of a very talented and competent winemaker. And, in those two aspects, we have been very successful. We grow about 75-percent of our own fruit and buy the rest – always from Paso Robles. I don't make wine from anywhere but Paso Robles, but I make wine from all over Paso Robles. We give the grower credit for the fruit that goes into our wine if we didn't grow it ourselves; we appreciate how good they are and how important they are to our winemaking success."
Tasting room and patio upgrades
Outside wine tasting space has been added to the Eberle Winery experience.
In the wake of Covid-19, Eberle Winery closed its tasting room doors to the public in mid-March 2020, with a projected reopening date of July 1. Curbside pick-up of wines was activated, and Eberle was selling nearly as much wine as before.
In the interim, it was a good time to do some remodeling, with a majority of staff members pitching in to help. The tasting room now boasts a more open concept, with enhanced lighting and new wine displays. The additional outside space allows for safe social distancing and more room for visitors to enjoy Eberle wines.
"Those that have been coming to Eberle for years are going to notice what we have done," Gary says. "I'm not going to say you won't recognize it, but you will see a remarkable difference."
Award-winning wines and people
Among many awards for his wines and contributions to the industry and local community, Eberle is most proud to be the recipient of the California Wine Lifetime Achievement Award (2015) and the Robert Mondavi Wine and Food Award (2019), an award usually geared towards those in the food industry.
"To date, Mr. Mondavi and I are the only ones in our industry to have won both of these awards," Gary says. "So much of what we do here at Eberle I learned from Robert Mondavi. We think it's important to educate people, we are hospitality oriented, and we really like what we do."
Visit Eberle Winery any day of the week and there's a good chance you'll see Gary Eberle sitting in his favorite patio chair, his French Poodles Sangiovese (Sangio) and Barbera nearby, a glass of his flagship Cabernet in one hand – "this house was built on Cabernet!" – with the other hand stretched out to welcome you.
"I try to spend at least three or four hours in front of my tasting room greeting people. And their dogs! We are very dog-friendly here," Gary says. "I have been very fortunate. Because of my industry, I have been able to travel and see the world. There are other places I like, but there is no place I like better than Paso. Some afternoon, when you are free, come out and have a glass of Cabernet with me – I'll be here! I try to be outside in my chair by about 1:30, and that begins the fun part of my day, when I get to talk to people and welcome them to our place."
Reservations for tastings are required in accordance with Covid-19 safety regulations. Click on "make a reservation" at eberlewinery.com and choose a wine tasting option.
Visit Eberle Winery at 3810 Highway 46 East in Paso Robles, call 805-238-9607, or see eberlewinery.com for more information; open daily except Thanksgiving and Christmas.
–Meagan Friberg
comments