Unique resort inspired and crafted with joy includes restaurant, spa, landscapes, and art
–Since its opening in late 2015, the Allegretto Vineyard Resort in Paso Robles has established itself as the preferred destination resort for travelers to San Luis Obispo County and has become a favorite for locals as well. Owned and operated by the Ayres family, owners of 21 additional hotel properties in Southern California, Allegretto was inspired and crafted with joy after Doug Ayres visited Paso Robles 16 years ago and instantly fell in love with the area.
"Allegretto is a unique place and there's truly nothing like it in this county," said Ayres. "It's a place to feel joy, leave the other world behind, and feel centered once again. It's of a particular detail that's reminiscent of fine palaces and villas one would see in France or Italy, and yet it's right here in Paso Robles. Throughout the resort, restaurant, and grounds are classic elements alongside contemporary twists; that was the idea, that we would embrace some of the classic elements and yet have a more contemporary feel so that we're making a nice blend in wine country."
In addition to offering 171 guestrooms and suites with private terrazzas, the resort grounds include a 12,000-square foot courtyard, walking paths, bocce ball court, an abbey/chapel with exquisite stained glass art, and an inviting pool area with private cabanas. Stroll past Mediterranean gardens filled with herbs, wine grapes, and fruit and olive trees. For those seeking a spa experience, find a full menu of services including massage, body scrubs, and facials as well as an infrared detox sauna, zero-gravity chairs, and wellness programs at Spa Allegretto. Additional resort amenities include a ballroom and multiple indoor and outdoor event spaces.
"The unique aspects of the restaurant, spa, and accommodations appeal to not only visitors to the Paso Robles area, but to the locals as well," said Ayres, noting that the on-site Cello Ristorante & Bar has a rustic Mediterranean/Northern Italian flare. "Executive Chef Eric Olson is quite excellent and popular with our guests. Oftentimes people stop by because they've heard Cello is the number one restaurant in Paso – and that is quite a compliment."
Part of his intention when crafting the resort, Ayres said, was, "for locals to come in with their cowboy boots and cowboy hats, feel right at home, and see other members of the community – friends, winemakers – and that's exactly what has been happening. It's a really happy place, and we have a nice, bright atmosphere."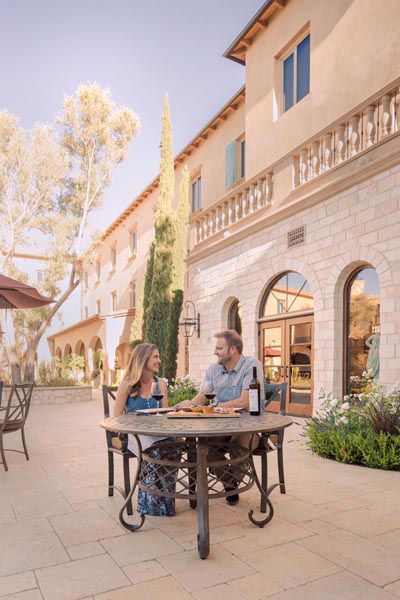 The Allegretto estate is planted with eight acres of wine grapes –vermintino, viognier, tannat, cabernet sauvignon, and malbec – while another 17 acres on the Paso Robles Westside area is planted with cabernet. Inside, stop by the new tasting room to sample estate wine offerings and ask about the Allegretto Wine Club. Outside, sit near the fire pit with friends while enjoying a glass of estate or local wine. Nearby, notice planter boxes, gardens, an olive orchard, and the vineyards filled with sustaining and organic wild herbs.
"We use everything in the vineyard," said Chef Eric, who knows every farmer and grower by name and creates menus featuring pure and authentic local fare. "We purchase the produce that we don't grow onsite from LuLu Farms, located just down the street, and it is 100-percent organic."
Cello's extensive and seasonal menu is abundant with creative food offerings including appetizers, salads, pasta, and flatbreads – be sure to try the Cello Burger or the chef's daily selection of local, fresh seafood. Enjoy a cup of coffee from the Cambria Coffee Roasting Company or a garden-inspired craft cocktail.
Ninety percent of the wines on Cello's wine list hail from the Paso Robles Wine Region, with the remainder consisting of the best varietals from their countries of origin including champagne from Champagne, France and sauvignon blanc from New Zealand and Australia. All beers on tap are local such as Firestone and SLO Brewery and, according to Chef Eric, Cello boasts the coldest beer in town.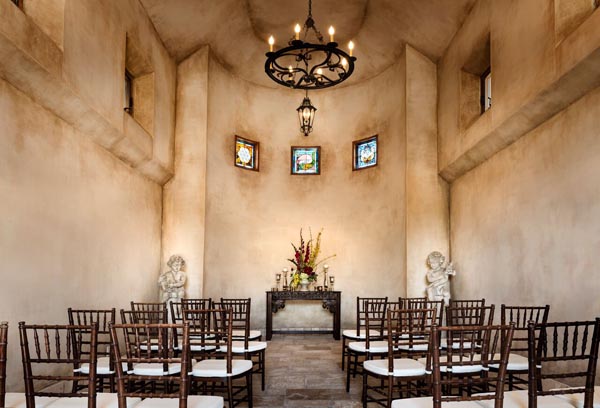 "Our beer system is wrapped with food grade antifreeze, so we can control the coldness of the beers," said Chef Eric. "The bar area has become a favorite for locals and we do fundraisers each month to benefit local charity groups."
General Manager Anna Olson – who had an extensive career in the destination resort industry, launching sites in Ojai, Carmel, and Pebble Beach – oversees the daily operations at Allegretto. Hospitality is the focus of the entire staff as they take care of guests from the time they step onto the grounds of the inviting resort property.
"Once you step onto the Allegretto property, there's this illusion, in essence, of being transferred to another world," said Olson. "We strive to function seamlessly to not only meet, but exceed the expectations of everyone that visits Allegretto. We are here, in every aspect and every element that we offer, to provide a memorable experience."
–Meagan Friberg
Allegretto Vineyard Resort is located at 2700 Buena Vista Drive in Paso Robles. For more information call (805) 369-2500 or visit www.allegrettovineyardresort.com. For reservations (800) 764-4614. Cello Ristorante & Bar serves breakfast daily from 7:30-10 a.m., weekends until 11 a.m., lunch from 12-2 p.m, and dinner Thursday to Saturday 6-8:30 p.m. The bar is open daily until 9 p.m.
comments