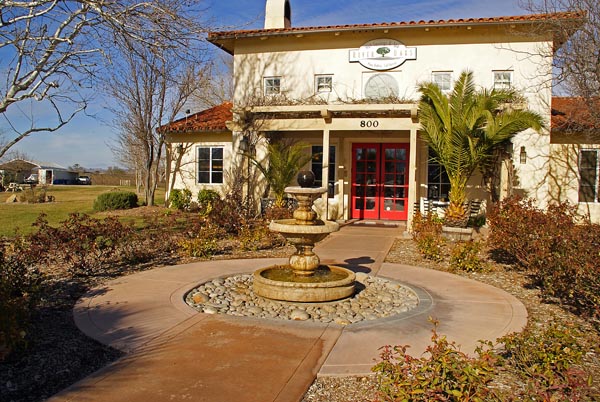 Who knows how long the earth has supplied man with the warm mineral waters that bubble up throughout the countryside of Paso Robles, but at least as far back as the times of local Native Americans, people have been luxuriating in their healing properties. The thermal springs residing under the ground at River Oaks Hot Springs today offer those same restorative elements but are augmented by the serene environment. A visit here will put you in a peaceful state of mind as you take in the expansive views of rolling hillsides and vineyards.
Mineral springs are known worldwide to aid in the relief from pain for ailments such as joint pain from arthritis, sports injuries, and other physical ailments. Sulfur compounds and other minerals reside in waters that are heated by thermal activity deep within the earth. The waters at River Oaks contain all these properties and emerge from the earth at approximately 117 degrees. The warmer the water, the greater the mineral content and at River Oaks the soaking tubs are kept between 96 and 102 degrees with the addition of cool water.
River Oaks Hot Springs is owned by Estrella Associates, Inc., a local family owned Real Estate Development Company. The hot springs were previously known as Paso Robles Hot Springs. Since purchasing the property in 2005 Estrella Associates expanded on the natural existing mineral hot springs creating a luxury spa offering a variety of therapies and services. They are the only full spa that also offers hot tubs.
Estrella Associates focuses on homes and commercial properties that utilize environmentally friendly methods. At River Oaks they renovated the existing therapy suites and open-air tub rooms. Five outdoor tubs that each resides in their own wooden enclosure enable guests to enjoy a soak while viewing the trees and verdant hillsides. These also offer a one-of-a-kind experience under the starry skies at night.
Premier spa services include not only the mineral springs, but also Swedish, Deep Tissue, Hot Stone, Reflexology and Prenatal massage therapies, face and skin therapy that includes herbal exfoliation, hydrating cleanse, a rich aromatic balm, and wrap and glows. All of these include a 30-minute indoor artesian thermal mineral tub prior to treatment. You can also take advantage of their waxing service that includes eyebrows, sideburns and cheeks, lip, chin, legs, arm, and full back or chest.
With emphasis on health and wellness River Oaks will soon be including a fitness center at the spa. It is also in the process of developing the surrounding area that will feature single family homes, condominiums, and townhomes situated in neighborhood groups. The 270 acre parcel will have hiking and recreational trails, parks, pools, multi-sports courts and an aquatic and racquet ball complex. There already is a 6-hole player development golf course, the only executive golf course that offers three sets of tees with different angles of approach and distances to the greens giving the player an 18-hole experience. Mistura, a five-star restaurant that specializes in Peruvian cuisine is also on site. An existing pavilion will be enclosed to become a conference center for events while now the outdoor amphitheater is utilized for a variety of events the organization hosts.
River Oaks Hot Springs runs special promotions throughout the year such as at Christmas and New Years and Valentine's Day. Since summers in the north county area can be hot, management is planning to offer a "cool tub" experience where the natural spring water temperature will be reduced to temperatures in the 80+ degree range ensuring guests a refreshing experience while still benefitting from the mineral components of the water.
River Oaks Hot Springs has a welcoming and dedicated staff to assist guests and they are committed to performing outstanding customer service. This along with its variety of amenities can assure that you will enjoy an exceptional experience.
For more information and pricing see www.riveroakshotsprings.com or call (805) 238-4600.
–Ruth Ann Angus
comments