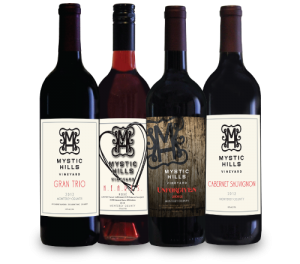 Taste award winning wines produced by award winning film editor
—What do Academy Award winning films and gold medal winning wines have in common? Joel Cox. The Oscar winning film editor, a resident of San Miguel with his family, produces hand-crafted wines with his vineyard and the help of expert local winemaker, Keith Roberts. In 2007 Cox hired Roberts as the vintner for Mystic Hills Vineyard after purchasing the land, located just outside of Paso Robles. Together, they have been creating breathtaking wines ever since.
"I've always tried to make the best films to the best of my ability," says Cox, who has over 56 years of experience working in the film industry, almost exclusively for Warner Brothers. "With Keith's help, we're now trying to make the best wines to our ability. Keith is amazing; he's 'old school' and does everything he can by hand. I was told he was the best winemaker manager in the region, and I'd have to agree."
Varietals and blends
Mystic Hills released its very first bottles in 2011 and decided to spontaneously enter them into the 2015 San Francisco Chronicle's yearly wine competition. To the surprise of Cox and Roberts, Mystic Hills was awarded a Gold Medal at the competition for their 2011 "Unforgiven." The award winning blend includes all five of their varietals: Cabernet Sauvignon, Cabernet Franc, Merlot, Petit Verdot, and Malbec. Rich, velvety, bold, and well balanced, "Unforgiven" also won Best of Class and Gold in Los Angeles and New York competitions in 2016. It is named after the very film Cox won an Oscar for starring Clint Eastwood.
Cox fell in love with Bordeaux wines while traveling with Eastwood to the Cannes International Film Festival and decided he wanted to produce similar wines using his California vineyard. The Mystic Hills wines undergo a three year process: aged 18 months in the barrel before blending, another year once blended, and a remaining six months in the bottle before being released. In addition to "Unforgiven," Mystic Hills offers "Gran Trio", named after his classic movie, "Gran Torino"; a Cabernet Sauvignon, Cabernet Franc, and Merlot blend; a straight Cabernet Sauvignon, a Rosé and a Malbec. All of the wines are award winners including Monterey Winery of the Year, Paso Robles Dry Red Blend of the Year and, in the October issue of  "Sunset Magazine" awarded "Unforgiven" 2013 as one of The Best Wines of the Year.
The boutique vineyard lies on just eight and one-half acres of prime vineyard land and produces 1,000 cases of wine per year. The Mystic Hills H.E.A.R.T.S. Rosé is known as, "a Rosé for red wine drinkers" because of its dark pink hue and rich, fruity flavor – perfect for enjoying chilled on a Sunday afternoon all year long.
Family-owned and operated
Mystic Hills Vineyard, part of the Pleasant Valley Wine Trail, is a family-run operation with Cox's wife and children all pitching in to help run the vineyard, promote the brand, and maintain the wine club. The family offers complimentary, private wine tastings at their property in San Miguel by reservation where visitors can taste award-winning wines and get to know the Cox family. They also host Wine Club events for their members, including backyard "Movie Night with Joel" screenings of Cox's favorite movies and works.
"I always like to have a member of the family at each tasting or event," says Cox. "We run a family operation and we want to be personally in touch with our wine club members and fans. We are all family and it brings us great joy to share our love with everyone. We want to meet everyone and share our story."
To schedule a private tasting, call Mystic Hills Vineyard at (805) 610-1099; for more information please visit www.mystichillsvineyard.com.
comments