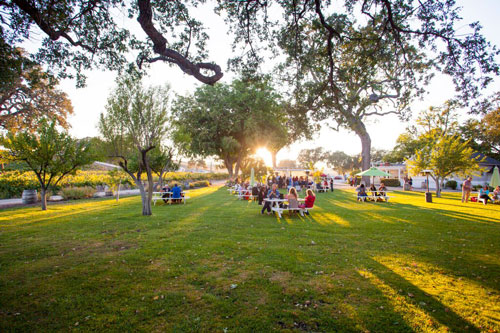 Beckett family runs trendsetting and groundbreaking winery
–Welcome to a slice of Paso Robles history.  The word "Peachy," where Peachy Canyon derives its name, evokes thoughts of peach blossoms, intoxicating flavors, and aromas almost too good to be true. While characteristics of some of Peachy Canyon's wines, the name has nothing to do with the fruit. "Peachy" was an infamous horse thief who took refuge in a cave near the current vineyard, and was eventually caught and hung in town; Jesse and Frank James hid out in the same area in 1868. Some 18 years later a schoolhouse was built on the property and is now the modern day tasting room of Peachy Canyon Winery.
In 1982, Doug and Nancy Beckett, San Diego teachers, moved to Paso Robles and purchased a walnut farm. It wasn't too long that Doug got the wine bug. Starting with a five-gallon Sparkletts water bottle and zinfandel grapes purchased from Benito Dusi's vineyard, Doug began his winemaking career. In 1988 the Peachy Canyon label was launched, with 350 cases of zinfandel; you could say "a star was born."  Ten years later the Becketts purchased the Old School House Vineyard, along with the old school house, and today own four vineyards totaling 120 planted acres.
During the late 1980's the Paso Robles wine industry was still in its early development; Doug was ahead of his time. The walnut grove was basically organic, being dry farmed, and simply had to be maintained. Doug and his sons – who would eventually found their own Paso winery, Chronic Cellars – practiced sustainable farming long before it was a trend or an agricultural necessity. Pioneers in the practice, Peachy Canyon was first Sustainability in Practice, or SIP, certified in 2007; truly, leaders of the pack.
Zinfandel and more
Whereas Peachy Canyon grows all four of the major Bordeaux grapes, they are known for their zinfandel and currently produces nine of the varietal. Step into the historical School House tasting room, or sit out back on the porch or pleasant outdoor area and sample their award-winning wines. For the reasonable $10 tasting fee, guests may choose six wines from the tasting menu, currently four whites and nine reds, including the highly acclaimed 2011 Para Siempre.
Although zinfandel is the focus, and passion of the winery, the Bordeaux varietals and blends are popular options.  As winemaker Robert Henson says, "The best wine we make is what we don't put into it." Peachy Canyon lets the terroir and the grapes speak for themselves. And speak for themselves they do with constant recognition, accolades, and high scores from many of the most respected wine publications and competitions.
Paying it forward
The Becketts are charity focused, both locally and nationally. Charity begins at home and, after being able to guarantee jobs for their employees, and training up to six interns from around the world, the family pays it forward. Supporting non-profits such as the Ronald McDonald House and American Cancer Society, and giving their time to local organizations including the Paso Robles Youth Arts Foundation, Studios on the Park youth program, and the Central Coast Cancer Support Community, Peachy Canyon Winery makes a difference in people's lives.
At 75,000 cases today, Doug is especially proud of the fact, as he tells you with a gleam in his eyes, that, "Peachy has been taking Paso Robles wines around the world for 30 years. We were the first to introduce Paso wines to Europe, Asia and Canada." Of note, which emphasizes Doug's humility and philosophy, is his pride in taking Paso Robles wines, not just Peachy Canyon wines, around the world.
The Peachy Canyon Winery tasting room, located at 1480 N. Bethel Road in Templeton, is open daily from 10 a.m. to 5 p.m. For more information, call (805) 239-1980 or see www.peachycanyon.com
Subscribe to weekly travel news
comments