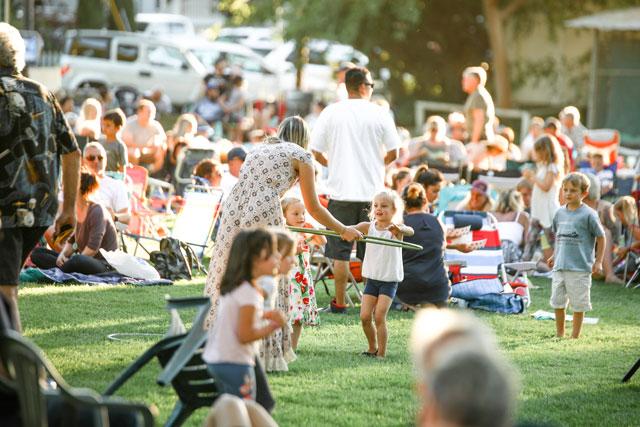 Templeton is the place to be this summer, and the beautiful Templeton Park is the perfect location for so many summer events.
Concerts in the park
The 20th season of Templeton Recreation Summer Concerts in the Park begin on Wednesday, June 5th and are every Wednesday at Templeton Park until August 21st. There will not be a concert the 2nd week of the California Mid-State Fair, July 24th.
Concerts in June & July are 6:30-8:30 p.m. and Concerts in August are 6:00-8:00 p.m. People of all ages are welcome to come out to Templeton Park for an evening of great music, socializing and dancing. This is a fun, family-friendly, community gathering place for locals and visitors to enjoy the beautiful Templeton summer evenings.
Independence Day
Don't miss the biggest party of the summer on Thursday, July 4th, when Templeton comes alive in the spirit of Independence and the American Way. Start your morning with the annual Templeton Firefighter's Association Pancake Breakfast at the fire station. Just $8 per adult/$5 for kids under 10 gets you a great breakfast, but get your tickets early (from any firefighter, at the station or TCSD, after June 1) as they usually sell out. No holiday breakfast is complete without a Bloody Mary or Mimosa which the Templeton Chamber will be serving up just across the street in the Templeton Park, as we prepare for the Independence Day Parade, which starts at 10AM and is produced by the Rotary Club of Templeton.
The parade will entertain the gathered crowds all the way up Crocker Street and back down Main Street from 1st to 8th Street. After the parade, head over to the Templeton Park, where the party continues with food and craft vendors, games, live music by the Joy Bonner Band, ice cold beer and good old fashion family fun until 3:00PM. Templeton is one of the few communities on the Central Coast that does still allow personal fireworks, so be sure to purchase the "Safe N Sane" brands from one of the non-profit booths in town, and be sure you are lighting them in an approved area of town.
Whatever event you choose to attend this summer, enjoy the quaint downtown shopping, top-notch fine dining and small-town charm that is Templeton.
List of performances
June 12th: Los Gatos Locos
June 19th: Trevor McSpadden
June 26th: The Joy Bonner Band
July 3rd: JD Project
July 10th: Brass Mash
July 17th: Soundhouse
July 31st: Dirty Cello
August 7th: Flogging Seagulls
August 14th: Wood
August 21st: Monte Mills & The Lucky Horseshoe Band
comments