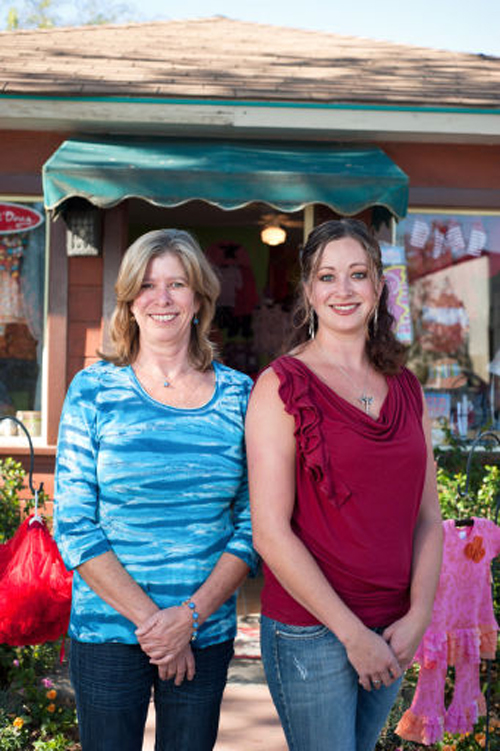 One-stop shopping at Adelaide Floral and Kid Corner in Templeton
Visitors to Adelaide Floral and Kid Corner in Templeton are sure to find a new variety of unique gifts every time they walk in the door. With a large variety of gifts these two quaint stores truly offer one-stop shopping!
Seasonal fresh flowers, indoor plants, candles, cards and gifts of all kinds adorn the inside of the flower shop. The adjoining courtyard offers a variety of outdoor plants and garden décor such as plant stakes and bird baths. Customers can pass through the garden to the Kid Corner children's boutique next door.
Kid Corner will celebrate its 3-year anniversary this year. Inside, visitors will find a unique variety of quality infant and children's clothing – most of which is made in the good 'ole U.S. A. – and a large selection of books, educational toys, art supplies, and gifts designed to fit a variety of budgets.  Some of the featured lines at Kid Corner include Melissa and Doug, Giggle Moon, Zutano, Nano-Baby, Robeez and Bearington Bear Collection.
Adelaide Floral was established by Jane Jepson in 1990. Jane and her daughter, Danielle, are the creative duo behind the business. Together, they combine their enthusiasm for floral designs, running their family business, and expanding to welcome the addition of the adjoining Kid Corner.
"We'd like to extend a special thank you to the local, loyal customers who are a part of Northern San Luis Obispo community and have supported Adelaide Floral for the past 24 years," Jane said. "We look forward to welcoming new friends and visitors to our quaint town and invite them to stop by and see what we have to offer."
The gift selection at Adelaide Floral is extensive – candles, lotions, wind chimes, stuffed animals, cards and much more. Valentine's Day and Mother's Day, two of the busiest holidays of the year for the floral business according to Jane and Danielle, will no doubt bring visitors and callers to this quaint shop in Templeton.
Adelaide Floral has flowers for all occasions, from weddings, birthdays and anniversary celebrations to get well-wishes and sympathy arrangements. As a custom touch, Jane and Danielle grow plants and flowers in the gardens surrounding their store that they add to their bouquets.
From custom weddings, unique quality floral designs and delivery services, including worldwide through Teleflora, Adelaide Floral continues to offer friendly, personalized and professional quality that has been a staple of the community over the years. As an added convenience, customers may select and order flowers on the shop's website.
Adelaide Floral and Kid Corner is located at 300 South Main Street in Templeton, and is open Monday – Friday from 9 a.m. – 5:30 p.m. and Saturday from 9:30 a.m. – 4 p.m. For more information or to place an order, call (805) 434-2997 or visit adelaidefloral.com.
comments