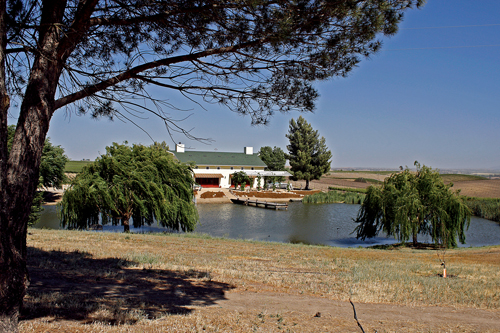 Graveyard Vineyards
Paula Campbell-Taylor didn't know what she was starting when she bought a subscription to the Wine Spectator for her husband, Rob. They were living the good life in Bakersfield and were perfectly happy. Rob, a petroleum engineer had a thriving career, and Paula who at one time was part of the entertainment group the "Young Americans" was busy raising their two boys and volunteering with the Junior League. During these years both of them developed a passion for good wine. "I think the idea for getting into the wine business did start with that subscription I got for Rob," she said with a smile.
Rob's job moved them to Santa Barbara. "Our life was okay," Paula said, "we had a nice home, good jobs, the kids were in good schools, but something was missing."  A family conference was called for wherein each individual stated their requirements for changing their lifestyle and purchasing a vineyard.  The adults wanted about 20 acres in the country. The kids wanted chickens. "Out of all the things we listed that we wanted, none of us thought about a house," Paula said laughing, "and this property didn't really have one." What the property did have was most unusual. It was located on a hill high above a graveyard.
The Campbell-Taylors purchased 81 acres on which were established vines of Cabernet Sauvignon and Syrah. They have since added Zinfandel and Petite Sirah. "In the beginning we just sold the grapes to other wineries," Rob said.
The kids did get their chickens and opportunities to participate in 4-H. They attended the small Pleasant Valley School that is just down the road. The family contended themselves with living in the mobile home that was on the property as they contemplated going forward with producing their own product line.
"We consulted with Brian Talley before starting the winery and Talley said, 'don't do it,' but we went ahead anyway," Rob said. In 2004 they started producing their own wine. "We looked around for a good winemaker that would fit with us," Rob said, "and we found the perfect person, the husband of the second grade teacher at the boys' school, Jason Bushong."
In coming up with a name for the business it seemed only natural to figure in a connection with the little graveyard at the base of the hill. "I wasn't sure using the name Graveyard wouldn't be too morbid," Paula commented. But the tie-in with the historic property couldn't be overlooked. It seems that during the 1800s settlers here built and attended a Presbyterian church. As some of the congregation passed away they were buried alongside the church. This type of burial place is called a graveyard and not a cemetery because it is associated with a church and is not a county facility. Unfortunately the church burned down and there is not a trace of it left but area people still request to be buried at the site.
An elderly area resident called Paula one day and told her she had been chosen to be on the board of the graveyard and that she would be keeping the site book that indicates where people are buried and who has reservations to be buried there. "After some time passed I called back and asked when the board would be meeting," she said with a smile, "It was then that I found out that I "am" the board – the only board member and I approve burial requests"
In carrying on with the Graveyard theme the Campbell-Taylors had labels made, one a colorful painting of the graveyard and vineyard by Bakersfield artist Claudia True, and another, a design of a tombstone done by Atascadero artist Jan Wolfinger. Paula also has added merchandise that playfully goes along with the theme. Wines are titled appropriately too, such as Paso Tombstone Red, Mortal Zin, and Dark Phantom.
In 2007 the Campbell-Taylors built a house on the property and recently finished construction of their winery facility and tasting room. The latter overlooks a large pond where ducks and geese glide by on the water. Great blue herons fly in to fish in the pond. With trees swaying in the breeze, it is a lovely spot to sit on the patio and sip wine and enjoy the view.
Graveyard Vineyards produces 2000 cases of wine a year and has a wine club of 1,000 members. Their wines have won some prestigious awards at the Central Coast Wine Competition, the California State Fair, the Orange County Wine Competition, and the Lodi Consumer Choice Awards. Their Dark Phantom took Gold at the 2012 Orange County Wine Competition, and Deliverance received a Platinum designation and was awarded 97 points at the 2012 Consumer International Wine Awards. Additionally, Deliverance was recently added to the prestigious wine list at the Ahwanee Hotel in Yosemite.
"Every year we bring our wines to the California Homicide Investigator Association's convention in Las Vegas," Paula said.
In the fall Graveyard Vineyards will have a pick-up party for their wine club members with an appropriate Halloween theme.
The Campbell-Taylors are living the good life in San Miguel and their wines are alive and well. So stop in for a taste or two – Graveyard Vineyards – Curious Name, Serious Wine.
Graveyard Vineyards is located at 6990 Estrella Road in San Miguel. They can be reached by phone at (805) 467-2043 or online at graveyardvineyards.com. They can also be found on Facebook.
— Ruth Ann Angus
Subscribe to weekly travel news
comments