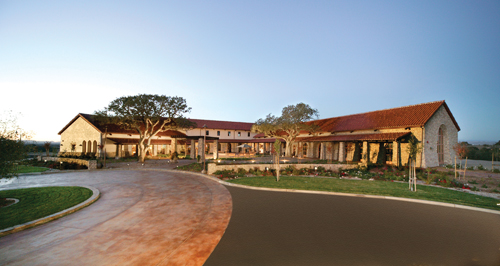 Vina Robles employees seem to reflect the care and pride that show in most details of the Vina Robles winery and its wines. Simone Michel, Director of Customer Relations and Marketing at Vina Robles, relates the history of this Paso Robes winery with thoughtful attention to detail. Says Simone, "Vina Robles is the result of a unique personal trajectory, one that led winery founder Hans Nef from a rural village outside Zurich to the rugged terrain of California's Central Coast, from the science of engineering to the art of winemaking."
She continues, "As a child in Switzerland, Nef learned to appreciate his rural surroundings and the blessings of agriculture. Trained in civil engineering, Nef later founded a successful civil engineering firm specializing in major public projects in Zurich. In the early 1990s, he expanded his interests into agricultural land in the southern United States. At the same time, Nef also leveraged his passion for collecting fine Bordeaux wines into a wine importation business, furthering his appreciation for California wines."
Hans Nef's connection to Paso Robles began in the 1990s when, says Simone, he "quickly became enamored with this emergent wine country." His goal in starting Vina Robles was to create a Paso Robles winery that would "honor his European roots while embracing the flavors and spirit of the Central Coast," says Simone. In 1997 the first of Vina Robles' four estate vineyards in Paso Robles was planted.
Simone says that Paso Robles was the right place for Hans to establish Vina Robles. "Hans Nef was looking for a place to establish a family vineyard and winery. He looked into several locations in Europe and in California. But when he visited the Central Coast, he fell in love with the climate, land and wines of Paso Robles. Additionally, Paso Robles allows one to live a little bit of the 'American Dream.'" Simone continues, "Compared to Europe, establishing vineyards and winemaking are less restrictive here, allowing for more flexibility and more options to create something new."
Owner Hans Nef describes his goal with Vina Robles in this way: "I want Vina Robles to express a unique balance of European heritage and American opportunity. As individuals, we are rooted in the Old World. As viticulturists and winemakers, we are empowered by the New World. But both worlds bring value to what we do, and we endeavor to capture this distinction in our wines."
Now, Hans Nef, along with Managing Partner Hans – R. Michel, has a successful and popular winery in Paso Robles. In 2012 they brought on winemaker Kevin Willenborg, who has 28 years of wine-industry experience and has worked with many industry heavyweights. Simone describes Kevin's winemaking philosophy as regards to making wine at Vina Robles, "Winemaker Kevin Willenborg believes that each wine has its own life. That life begins with the planting and development of the vines. It is then transferred from the earth through the vine as the grapes are harvested, crushed, fermented into wine and eventually bottled. The quality, character and personality of our estate vineyards are foundational, but the wines are also shaped by winemaking methods employed to achieve the desired Vina Robles style."
Simone says, "One of the reasons our owner Hans Nef came to Paso Robles was the opportunity to create wines of distinctive quality and character (some of our blends would not be legal to produce in Europe as they combine grapes from different regions and even countries)…" Now, she says, Vina Robles is best known for their Cabernet Sauvignons, Petite Sirahs and unconventional blends.
Vina Robles' focus on Petite Sirah is due, says Simone, to their success with the farming of the grape, "Here, the Mediterranean climate is tempered by cooling marine breezes. The grape ripens steadily and gains full varietal expression with rich flavors and peppery nuances." This has led Vina Robles to offer a tasting of their four Petite Sirahs in Petite Sirah-only tasting which is also available paired handmade chocolate truffles.
Vina Robles has 1,100 acres of estate vineyards, on which they grow 20 varieties of grapes. Their estate vineyards are certified as being sustainably-grown by the Sustainability In Practice (SIP) program. SIP monitors such factors in the growing practice as environmental, social and economic sustainability.
Since only 15% of the grapes Vina Robles grows end up in Vina Robles wines, they have the ability to choose the best grapes for their own wines. The rest of the grapes are sold to other local wineries. Simone says, "All grapes for Vina Robles wines hail from low yielding blocks, usually between 2.5 – 5 tons per acre."
Visit Vina Robles' tasting room at 3700 Mill Road off of Highway 46 in Paso Robles. Vina Robles is open daily from 10am – 5pm during winter and from 10am – 6pm during summer (closed on Thanksgiving, Christmas and New Year's Day). Call (805) 227-4812 or visit vinarobles.com for additional information.
— Kate Joyce
Subscribe to weekly travel news
comments