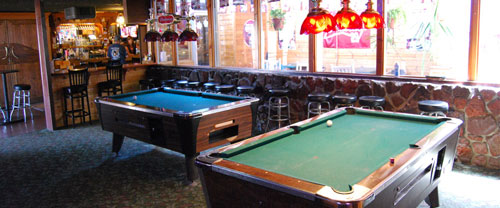 –If a hearty juicy rib eye steak, a cold beer, and great game of cards is your idea of perfection then you need to get on over to Outlaws Bar, Grill & Casino in Atascadero. This gaming parlor and restaurant has been a staple in North County city since 1991.
Owners, Dora and Al Brown opened their first Outlaws Bar & Grill in Playa Del Rey in 1984 but the lure of the Central Coast got to them after many visits here. They sold the Playa Del Rey restaurant and moved their operation to Atascadero.
This popular eatery is known for its great food available at reasonable prices. They offer lunch and dinner daily and breakfast on weekends. The bar has six beers on tap as well as a selection of bottled beers kept on ice.
The card room that is right next door to the restaurant is where all the action takes place. Players can enjoy drinks from the fully stocked bar and food from the restaurant/bar menu while playing cards. This is a professionally run card room with well-trained professional dealers. If you don't know how to play some of the games, they will teach you.
Card games include No Limit Texas Hold 'Em, Omaha Hi Low and Blackjack. Poker game bonuses include a daily high hand and a "Bad Beat" jackpot. No Limit Texas Hold 'Em tournaments are held several times a week with a buy in of $20.
Blackjack games are very popular and you can get in with a minimum bet of $5.50 with an optional $1 minimum "Buster Bonus Bet."
Enjoy your card games in a well-lit, spacious room with comfortable swivel chair seating. There are large screen high definition TVs to watch too so you won't miss that important sports game. The pool tables are active all the time and the house runs tournaments.
The latest craze is the table game Beer Pong. "It's really a beer drinking game," Dora said, 'but it does require some skill, and probably a bit of luck."
Food from the bar includes Black Tiger Shrimp, Buffalo Wings, Potato Skins, Pretzel Cheese Nuggets, and more. "We make our own corn beef hash," Dora said, "and our Chili Verde is homemade as well as our clam chowder."
Whether you just want to sample western hospitality, sing karaoke on Saturday night, play pool, listen to the jukebox, rock with the DJ on Friday nights, enjoy good dining in the restaurant or try your luck in the Card Parlor, Outlaws Bar, Grill & Casino is the place for you.
For card game schedules call (805) 466-7950 after 4:30 p.m. See atascaderosteakhouse.com for more information.
– Ruth Ann Angus
comments