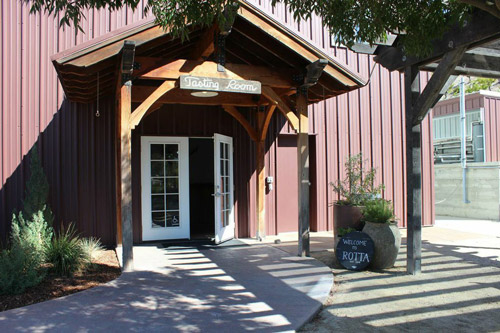 The 2013 vintage included the following varietals:
Pinot Grigio
Chardonnay
White wine blend of Sauvignon Blanc and Chardonnay
Rose
Syrah
Grenache
GSM — Grenache, Syrah and Mourvedre
Cabernet Sauvignon
Two Zinfandels
Black Manukka
Visit the area's third oldest winery
Rotta Winery has been around since 1908 and is known for its zinfandel, a wine that the Rotta family was able to continue making and selling during prohibition since it was used as a communion wine. Although it is not the oldest winery in the Paso Robles area – it was one of the first three. Purchased from Frenchman Adolph Siot, who planted the first grapes and produced the first wine in Templeton. The winery was owned by the Rotta family until being sold to Jason Shorrock two years ago.
The 106-year-old winery is on its second vintage with the new owner, and new winemaker, Jeff Branco. Branco, first brought to the Paso Robles area by Justin Baldwin who owned JUSTIN Winery at the time, was the winemaker for JUSTIN from 1997-2002, before moving back to the East Coast to raise his daughter near family. Baldwin introduced Branco to Shorrock, knowing he wanted to return to Paso Robles.
Winemaker Jeff Branco
Branco was the third American to get a masters degree in enology – the study of wine – at the University of Bordeaux in France. Working there, he learned how important the grapes are to the winemaking process.
"The one thing that I like about getting my degree from Bordeaux was that I got a degree in grape growing and wine making," Branco said. "The growing is just as important as the wine making."
During the interview for this article, he was sitting on the floor of his office tasting grapes from different blocks to see if they were ready to pick or needed more time. He tasted a grape from each bunch and gave it a rating, then moved onto the next bunch.
Zin, Cab, Bordeaux & more
While Branco makes mostly Bordeaux blends, he said he enjoys making everything. One change at Rotta Winery with the new owner and winemaker is to cut down on the yield from the estate vineyard, which Branco said would make them bolder and bigger, but not with higher alcohol content.
"I think what we're always trying to do is get the best expression of the vineyard or varietal we're working with," Branco said, emphasizing the importance of producing ripe and balanced wines.
Rotta Winery continues to be known for its zinfandel and cabernet sauvignon, though Branco said the tasting room will always have a variety of interesting wines.
"We take pride in all the wines we do, but we'll continue to be known for our zin and cabernet," Branco said. He added that the wines are rotated through the tasting room, so if you return a couple of months after the first, you'll be able to taste different wines.
The Black Manukka, a dessert wine that will keep for months opened, is a wine that Branco said is fun to make because "it's so different from anything else I make."
Award-winning wines & future expansion
Branco has a variety of awards for wine that he has made over the years, including being named in Wine Spectator's Top 100, and garnering a silver medal from Sunset magazine for a wine he made with cold hybrid grapes when he was living in New England. He has also received more than twenty 90-plus-point wine scores from Wine Spectator and Robert Parker. Rotta has received more than a dozen 90-plus-point ratings from a variety of competitions over the last decade.
The winery built a new tasting room/winemaking facility after the original was destroyed in the 2003 earthquake. The only room of that building still standing is the fermentation room. Tasting room attendee Betty Wick said that there are plans to rebuild the original tasting room sometime in the future.
Visit Rotta Winery, located at 250 Winery Road in Templeton from 10:30 a.m. to 5:30 p.m. daily; tasting fee of $10 per person waived with two-bottle purchase. Call (805) 237-0510 or go to www.rottawinery.com for more information
– Heather Young


Subscribe to weekly travel news
comments