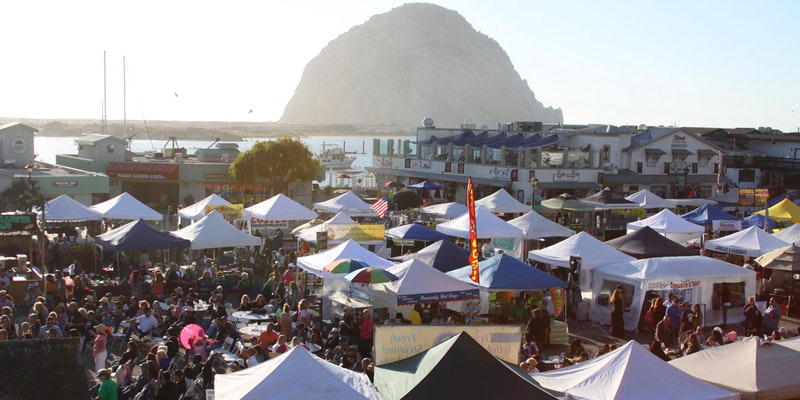 -The 11th Annual Avocado and Margarita Street Festival is Saturday, Sept. 9 from 10 a.m.- 7 p.m. on the waterfront in Morro Bay. Festival organizers report that "this year's festival leaps out on the heels of a record breaking attendance in 2016" and debuts "new crowd pleasing features, space, and innovative programming." The winning combination of avocados, margaritas and live music remains unchanged. In the words of one guest of the 2016 festival, "[my] hubby kept going back for oysters, I had my yummy fill of guacamole and fish tacos. And we danced and danced."
Attendees will enjoy an additional block of space in which to shop specialty retail vendors and dance to the music of five central coast bands on the main stage, including Samba Loca, Ricky Montijo and the Mojitos, and Ventura sensation The DORK Band. Fearless performance art from aerialists Cirque Adventures and participation in a community created art mural with the Morro Bay-based artist collective Forever Stoked will occur throughout this one-day celebration on the Central Coast.
New this year is a "Grom Zone" with family-friendly activities, foods, and a second stage with bands sponsored by the Morro Bay High School Music Boosters and a magic show with Dr. Nick the Balloonatic. Experience a concentration of green goodness in "The Grove", a space dedicated to avocado menu items. Central Coast Women for Fisheries (CCWF) will be back with their albacore stuffed avocado. Lori French, member of the CCWF, said the organization "loves to celebrate the local goodness that is Morro Bay. Fresh, wild, local seafood and Morro Bay avocados."
Exciting contests will include the popular raffle to win a one year supply of local avocados plus The Drop the Mic Sombrero Contest. Contestants go big with gravity defying decorations on sombreros to woo the crowd and win prizes. SLO's favorite The Margarita Man will have margarita flavors from lime to blood orange available on the rocks and frozen, in addition to micheladas and tall boys of refreshing beer. And yes, custom beer coozies are an option!
Transportation is a snap this year. The Morro Bay Trolley will be available to shuttle attendees throughout town from large parking lots near Morro Bay Rock, the Triangle Parking Lot, and Tidelands Park. Uber will be on hand to provide their at-cost ride service home, and the SLO Bicycle Coalition will set up a free bike valet. The festival can be accessed through one of two gates clearly marked by signed and decorated structures at Harbor Street and Marina Street on the Embarcadero.
The festival is a fundraiser for the Morro Bay Chamber of Commerce and various beneficiaries, including Morro Bay Rotary, Morro Bay in Bloom, Morro Bay High School Cheerleaders, and the Morro Bay High School Music Boosters. Last year, the Morro Bay Chamber donated over $10,000 to beneficiaries. Morro Bay Chamber CEO Erica Crawford says, "This festival brings revenue not only to businesses and vendors, but also to non-profits. It is a win-win for our local economy."
Tickets for the festival are available on Eventbrite. Cost is $5 in advance, $7 at the door. "Groms" 10 and under are free, and cyclists who present a bike valet ticket at the door are $5 all day long.
Subscribe to weekly travel news
comments