Hoyt Family Vineyards sets the cabernet standard
Nestled in the renowned Willow Creek District in Paso Robles, Hoyt Family Vineyards is a gem among local wineries. This award-winning, boutique micro-winery was born from a Malibu vineyard in 2001. Owners Carol and Stephen Hoyt were inspired after spending time at Napa-based working vineyards around 30 years prior to start their own vineyards and Airbnb vacation cabins.
Hoyt Family Vineyards Ranch is a unique experience. "We are in the heart of some of the best wineries, just a hop, skip, and a jump from nearby vineyards and tasting rooms. You can have
the experience of going downtown to their tasting room or book a tasting tour across the way right there on the ranch," said Carol, who is the owner and winemaker of Hoyt Family Vineyards.
The Vineyard View Cabin and Cowboy Cabin are both located on the 140-acre vineyard property and allow for guests to immerse themselves into the workings of a vineyard. The two rental cabins, which were constructed by Daniels Wood Land, were featured on a 2018 episode of the DIY Network's show Cabin Brothers.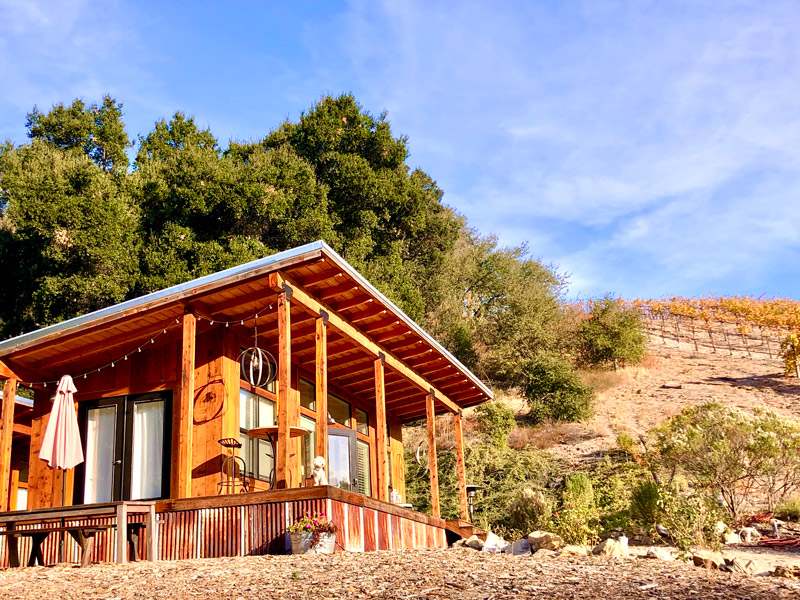 Each cabin has a vintage aesthetic, with unique wooden accents and a farmhouse chic design. Suitable each for four to five guests, the cabins are an ideal experience for a family getaway or a weekend trip with friends. After a day of wine tasting or exploring the vineyard, guests can enjoy grilling dinner on the barbeque and relaxing in the hot tub and by the fire pit with s'mores. 
Upon waking up in the beautiful west side of Paso Robles, make breakfast using farm fresh eggs from the nearby chicken coop and take a morning walk to feed the neighboring goats.
"You're really in the heart of the vineyard experience in one of the most beautiful spots in Paso Robles," said Carol.
The downtown Paso Robles tasting room offers a beachy, laidback feel for guests. Make sure to
try their award-winning wines including the 2017 Cabernet Sauvignon, 2019 Viognier, and 2013 Petite Sirah.
"We like to say 'our wines pair best with friends' and we look forward to when people come stay at the ranch… we want them to feel like family," Carol said.
Hoyt Family Vineyard Downtown Tasting Room is located at 1322 Park St. in Paso Robles. Open Thurs – Sat from 12 p.m. to 9 p.m. Open Sun – Mon from 12 p.m. to 5 p.m. Closed Tues – Wed. Hoyt Family Vineyards Ranch is located at 2015 Township Rd in Paso Robles. For more information, call (805) 369-1092 or visit hoytfamilyvineyards.com.
—Sadie Mae Mace
comments