Hoyt Family Vineyards sets the cabernet standard
—Carol Hoyt, The Accidental Winemaker. When Carol and Stephen Hoyt were just married, a stay at a working vineyard inspired them to have a vineyard of their own. At the time, Carol was a working model and actress, best known for her popular character, the Villainous Divatox, in the Power Rangers series. Upon starting a family, Carol took a break from performing, and she and Stephen moved to Malibu. There they planted their first vineyard – in their backyard! Having no idea of what they were getting themselves into, Carol soon discovered they would have a lot of fruit, and quickly learned to make her first wine in their kitchen.
Long gone are the days of making wine at home. Carol now makes wine and grows all her grapes in the heart of Paso Robles. Nestled in the renowned Willow Creek District, Hoyt Family Vineyards is a gem among local wineries.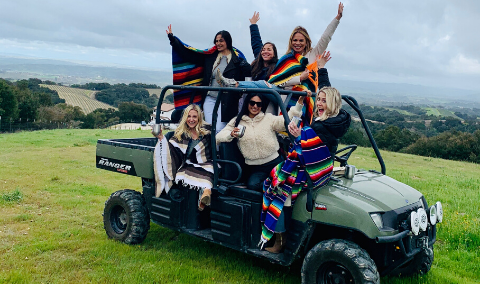 Hoyt Family Vineyards Ranch is a unique experience. "We are in the heart of some of the best wineries, just a hop, skip, and a jump from nearby vineyards and tasting rooms. You can have the experience of going downtown to their tasting room or book a vineyard tour right there on the ranch," said Carol, who is the owner and winemaker of Hoyt Family Vineyards.
The vineyard tour is like Mr. Toad's wild ride! The host and Riley (winery dog) who is the copilot take you on an ATV tour around the 130 acres learning about viticulture and what it takes to grow grapes. You never know what wildlife you will encounter from quail, hawks, turkey vultures, owls even bobcats! Along with feeding goats and picking farm-fresh eggs. A one-of-a-kind experience!
"The views around Paso are pretty spectacular and we feel lucky to have some that rival the best! Truly amazing," said Carol.
The downtown Paso Robles tasting room offers a beachy, laid-back feel for guests. Chillax, enjoy its cool vibe and sip impressive wines by the flight, the glass, or the bottle. Make sure to try all their award-winning wines including the 2018 Tempranillo, 2018 Grenache, and 2016 Petite Sirah, which won Gold medals at the Central Coast Wine Competition.
"We like to say 'Our Wines Pair Best With Friends' and we look forward to when people come visit us at the tasting room or the ranch. We want them to feel like family," Carol said.
Hoyt Family Vineyard Downtown Tasting Room is located at 1322 Park St. in Paso Robles. Open Thurs-Sat, from noon- 8 p.m., Sun noon- 5 p.m. and Mon-Wed. by appointment. Hoyt Family Vineyards Ranch is located at 2015 Township Rd. in Paso Robles. For more information, call (805) 369-1092 or visit hoytfamilyvineyards.com.
—Sadie Mae Mace
comments