Original paintings, jewelry, sculpture, furniture, glass, wood, and more by Central Coast artists
—Discover why Park Street Gallery is famous for its wide array of unique and original pieces of art, featuring the work of over 50 prominent artists from all over the Central Coast. The gallery offers a relaxed atmosphere and a fabulous opportunity to spend some quality time browsing fine art!  This beautiful gallery was established in 2017, and hosts some of the best work to be found in the area. "We're so fortunate to have such talented artists and craftspeople living locally", says owner/artist Julie Dunn. "The artists we represent have been painting and creating their craft for many years and consequently they're very good at what they do.  The paintings and one-of-a-kind handmade craft in the gallery are quite stunning!"
Park Street Gallery has rapidly become known for its approachable, affordable, and regionally sourced art collection.  The gallery features original paintings of various mediums, jewelry, sculpture, ceramics, furniture, fiber art, fused and blown glass, woodworking, and more.   Whether it's a personal purchase or a gift, there's truly something for everyone.
"We live in a beautiful place, and many people come here because of the local charm. Our customers really enjoy being able to take home a piece of the Central Coast.  Our painting collection is quite representational of the area, places that people love to visit, such as Cambria, Montana De Oro, Morro Rock, Bishop Peak, and the vineyards," says Dunn.  Along with local landscapes, the gallery features exquisite still life paintings, as well as images of flowers, and endangered species.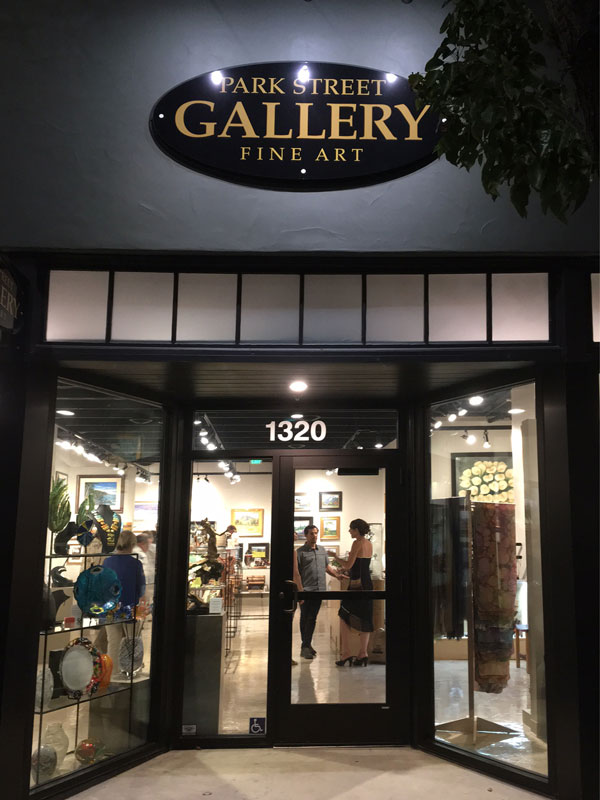 Peek into this gorgeous space to see what locals and visitors are raving about.  Experience the sophisticated, elegant, and welcoming atmosphere, with exposed ceilings, high open airy windows, and spacious design.  Discover for yourself why this friendly gallery is famous for its large collection of unique and original pieces of art!
The culture of art appreciation in Paso Robles has been growing for several years, and now visitors to Paso Robles can find a variety of regionally made fine art and fine craft at Park Street Gallery.  Looking at art inspires the visual imagination, and supporting local artists ensures that they'll continue to provide art to their communities and beyond.  Bring home a special piece of art that calls to you, or give it as a gift; the act brings many benefits to the artist and buyer alike.
The gallery participates in Art After Dark Paso, a monthly tradition held every first Saturday of the month, from 6 – 9 pm.  Enjoy meeting artists, sipping wine, browsing art, and experiencing live music-filled evenings.
Visit Park Street Gallery at 1320 Park St, in Paso Robles. Open 11-6 daily and from 6-9 p.m. for Art After Dark on the 1st Saturday of every month. Closed Tuesdays. For more information, call (805) 286-4430 or visit parkstreetgallery.com.
comments