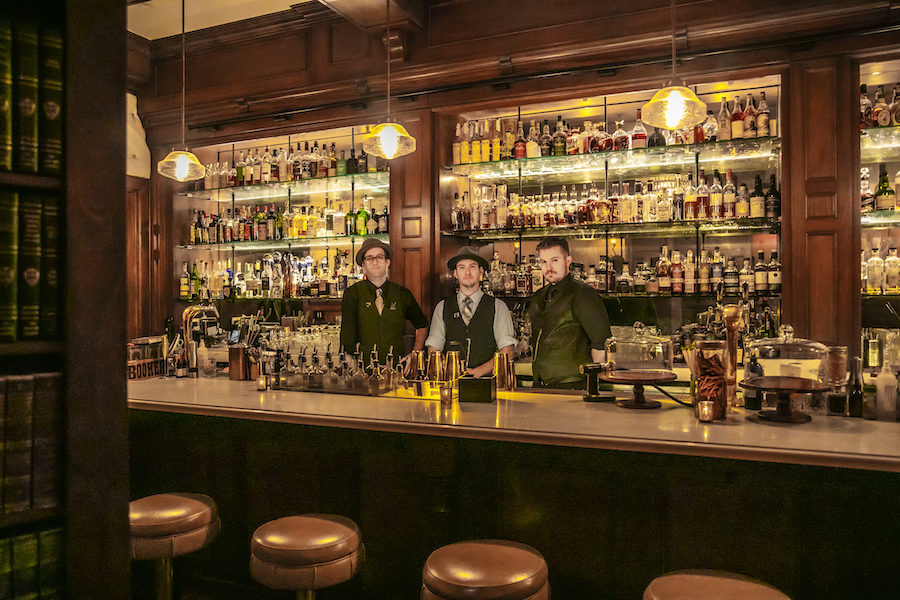 It's the place to be for an approachable yet elevated cocktail experience
—Hidden locations, intimate gatherings and exquisite cocktails – these make up just a small portion of the lure of the modern-day speakeasy. It's the lure of speakeasies that led Donovan Schmit and Troy Larkin to introduce Eleven Twenty-Two Cocktail Lounge & Speakeasy, or 1122 to locals, to downtown Paso Robles back in 2018.
With roots harking back to the underground, secretive drinking establishments of the Prohibition Era, the speakeasies of today are more accessible and, perhaps, a bit more fun. On any given day of the week, the tables and bar stools at 1122 are filled with a mix of the after-work crowd, ranchers, farmers, and couples enjoying a cocktail before dinner at one of the many local restaurants nearby.
"It's actually a lot easier to get inside our speakeasy than people think, especially during the week," Donovan said. "Yes, 1122 is elegant and fancy, but that doesn't mean it's off-limits; it's actually quite approachable. Paso is a cowboy town with farmers and grapes and crops. So, if you have mud on your boots or you're wearing flip-flops and shorts, by all means we want you to come in and see us."
The secret is out
With a motto of "No phones, no photography, just amazing cocktails and service" it's no surprise 1122 has steadily gained popularity with both locals and tourists alike. Many will dress up for a night on the town, with some donning Great Gatsby-era clothing and taking their experience at the speakeasy to the next level.
"There's a rumor going around that 1122 is always full and there's always a line, but that is simply not true," Donovan said. "Yes, we do tend to have lines on Fridays and Saturdays but the line moves quickly. With just 30 seats, it's a special, intimate space which is true of most speakeasies. Most people come in for one or two cocktails before or after dinner at one of the nearby restaurants so we are constantly flipping tables; when two people leave, two more enter so the line moves fairly quickly on busy nights."
So, just how does one gain access to 1122? It's actually quite accessible; in fact, there are two ways to enter the candlelit 1930's inspired speakeasy. Enter through Pappy McGregor's, located at 1122 Pine St., exit out the back patio, and the 1122 door is on the left. Or, enter through the back of the building on Railroad Street and walk to the door marked 1122.
"It's definitely not a secret anymore," Donovan said. "You don't need a password to get inside, you just need to know where to find us. It's all about the experience, starting with the location and how to get inside through the secret room. Once you enter the space, hear the music, take in the atmosphere, and see the staff in uniforms, you are transported to a different era – that's the whole speakeasy experience."
Another little secret, 1122 now offers reservations on Sunday and Tuesday – Thursday if you are on a tight schedule! Reservations are not necessary and are available for a table up to four people. Make reservations through the website: eleven-twentytwo.com.
Under the direction of General Manager and Lead Bartender Matt Kelly, the entire staff of 1122 is dedicated to ensuring guests enjoy an elevated cocktail experience. Everybody from the bartenders to the hostess to the door men dress in uniforms of the era including suspenders with bow ties, fedoras, and flapper dresses, with the theme carrying throughout the entire space.
World-class cocktails, spirits, and drinks
And, the cocktails? They're top-notch. On any given night, an average of 20 are featured on the menu with eight to ten being seasonal – currently featuring warm winter spices including cinnamon and nutmeg – while the remainder are what Donovan calls "forgotten cocktails."
"We search through old cocktail books from the 1920s and 30s and come up with drinks that were popular back then," he said. "We source the original spirits, which can be difficult to find, and recreate those cocktails with our own twist on them so people can experience what was popular back then."
In addition, the 1122 menu is packed full of classics from the Old Fashioned to Negronis, martinis, and daiquiris. Craving a Cosmo or Lemon Drop? The talented bartenders are always open to guests calling out their favorite cocktail, even if it's not on the menu, and they make everything from scratch.
"The syrups, bitters, tinctures, shrubs, basically everything you could possibly put into a cocktail including fresh-squeezed juices is done in-house," Donovan said. "The only thing we are not doing is distilling our own spirits. And the things our bartenders do with the cocktails, from adding smoke and fire and using nitrogen to chill – they put on a show and it's like a fun chemistry lesson each night at 1122. The room lights up with fire and it smells like hickory or toasted cinnamon and the atmosphere constantly changes from all the different drinks they are creating – it's really cool."
Crowd favorites include 1122's signature cocktail, the Butter Pecan Old Fashioned, made with bourbon, house-made pecan syrup, orange bitters, and angostura. Also, Matty's Gin and Tonic with 1122 gin, tonic syrup, crushed ice, charged water, and key lime essence, and, dating back to the Prohibition Era, The Last Word. A selection of beers, champagnes, and Daou wine is available by the glass for non-spirit drinkers.
The secret elements, the somewhat-hidden location, exquisite craft cocktails, impeccable service, intimate details, and Great Gatsby-era music playing in the background – all of this and more lend to the elevated, yet approachable experience and magic of Eleven Twenty-Two Cocktail Lounge and Speakeasy.
Seating is first come first served with a limited amount of weekday reservations available.
Eleven Twenty-Two is located at 1122 Pine St. in Paso Robles, directly behind Pappy McGregor's. Open Sun and Tue-Thu from 6-11 p.m. and Fri/Sat 5p.m.-1 a.m. Make reservations online at eleven-twentytwo.com. Find videos, specials, and information on the latest events on Instagram @1122.cocktail.lounge.
–Meagan Friberg
comments