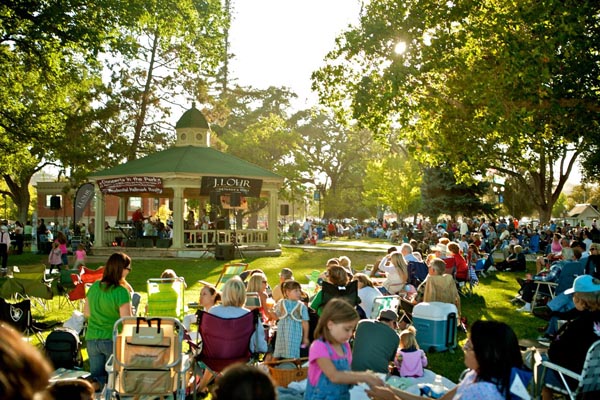 –Have you noticed that there is always something exciting to do and see in downtown Paso Robles? The Main Street Association has a hand in it all, from supporting shopping, dining, tours and sightseeing to wine tasting and much more.
The backbone of the downtown area, the association aligns merchants, business owners, stakeholders and community members to provide economic support and stimulus. The award-winning association is committed to preserving and bolstering a thriving downtown while serving the Paso Robles community.
Main Street Association Executive Director Norma Moye said there are several parts to the association: "We have 18 board members, an Economic Restructuring Committee, a Design Committee which manages the visual aspect of downtown and a Promotion Committee," she said.
"Plus we do monthly business mixers…This allows businesses to share with each other what they have available, it also helps keep us as a family, you get to know your neighbors and can recommend to visitors what is available downtown."
Proud advocates of the area, the association encourages visitors to experience all downtown Paso Robles has to offer, including the many shops, restaurants, boutiques, wine tasting bars, pubs and variety of venues.
Start your downtown experience at City Park, a central square anchored by the historic Carnegie Library. The square has something for everyone from horseshoe pits, a gazebo, picnic tables, a playground and newly renovated bathroom facilities all set amongst Paso Robles famous oak trees.
The downtown area features an array of wine tasting rooms, bars and custom-tailored tasting experiences. Whether you're looking to taste from some of the area's award-winning wine producers, world-renowned cheese purveyors, artisan delis, classic boutiques and more, there's always something to complement your wine tasting experience.
Downtown Paso Robles offers the perfect setting for wine country picnics, touring, tasting and shopping. With ample free parking, be sure to visit downtown Paso Robles as part of your next distinct and different wine country getaway.
The Paso Robles Main Street Association is committed to creating a downtown, which is the commercial, governmental and cultural entertainment destination of Paso Robles.
The Paso Robles Main Street Association is located at 835 12th Street #D, Paso Robles. For more information visit www.pasoroblesdowntown.org or call (805) 238-4103.
Subscribe to weekly travel news
comments