The Manse on Marsh, an independent and assisted living community serving Arroyo Grande, San Luis Obispo, and beyond, was recently honored as a recipient of the "Caring Star" award. The award honors assisted living and memory care communities based on consumer ratings and reviews in Caring.com' s Senior Care Directory. 2016 marked the second consecutive year the Arroyo Grande Assisted Living campus had received the honor.
To qualify for the 2016 award, communities must have:
• Earned at least one 5-star review between Dec. 1, 2014 – Sep. 30, 2015,
• Had an overall average rating greater than 4 stars (based on all reviews for all time), and
• Had no unresolved negative reviews.
During the timeframe for the 2016 award, the Manse received 5 5-star reviews and maintained an overall review average of 5-stars all-time.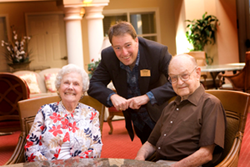 "Prospective residents and their family members want high-quality senior living services, and the Caring Stars award helps steer them in the right direction by showing which communities American consumers love most," said Caring.com CEO and co-founder, Andy Cohen. "Congratulations… and thank you to every family caregiver and older adult who took the time to share their feedback in reviews!"
In recent research conducted with Arroyo Grande assisted living and senior care searchers online, the majority of respondents said they relied on Internet-based consumer reviews more than in-person recommendations by professionals or medical personnel. It's there where researchers find out about facility-specific amenities, such as the industry-established and nationally recognized Care Planning System used at The Manse. The services provided, such as medication management, meal reminders, bathing & grooming and more, are determined by a point system based on the resident's unique care situation, assuring that each resident receives and pays for only the care services and assistance required. The Manse on Marsh is the only Arroyo Grande assisted living facility to offer this comprehensive care planning system.
"Earning our second Caring Star award tell us that our residents and their families appreciate the work of our staff to be innovative, creative, and sensitive to the desires of our residents, while offering a premier level of care that adjusts along with our residents' needs," says The Manse on Marsh Executive Director & CEO Logan Sexton. "Thank you to all the families who have taken time to share their feedback on directories like Care.com. We look forward to continuing to offer life enriching experiences for the wonderful residents who call The Manse home."
About The Manse on Marsh
The Manse on Marsh is located in downtown San Luis Obispo, the heart of the Central Coast and close to home for families seeking assisted living care in Arroyo Grande, Paso Robles, and other nearby communities. Amenities include spacious flats and private homes, restaurant-quality open dining, convenient transportation, social activities, maid and laundry services, nurse on staff, attentive caregivers and discrete personal assistance. Learn more or schedule your tour of The Manse on Marsh Independent & Assisted Living campus at http://www.themanse.net.
comments