Flutter down to Monarch Grove Winery
Guided by some internal compass that science has yet to explain, monarch butterflies migrate thousands of miles each fall to specific balmy locales where they escape the winter frost. The migration lasts longer than the lifetime of any given Monarch, meaning that a baby born mid-migration manages to find its way to its winter perch without the guidance of a parent or peer that has been there before. Somehow, 25,000 of these fluttering orange-and-black beauties home in on a particular grove of Eucalyptus trees on the southern edge of Pismo Beach and the northern tip of Grover Beach each year, dangling in thick clusters on the branches from October to February.
How the whimsical insects do it may still be a mystery, but there's no question of why: The peaceful enclave where the woodlands meet the coastal dunes is relatively warm and sunny throughout the winter and insulated by the protection of the state park system.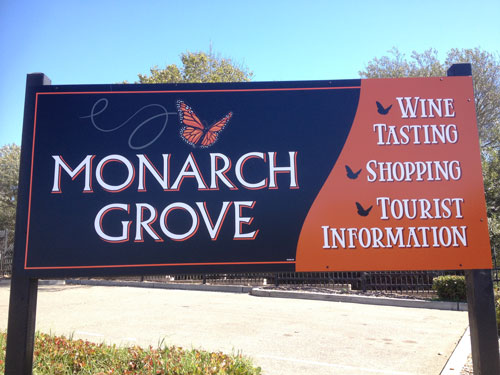 The spot is not just good for the butterflies; as it turns out, it's also prime territory for making wine, according to Joe Wais, founder and winemaker at Monarch Grove Winery, a pioneering winery that has made Grover Beach the newest wine country destination in San Luis Obispo County.
After 25 years of home-brewing beer, Wais turned to winemaking and soon saw the potential for a unique business concept: a small operation that would support local farmers while still allowing him the freedom to ferment as he saw fit; to make something personal and genuinely local. When Wais opened his winery in Grover Beach five years ago, not only was he the first and only winery in town, the city didn't even have the industry on the books until they passed a new ordinance in 2012 to account for Monarch Grove Winery—and to pave the way for the droves of other wineries that may soon follow it.
Wais says the city officials offer a warm welcome to wine businesses and the weather provides the perfect climate for the art: cool coastal breezes mean he rarely has to use the air conditioning to cool his production facility, located on Griffin and Farroll streets. Now, with the opening of his tasting room just a quarter-mile from its namesake landmark, a spot Wais and his family have enjoyed for the last 28 years, he looks forward to a different kind of migratory population and a major advantage of making wine in this spot: summer vacationers.
Wais and his wife Cherie work the tasting room, which they opened in 2013, and winery together, pouring wines made from locally-sourced grapes. Wais says the variety in their lineup reflects his personality: he enjoys cooking, experimenting with flavors, tweaking recipes and learning the science behind foods and beverages. Therefore, when it comes to his wines, which range in price from $10 – $30, he, like the butterflies, follows an intuitive, internal compass from one varietal to another, from a light and crisp Gruner Veltliner to a bold varietal Malbec, and a fun red blend called She said Red.
And, like the butterflies, he never fails to find his way to a winning vintage come fall.
Their wine club members just celebrated fall with "winetoberfest" and the holidays will bring the annual casino party; art parties are also on the schedule.
Drop in for a taste of Monarch Grove's nectar at the tasting room located at 180 Hwy 1, next to the Amtrak train station in Grover Beach, open Thursday through Monday, 12-6 p.m. Find out more about Grover Beach's first winery at monarchgrovewinery.com, or by calling (805) 709-4875.
– Jamie Relth
comments