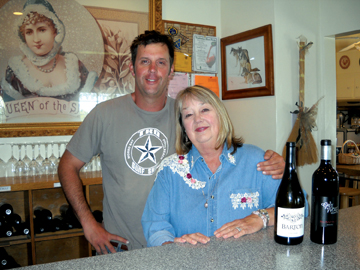 Grey Wolf Vineyards and Cellars has been run by the Barton Family at its location on a hillside on Highway 46 West for 17 years.  The winery was started by Joe Barton Sr. in 1994 and the winemaking duties have been passed on to his son, Joe Barton Jr.  When Joe Sr. started making wine on the Central Coast Joe Jr. was studying winemaking at Cal Poly San Luis Obispo.  Joe Sr. became involved in the winemaking industry when he did some construction work for some wineries.  Joe Jr. says that his father "got bit by the bug, then the next thing you know he was trading labor for fruit."
Joe Jr. says that he and his father were both learning the craft at the same time, though from different angles–Joe Sr. through working in the business and Joe Jr. through viticulture and enology classes.  Joe Jr. would help his dad with the business, sometimes working the tasting room on weekends.  He says that it was fun for them to both be learning about the same subject at the same time, and that they were able to trade information and knowledge.
Because of this early introduction into the wine industry of Paso Robles, and because of the relationships that Joe Sr. developed with growers in the area, Joe Jr. is connected to many of the vineyards in Paso Robles.  While Grey Wolf grows many of its own grapes they purchase grapes from other vineyards as well.  Joe Jr.'s familiarity with and ties to local vineyards allow him to have access to select fruit.  These relationships that the Barton family has with their growers are very important to them and reflect the importance of community and family to Joe Barton and his mom Shirlene.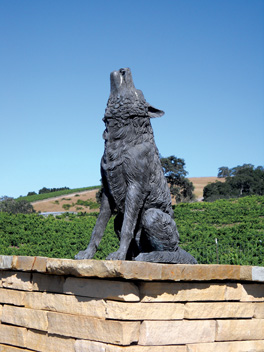 Besides making the wine for Grey Wolf, Joe Jr. spends much of his time in the vineyards.  Another part of the legacy that Joe Sr. left to his family is the Grey Wolf estate vineyard.  Grey Wolf grows Syrah, Zinfandel, Malbec, Cabernet Franc and Cabernet Sauvignon on the property.  They also produce Tempranillo, Petite Verdot, Sauvignon Blanc, Chardonnay and Rhone Whites and Reds.  Grey Wolf makes around 4000 cases annually.
Many of the wines that Grey Wolf produces are blends, and Joe Jr. has fun with the names, many of which tie into the wolf theme visitors find in the tasting room: "Little Red," "Lone Wolf," "Big Bad Wolf" and "Alpha."  Joe Jr. says that they are most known for their Zinfandel and Cabernet Sauvignon which "set them apart."  Indeed, Grey Wolf's 2008 "Lineage," a Cabernet-based blend, won double-gold and best Bordeaux blend at the San Francisco International Wine Competition.
The tasting room at Grey Wolf has a welcoming feel, and in fact used to be the Barton's home.  Shirlene Barton's office is just off the tasting room, and she says she often pops in to meet tasters and see what is happening at the tasting bar.  Joe Jr. and Shirlene both emphasize the importance of family in the way they approach their business, and say that many of their customers return with other family members for another visit.
The Grey Wolf tasting room has become a fixture along the Westside Paso Robles wine-tasting routes, and Joe Jr. says that this popularity is due to the quality of wine one can get in a variety of price-ranges.  He says, "We make wine for everybody," and that customers "get value at whatever level they are at."  Grey Wolf's small size allows Joe Jr. to take a "barrel to barrel" approach in making wine.  With lots sometimes as small as 50 cases of one wine Joe Jr. says he has the ability to "isolate the best blends" to create the wine he wants.
Joe Jr. does not aim to make wines to fit a house palate, but instead strives to be creative in his winemaking.  With wines in the $15 – $35 range visitors to Grey Wolf are able to be adventuresome as well.  Joe Jr. says that Grey Wolf's lower price point wines are a "smoking deal."
With his desire to continue to be creative in his winemaking, Joe Jr. has launched a second label, Barton.  Joe Jr. enjoyed being a part of Grey Wolf from the ground up, and is looking forward to working on the development and promotion of this new brand.  In keeping with the family-oriented atmosphere fostered by the Barton family at Grey Wolf, Barton wines are sold along side the pack of Grey Wolf wines at their tasting room.
Grey Wolf is open daily from 11am – 5:30pm and 11am- 5pm in the winter and is located at 2174 Highway 46 West in Paso Robles.  Call (805) 237-0771 or visit www.greywolfcellars.com for more information.
— Kate Joyce
comments