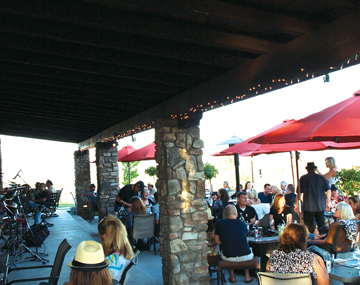 Mondo Cellars shouldn't be seen as a quick stop on a wine tour. Instead, it's where you'll want to finish a long day under Paso Robles sun. "We serve our tastings restaurant style. It's not rushed at all," said Doug Mondo. "People sit at the shaded tables on the patio where they can relax and take in the view."
The best weather in wine country is during the late evenings, but most of the tasting rooms close at 5:00 p.m. Not Mondo. They stay open till late every Friday from March to October for Sunset Happy Hour with catered-in appetizers, live music, and plenty of wine.
"We get a pretty diverse group of musicians rotating through, and everyone has a lot of fun," said Mondo. "It's a sea of fedoras out there."
Fedoras? The Mondo family is a tightly knit clan with strong ties to their Italian heritage. They sell fedora hats (2,000 to date) in their tasting room and call their wine club the "Mondo Mob," using the classic Italian hat as the club's signal. The headwear is far from mandatory, but it's fun and helps folks everywhere recognize fellow "mobsters."
Fans of the winery are loyal for a number of reasons. Mondo Cellars specializes in Rhone and Bordeaux blends, and wine maker Kevin Riley is known for concoctions that are incredibly smooth, balanced, and easy to drink. It doesn't hurt that there's no tasting fee for these wonderful wines. The quality service and friendly staff are also appreciated, along with the fun events and breathtaking view. The winery is perched atop a tall hill and overlooks miles of rolling vineyards.

It's an ideal spot for a weekend getaway, so the family built the Villa nel Mondo, a three room bed and breakfast, on the 80 acre property. Elegantly furnished with a comfy king size bed, the Tuscany suite has a 40 inch plasma TV, a romantic fireplace, and a large shower with an antique foot bath. The Venice suite has two bedrooms and a common living room area, making it the perfect suite to accommodate two couples traveling together.
Mondo Cellars currently produces about 2,500 cases a year, but having such a good product can have a downside.  The bottles fly off the shelves, sometimes months ahead of schedule.
"I've never submitted the wines for awards, because we've never had any leftover bottles," said Mondo. "We sell everything we make right here in the tasting room or ship it out to the Mondo Mob."
In an effort to ramp up production and take the winery to the next level, Mondo is giving his club members a unique and exclusive opportunity. He's selling stakes in 50 percent of the land and 30 percent of the winery to raise $2.68 million to reinvest in the facility improvements and marketing efforts. He also wants to build an event plaza for receptions, weddings, and big parties.The minimum investment is $11,000.
"It would be like a country club membership with all the discounts in wine and fun events, but it's also got very real tax and income benefits," said Mondo. "You can grow with us."
Mondo has prepared investor packets with detailed descriptions of how the money will be used to increase the sales and profits of the company and how much stakeholders will get in return.
The winery is located at 326 Nacimiento Lake Drive just outside of Paso Robles. For more information, visit their mondocellars.com or call 805-226-2925. The tasting room is open daily from 11 a.m. to 6 p.m. in the spring and summer, with extended hours on Fridays and from 11 a.m. to 5 p.m. in the fall and winter.
— Nick Powell
comments